49  Roger Waters
Don't let his love/hate relationship with David Gilmour and his outspoken foray into activism fool you — Roger Waters, frontman of Pink Floyd and exciting solo artist, is one of the greatest songwriters in history. He wrote The Wall mostly alone, what else there to be said?  DK
48  Syd Barrett
"Shine On You Crazy Diamond" is about him, the disquieted genius who co-founded Pink Floyd and gave them so much of their identity, and who the band kicked out after two albums because of his madness, exacerbated by the psychedelic drugs he ingested. The Wall — the whole album — is inspired by him. He's probably rock's greatest enigma (and much about him is myth, because he flared out before media became so metastasized). He pioneered dissonance and feedback and recording effects and set the foundations for Floyd's unique, ethereal sound and storytelling. He put out a couple of solo albums before retiring completely in 1972. He didn't spend the rest of his life in a mental hospital as was often presumed — he lived quietly and privately in the country, painting until his death in 2006.    BGJ
47  Peter Gabriel
First of all, Peter Gabriel was Genesis, when that group was brilliant and exciting and breathtaking and meaningful — before it became drippy and Phil Collins became a metastasizing incarnation of Muzak. Then Gabriel went solo and made music for the ages — if you listen to any of his post Genesis albums, they remain superior to 99 percent of what anyone else was recording or has recorded since. You feel Peter Gabriel in your chest, and he makes your muscles twitch.     BGJ
46  Elton John
Everybody suspected/nobody cared but he didn't admit it, because in the social dark ages of '70s pop culture, being gay was an anethema and a career douser. Liberace didn't admit it, for chrissakes! And he made Elton John look like Bruce Springsteen. Only in the '80s did Elton come out, by which time it was news to absolutely no one, but it's a sad indictment that the free flowing '60s and '70s, especially the so-called free love movement, was disappointingly not so free. 
But Elton rocked. Flamboyantly, sometimes campily, sometimes archly and achingly, but always powerfully, often anthemically. His range was earth-curving, from "Your Song" and "Candle In The Wind" (later refashioned for Princess Diana after her death, and subsequently becoming the top selling single of all time), to "Rocket Man," "Saturday Night's Alright" and "Bennie And The Jets." His piano playing was jet propulsion level, but also high virtuosity. His band's live performances were joyous and transporting and in the mid-70s no one was bigger, no concert more coveted.    BGJ
45  Jim Morrison
He reeked of sex, oozed sex, symbolized what it meant to be a rock star and have more sex in a week than most men of his generation had in a lifetime. No one else looked like him, he was pure and menace at the same time. He wore leather pants, before anyone else really thought of that, at least anybody white. He had a voice like thunder, curling in the sky, then ripping the sky apart.
He fronted The Doors like a Greek God without the baggage. He ​wore​ the pretension of being a poet, and​ had​ a poet's soul, and flair, if not ​one​'s constitution. He shone brilliantly and quickly, like burning magnesium, putting out six superb and successful albums in his short, wild lifetime, including the iconic L.A. Woman, Strange Days, and The Soft Parade, and wrote and sang the immortal tracks "Riders on the Storm," "L.A. Woman," "Light My Fire" and "Love Her Madly," to name just a few. A terrible alcoholic, his stage performances were erratic and brilliant. He died way too young, at 27, in Paris, sealing his mythology. His cause of death never officially established, mysteriously.    BGJ
44  Johnny Winter
The legendary blues musician had horrible eyesight but was a visionary when it came to playing the guitar. Born in Beaumont, Texas, Johnny and younger brother Edgar, performed throughout the South starting in the late 1950s. He gained national recognition in 1968 when Rolling Stone described him as "a 130lb cross-eyed albino with long fleecy hair playing some of the gutsiest fluid blues guitar you have ever heard." Winter was signed by Columbia Records a year later for $600,000 ($4.4 million today), an absurd amount of money in those days for a solo artist. His talent caught the attention of none other than blues icon Muddy Waters, who hired Johnny to produce consecutive albums for him — each album won a Grammy Award. Though just as talented as Jimi Hendrix and the other guitar luminaries of the '60s, Winters preferred to shy away from rock 'n roll and "play real raw country blues in my own style."    JS
43  Jeff Beck
Of the Yardbirds' three iconic guitarists, Jeff Beck is the sleeper favorite — less instantly recognizable than Jimmy Page or Eric Clapton, equally revered by the legions of players he inspired. He almost might be the most versatile, equally at home in hard rock, jazz-fusion and electronica. And he wrote the timeless instrumental "Beck's Bolero."   RR
42  James Hetfield
Any time you get lit on fire on stage during a show in Montreal, survive and manage to continue on with your stadium tour not 17 days later makes you a little bit of a crazy person, but shows that you're the ultimate badass.    DK
41  Chris Cornell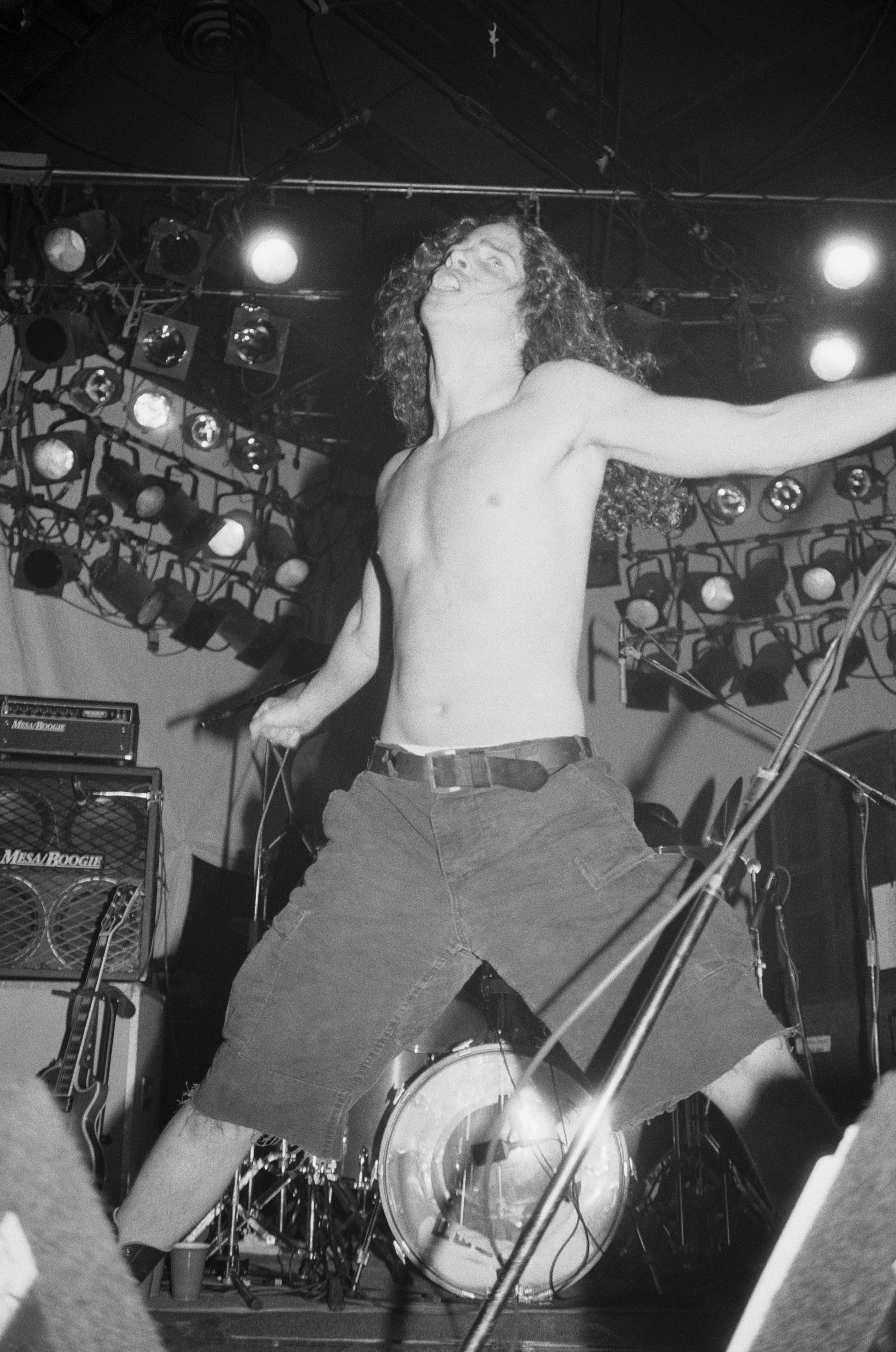 Alison S. Braun/CORBIS/Corbis via Getty Images
Why did he take his own life? Because now that's how we start conversations about him. He led Soundgarden, in many ways the best of the grunge bands, even if and perhaps because they were the slightly quieter of the genre, a hair more measured, and had, in Cornell, the sweetest voice, the saddest voice.   BGJ
40  Chuck Berry
Chuck Berry refashioned the blues into rock'n'roll, influencing countless musicians ahead of him. From coming up with the duckwalk to classics like "Johnny B. Goode" and "Move Over, Beethoven," he was an early progenitor of rock 'n roll, one of the Rosetta Stones. But, cruelly, his only No. 1 hit was "My Ding-a-Ling." Don't ask, just keep walking.    LB
39  Eminem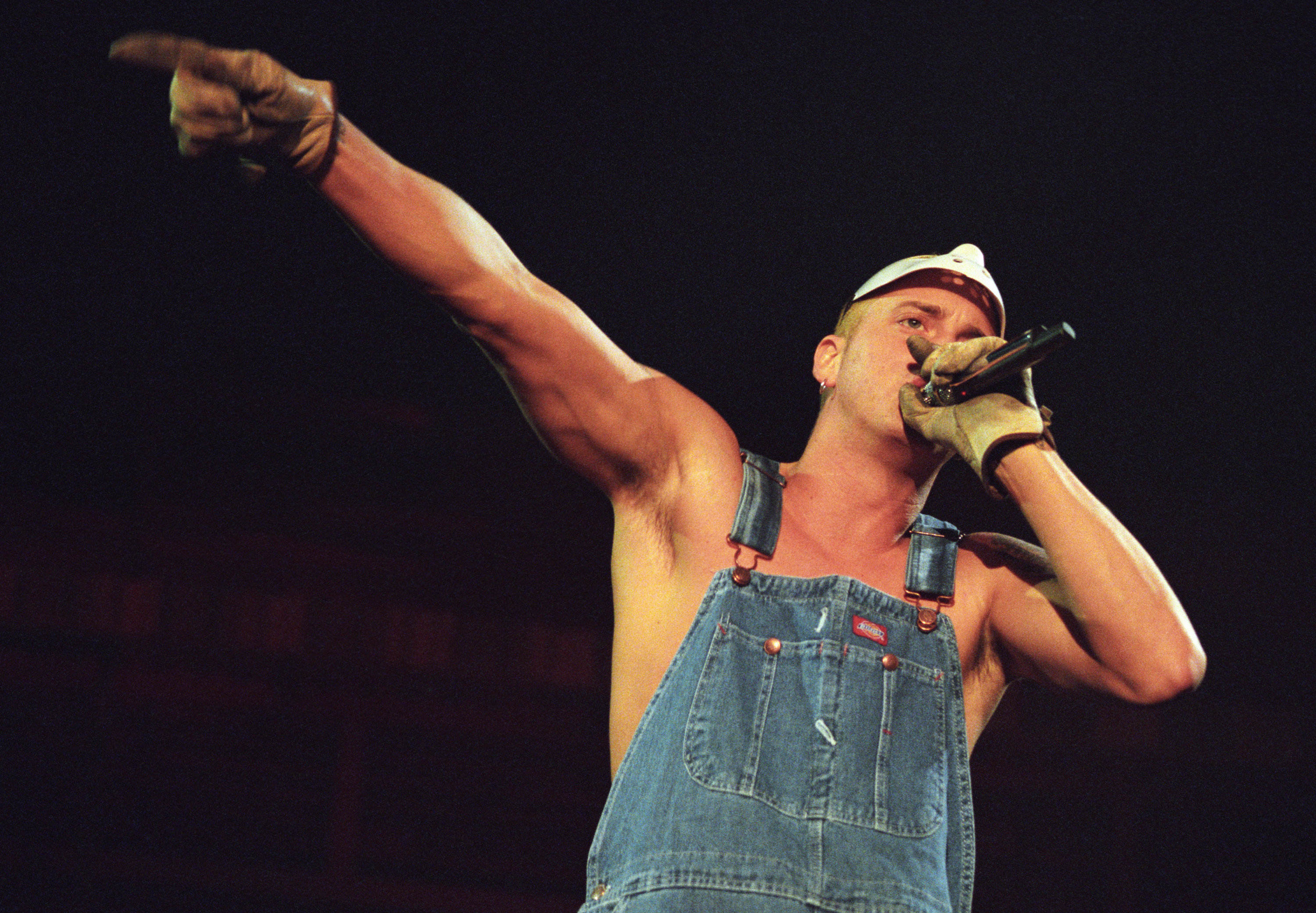 J. Shearer/WireImage
Marshall Bruce Mathers III​, better known as Eminem,​​ once brought his​ daughter into the studio to sing on a track about murdering her mother and helping her father bury the body. It was​ his version of​ Take Your Daughter to Work Day.​ ​There weren't many taboos unbroken on Eminem's increasingly provocative, increasingly brilliant albums. His releases made most gangsta rappers' records look like a Mr. Rogers' Christmas Album. He was hated and assailed by the left and the right, unusually agreeing on something. He was misogynist, homophobic, pretend murderous and, I guess, generally anti-social. And the music loving public devoured it. 
He claimed it was his alter ego's alter ego, Slim Shady, doing all those nasty things, and he had as much right to that defense as any other rapper boasting of smoking this or that poor bastard who got in their way. In person, out of character, or at least mostly out of it, he seemed painfully fragile and menacing at the same time. He lived hard before he, almost improbably, made it. He may or may not be a tortured artist (he certainly seems like he is) but what is 100 percent definite is that he has always been uncompromising, expressing exactly what he wanted to. And that's very rock 'n roll.    BGJ
38  John Bonham
John Bonham was the archetypal rock drummer and an exemplar all the same. His over-the-top hitting defined rock bombast (put on "Achilles Last Stand" now!), and the few who could match his raw strength could never get his swing down (the answer to"How Many More Times" is "never enough"). Bonham wasn't just a mountain behind the kit, he was the goddamn terraformer, easy to love and impossible to imitate. Much as rock radio continues to suck the vitality from guitar music and shrink music history to fit into a thimble, you can still be declared legally dead if you're not moved by his opening lines in "Rock and Roll" and "When The Levee Breaks." Why else do you think he was the best man at Thee Riff Lord Tony Iommi's first wedding?    Andy O'Connor
37  Joe Strummer
Strummer was the voice of a mostly voiceless generation, late '70s, dilapidating England. He was the articulate expresser of punk (when you consider Johnny Rotten/Lydon was the competition, the bar wasn't awfully high it has to be said). He co-founded The Clash and with albums Give 'Em Enough Rope (their first) and the boundary-breaking classic London Calling, the band brought punk into the mainstream, and, in their case anyway, morphed it into top tier rock 'n roll (as Nirvana did 10 years later, by the way). Strummer wrote smart, political, bold, brave lyrics and his voice sliced through the thick air of Britain's then sorry-for-itself pity party. The band stayed together for 10 years, before falling apart after Strummer ousted fellow band leader Mick Jones. But they had made their impression.  A lasting one.   BGJ
36 Mick Jones
Mick Jones also co-founded The Clash, and was as identifiable as its lifeforce as Strummer, and was really the better musician. Without their (apparently difficult) chemistry, the band would never have been as potent and thrilling as they were. Once that was severed when Strummer pushed Jones out, the band slowly, rather pathetically, dissolved. Jones went on to start Big Audio Dynamite, whose first album This Is Big Audio Dynamite was a glorious jambalaya of funk, reggae, rock and even a bit of rap. And some early sampling: Jones played me a tape of the record before it was released and one of the tracks included a sample from the 1960s Michael Caine movie Zulu, which he had simply recorded off the TV. He asked me not to tell anyone, because he didn't want to get in trouble for infringing copyright, thinking maybe nobody would notice.   BGJ
35  Neil Young
It's hard to invent one genre, but to seamlessly glide between, oh, I don't know, like five? That takes an entirely different beast, but Neil Young isn't your average beast. Name a guy who can go from writing earnest acoustic numbers to joining the world's biggest supergroup (at the time) in CSNY to leaving that to create moody rock to heavy jam rock with Crazy Horse? And this is all before 1979! Not to mention signing with Geffen, being sued by David Geffen for not writing commercial music (can you imagine that?), to later releasing an album with Pearl Jam as his backing band. Pretty good. But we're only up to 1995. The rest of Young's ballyhooed career stands on its own and with his massive archival project continuing to showcase so many uncut gems from his legendary vault, it somehow seems like we maybe haven't even heard the best music he's produced. At a young 75, there may not be a more beloved…or cantankerous figure in rock history (just ask David Crosby).   DK
34  Jimmy Cliff
Before the ubiquitous rap pretense of the OG, Jimmy Cliff was the Original Gangster. In the 1972 movie The Harder They Come, which he wrote the soundtrack to and which remains his signature album, he plays the lead in a movie about the mean streets of Kingston, Jamaica, where his character Ivan can't catch a break, even though he releases a hit single, the movie's title track, and — you saw this coming — he falls down the rabbit hole of a life of crime which includes killing multiple police officers and being hunted across the Jamaican countryside and finally killed by the police. Cliff, and especially the Harder They Come album, brought reggae to the world and it was intoxicating.
It vaporized the Harry Belafonte sound which most people thought was Jamaican music. He released a number of further albums, and had international hits with spiky songs like"Many Rivers To Cross" and "Vietnam." At his height he was an uncompromising voice of conscience and if he never attained the Godhead status of Bob Marley, he had more to say.    BGJ
33 Robert Plant
There's rock stars, rock gods and then there are Golden Gods—even if they do allegedly say so themselves—and when it comes to the latter, there's only one, and that's Robert Plant. There will never, ever be another like him. He started out as the white-hot, red-maned, bare-chested frontman and key songwriter for one of the best-selling bands of all time, and when they disbanded, he had no intention of reinventing his past. In his over half-century of making music, he is consisting trying something new. No, it's not a reinvention (why fuck with perfection?) it's a consistent discovery based on a genuine respect for musicians, and a deep, true love for the music they create. What some have considered the best voice in rock 'n roll may have aged, but it never lost its passion. As he told us in our November 2020 interview, it's been an "absolute, invaluable journey."    LL
32 Eric Clapton
"Layla" by Clapton, when he fronted Derek and the Dominoes, was and remains one of the ultimate rock songs ever recorded, and one of the scummiest anyone ever wrote — it's a public plea for a friend's wife to leave her husband for him. (She did, it was a disaster, there's really nothing good to say about Clapton for that.) Duane Allman played guitar on the song too, FYI. 
Before Clapton became the musical bore he's been for the last 40 or so years, he was one of, if not the, most exciting rock guitar players recording. Coming from a stint playing with British bluesman John Mayall, he formed the Yardbirds with Jimmy Page and Jeff Beck, a sort of Holy Trinity of Rock's biblical era, and then birthed an even better group, Cream, where he played with the legendary drummer Ginger Baker and bassist Jack Bruce. They released the uniquely English sounding blues-infused classics "I Feel Free," "Born Under a Bad Sign," "White Room" and "Sunshine of Your Love." Listen to those songs if you haven't. They might change your sense of the evolution of music.  –BGJ
31 Eddie Van Halen
The man literally reinvented how to play guitar, making the simple complicated and the complicated simple. Don't believe us? Listen below.   DK
30  Ike Turner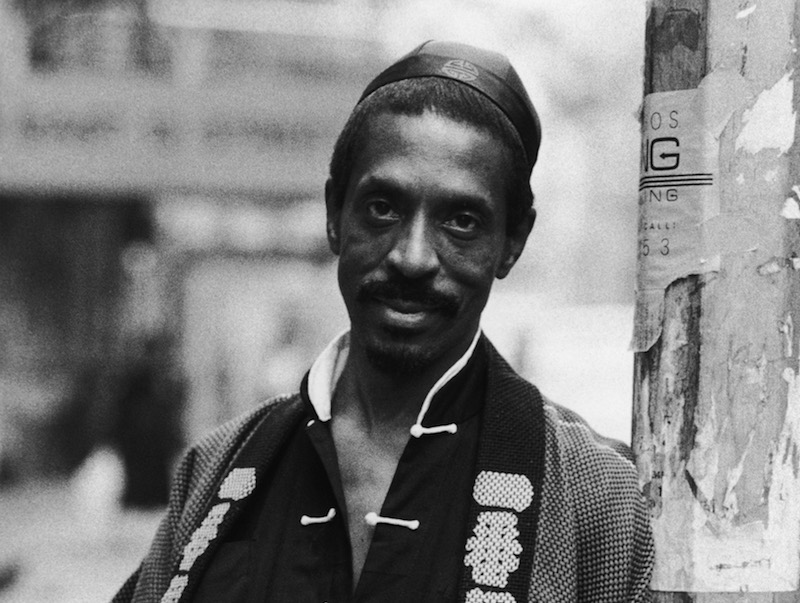 Dave Hogan/Hulton Archive/Getty Images
Ike got paid 40 bucks for inventing rock 'n roll when he recorded "Rocket 88" and accidentally created the distorted electric guitar sound (here's the story of how that happened). "Some guy at the record company ripped me off," he once said, resignedly. He didn't even get credit for the song at the time, because his producer was readying another single of his for release, and expected that to be the bigger hit and didn't want to distract from it, so they put "Rocket 88" out as by Jackie Brentson, the singer in Ike's band, The Kings of Rhythm. 
Ike was a musical genius, something he gets far too little credit for. He was a dirt poor Mississippi black guy when he started touring the Southern "Chitlin Circuit" in the early '50s. In the '60s he formed the Ike and Tina Turner Revue, which, with hits like "Proud Mary" and "A Fool In Love" and a polished, scintillating stage show, made them one of the top acts in the world in the '60s and '70s. Ike married Tina (whose real name was Anne Bullock) and copyrighted "Tina Turner" so that if she left the revue, he could hire someone else to replace her under the same brand name. He infamously abused Tina and she eventually left him, the professional act ended and Ike's life deteriorated. A terrible, longstanding cocaine habit left him penniless and in jail, and when he was released he was mostly homeless on the streets of L.A. In 1985, when the general consensus was that he was dead, and Tina was publicizing her abuse at his hands, SPIN famously found him. He died in 2007, mostly forgotten again, but not before putting out a critically acclaimed album, Risin' With the Blues, in 2006 (which was Grammy nominated) and being inducted, with Tina, into the Rock 'n Roll Hall of Fame.    BGJ
29  Tom Waits
The anti-hero as a rock star: Low-key, low-voiced, high-concept — the shambolic genius of Tom Waits is in the details. The deft turn of a heartbreaking phrase, a carnival barker's sly appeal, this Bukowski of song is deceptively unkempt. Waits' dry humor hits all the right notes, his careful tunes classic enough to be covered by Rod Stewart, Johnny Cash and the Ramones. Cinematic and resonant, Waits' words are as cool as Beat poetry, his persona and performances wonderfully way out.  A troubadour for the ages.   KT
28  Steven Tyler
Aerosmith's Steven Tyler is America's answer to Mick Jagger. Big-lipped, shimmery and lascivious –albeit with a wink and a nod – Tyler's bluesy, passionate vocals imbue classic Aerosmith anthems like "Sweet Emotion" and "Dream On" with timeless power. Joe Perry plays his Keith Richards. Incredibly, and consistently, Tyler has been the template for bad boy rock stars since 1970, and shows little sign of slowing down.    KT
27  Pete Townshend
Skinny, tall, aquiline nosed, lead guitarist and spiritual and intellectual leader of The Who, Pete Townshend, when he had long hair and on occasion wore a tux or suit, looked more like an awkward prom date than a rock star. Actually, he never looked like a rock star. But he most certainly was, his windmill sweeping arm grating rock 'n roll sirens out of the guitar he would invariably smash at the end of each live performance. (I guess he didn't like his guitars!) His songwriting was matchless. "I Can See For Miles," "I Can't Explain," "Magic Bus" and "My Generation" were just some of songs that lit up the radio in the second half of the '60s, before he wrote the first Rock Opera, as he called it, Tommy. 
The Who played and wowed Woodstock (and are a highlight of the three record soundtrack) and made the half million people there forget to care about whether the Rolling Stones would turn up (they didn't). After Tommy came another cinematic aural masterpiece, Quadrophenia, and the immortal Who's Next, with Townsend writing and conducting rock's tightest band at his finest. In the '70s they were the band to see and were famous for never doing encores, except one time at Madison Square Garden in NY, when after 20 minutes no one, including me, would leave the arena, they came back out, fearful as much as anything they might start a riot if they didn't, and Daltrey sheepishly said, "we've never done this before and don't know what to play," before improvising a mini set of Tommy songs.    BGJ
26  Van Morrison
He's the most reluctant rock star. He often turned his back on his audience — literally while performing and metaphorically in all other aspects. He's shy (my estimation) and surly (almost everyone else's estimation). He's always been press averse, and every time he gives an interview he seems to regret it and not do it for another five years. He simply doesn't care for the trappings of fame, which started in the hard streets and years of Belfast in the early '60s. Over a 60-year career,​ he has made some of the most beautiful and searing and timeless albums ​ —​ especially Astral Weeks​, regarded as one of the best of all time, Moondance, Tupelo Honey and the elegiac Hymns to the Silence — and songs, like "Gloria", ​"Wild Night", "Domino", "Someone Like You", "Brown Eyed Girl" ​and ​the aching "Ballerina" and "Madame ​George​" (both from Astral Weeks)​. ​His is the sweetest, most evocative voice ever in rock 'n roll, and no one has ever had a more powerful one. He makes lyrics float or tremble, as he wishes.   BGJ
25 Chrissie Hynde
For over four decades we've been able to count on Chrissie Hynde, the leader of the Pretenders, one of the most influential bands of the '70s, for her authentically no-bullshit approach. From her early London days of hanging with Malcolm McLaren and almost marrying Sid Vicious (for a residency visa!) to changing and maturing punk rock with a voice as kick-ass as it is heartbreaking, she has been a trailblazer, and not just because she was a woman leading a rock band. Her lyrical, percussive songs stopped us in our tracks, and were milestones on the road of our lives. Chrissie Hynde created a virtual roadmap to how to be true to yourself with her superb 2015 memoir Reckless: My Life as a Pretender.   LL
Click NEXT at the end of the text to see the next group