10 Kurt Cobain
Frank Micelotta
What's there to be said about the greatest rock star who never wanted to be a rock star? Handsome, hilarious, genius and self-destructive, Kurt Cobain, unintentionally, became the voice of an entire generation and he hated it. As one of the first prominent male feminists, his songwriting captured the sea of change in the air at a time when über macho hair metal ruled the musical landscape. By burning out instead of fading away, Cobain left perhaps at the peak of his powers and the same time, had so much more to give, which is a shame.   DK
9 Grace Slick
Rock 'n Roll is sex. That used to not be a controversial statement and even though now the busy woke bees must reject any concept of something being measured, or — God forbid! — appreciated in terms of sexiness, some things are too big, too true, to be stung to death by their little woke bee-stingers. This is not to say that Grace Slick's only or main contribution to Jefferson Airplane, or the '60s, or San Francisco's Haight Ashbury music and hippie scene slash American cultural renaissance, was her sexiness. That alone would not have carried the group and the music, or the moment/movement. It was that she was part of the weightless, everything is possible unfettered sensibility of the moment, and she was the shudderingly powerful, exquisite voice of the at-the-time greatest American rock band and standard bearers of all that was glorious about the Hippie movement. 
Her singing was anthemic before anyone knew that was something you could call the music. "Somebody to Love" and "White Rabbit" were just two of the Airplane's massive hits that, no exaggeration, gave the American '60s their soundtrack. Grace was the first female rock star — it's not important whether technically Janis or Aretha predated her on the charts. Grace was an incandescent star the way Mick Jagger was a star. Marty Balin and Paul Kantner liked to promote the idea that Jefferson Airplane was their band, but it wasn't. It whirled, centrifugally, around Grace. Without her grabbing rock 'n roll by the throat and holding it for as long as she cared to, American music would have been shallower, thinner and less dimensional. And less exciting. And, yes, less sexy.    BGJ
8 Mick Jagger
Jagger was the first, real, fully developed, Bad Boy rock star. (Forget the Elvis posturing — in reality he was about as much a rebel as Mike Pence. Elvis was a corporate man, through and through.) But the wiry, implausibly wide-mouthed lead singer of the Rolling Stones set himself and the band as the non-conformist, darker side of the Beatles sunny coin, and it made them the sexier, more electrifying of the two, and more popular than just about any group but the Beatles. Jagger was never the best singer, dancer, performer, or musician. But he was the best Mick Jagger, a lead role in the long running Pantomime of rock 'n roll.    BGJ
7  Bob Dylan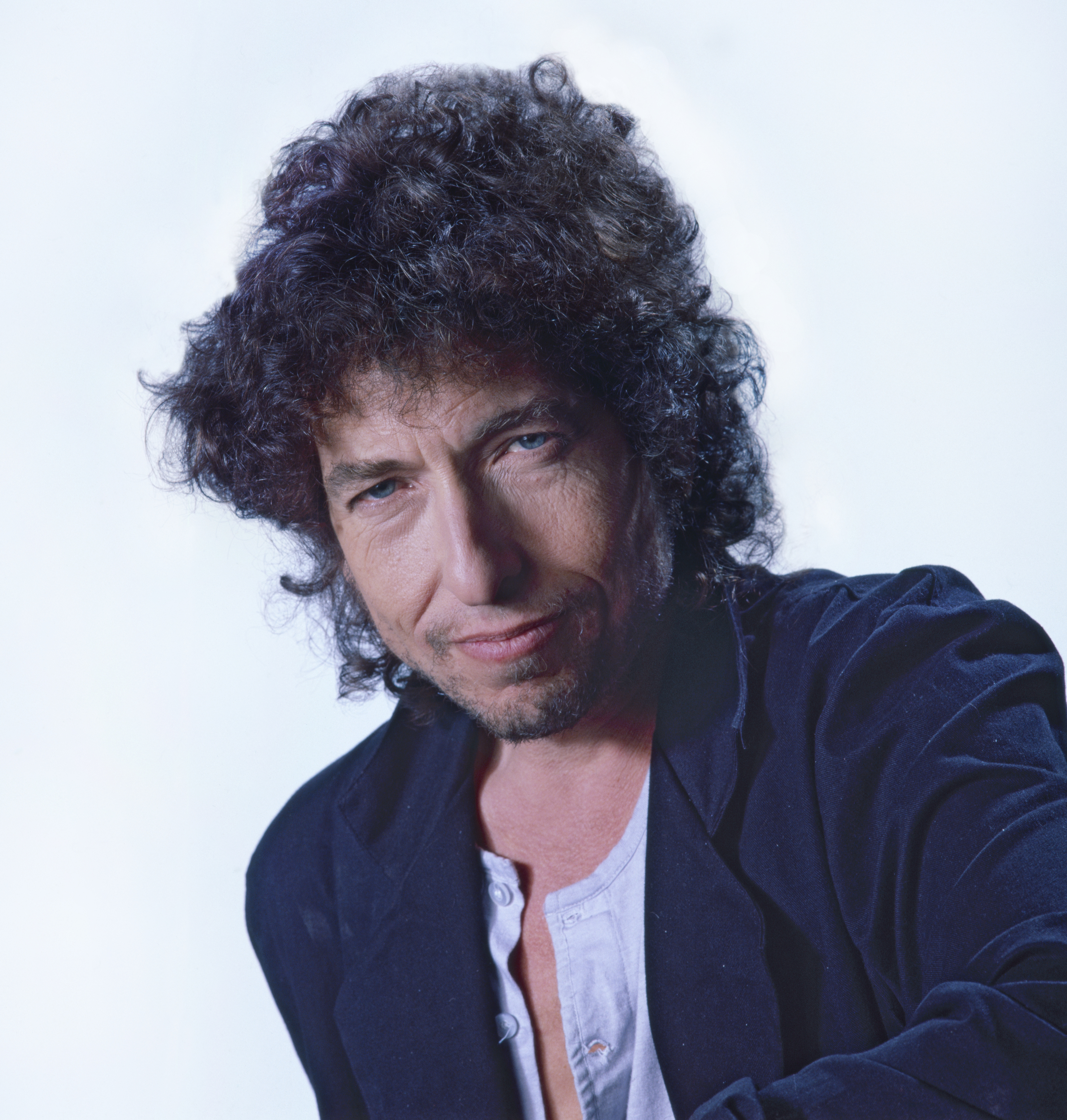 Aaron Rapoport/Corbis via Getty Images
Bob Dylan is the rock's first real renegade. He's also rock's first true troll. Who else would have the balls (or chutzpah) to go to the 1965 Newport Folk Festival, plug in and say he ain't gonna work on Maggie's Farm no more? Or, what about a year later in 1966 at show in Manchester, when faced with a booing crowd calling him Judas, telling his backing band to "play it fucking loud!" Oh, wait, what about right after his electric success with Highway 61 Revisited and Blonde on Blonde, and almost instantly making a country album as a response? Or better, you know what punk really is? Converting to Christianity and making three (mostly great) Christian rock albums because that's what you believe in. And lastly, what about when some idiot with the phrase "Soy Bomb" threatens to ruin your big comeback moment at the Grammys and you barely even acknowledge he was even there. Now that's rock n roll.    DK
6 Bruce Springsteen
(Clears throat) Uh, 1..2..3..4! From his rise as a Jersey bar band to the guy who covered Time and Newsweek at the same time to international icon, Bruce Springsteen remains the everyman that everyone looks up to with his earnest lyrics that literally became the blueprint for every heartland rock imitator. For many, New Jersey's greatest son is the living epitome of both the American Dream…and hope. Case in point, as New York City was burning on 9/11, the Boss, like everyone, was watching the destruction…but he saw it firsthand across the river. Famously, a passing motorist yelled, "Bruce, we need you." Not only did he respond, he wrote one of the best late-stage albums in history with The Rising, kicking off a successful stint with the E-Street Band that continues to this very day. Bruce is the rock hero we need, not the one we deserve. Besides, which rock star could go to Broadway and perform an irreverent, yet deeply personal and open one-man show…and joke about it being his first honest job?  DK
5  David Bowie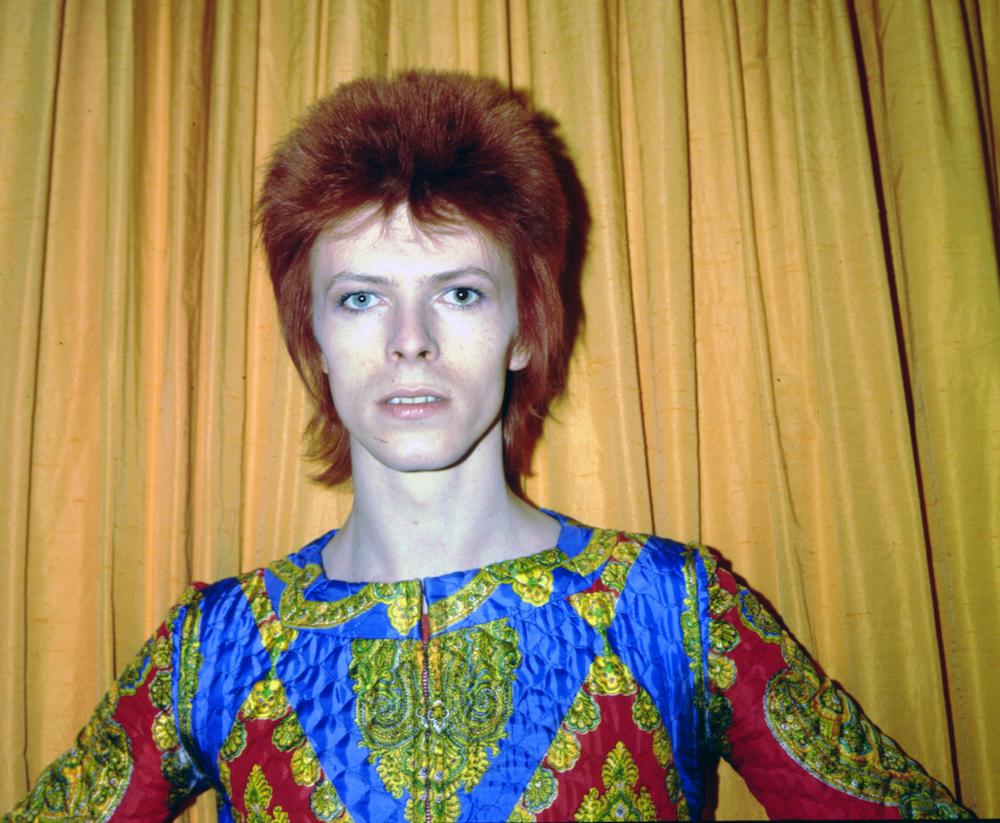 Michael Ochs Archives/Getty Images
David Jones, young man about town in Swinging London in the '60s, was going to be an art director and foresaw a career trajectory where he would have his own advertising agency. "I could've done a Saatchi. I know I could. I'm great with ideas — I can see things. If I had stayed in advertising, I might well have had a New Bond St. agency. That'd be very funny," he once told me.​ Instead, he became David Bowie, rock's great changeling and perhaps its greatest artist.
​He was certainly rock's most​ interesting and creative ​personality.​(​A​nd​ probably its ​most intellectual​,​ and genuinely curious and absorbent​ ​one.)​ Starting in the mid-'60s he produced a 50 years chain of brilliant albums, and periodically morphed from one sound to another, from the buoyancy of glam rock to the hard, distorted rock of Station to Station, 15 years before Nirvana brought us grunge, to jazzy cabaret, with stops in between​.​
He was a poser, but that was his job description. He had multiple personalities, and toyed with them all, like an agile cat batting around ​the proverbial​ mouse, and resolved each of them — Ziggy, the Thin White Duke, Aladdin​, the late period wise crooner, even to the point of effectively delivering his own eulogy with Blackstar and the chilling "Lazarus."​ ​B​ut there was one character he never got back in the box, his real self, David Jones​, whose name he was forced to​ abandon because Davy Jones of the Monkees was more famous at the time. ​Twenty years ago ​I asked him​ if he ever imagined having a drink in a pub with ​then middle-aged Jones, and discussing what might have happened had he stayed with him. 
"​I've ​really ​had to reflect ​upon​ how much I've been absorbed into the David Bowie persona. Is it more than just a name change or have I symbolically—by changing my name so early on— given myself permission to completely change the way my life would've gone?​ ​​Is this what David Jones turned into, or did David Bowie allow David Jones to become this? I don't know​!​" he replied.   BGJ
4  Jimmy Page
Some say he's the greatest guitarist to have ever lived. Aside from forming Led Zeppelin, one of the most successful bands of all time, Jimmy Page's style and influence as a guitarist are immeasurable. Long-haired and bell-bottomed, Page was the consummate pioneer and perfectionist, a true virtuoso, his epic solos, unique techniques and signature riffs forever changing the guitar-playing game. Thanks to Page, young guitarists for centuries to come will learn just how tough achieving the "Dazed and Confused" distortion, "Heartbreaker" smearing and "Black Dog" bends can be. Some will try and play with a bow. Thanks to him, they'll learn from a master.    LL
3  Jimi Hendrix
A kid from Seattle changed the world with the flick of his fingers — and it's not who you think. James Marshall Hendrix invented how the modern electric guitar was to be played. Not to mention his distinctive '60s, swingin' London look that not only was cool, but it also epitomized cool With a swagger, groove and maximum volume intensity, Hendrix turned the guitar into the musicians' choice weapon of mass destruction — even if he destructed it himself. Who can forget the Monterey Pop Festival when he set his ax aflame? Oh, not impressed? What about waking Woodstock up at 8:04 am (so says my father who was there) with a now-iconic version of "The Star-Spangled Banner" before launching into "Purple Haze." You want trippy? How about "Voodoo Chile?" Not ferocious enough for you? What about "Fire" or the mangled greatness that was "Manic Depression"? Hendrix did the impossible though, he reconstructed a Bob Dylan song and made it his own. So impressed Dylan was that he has played Hendrix's version live ever since. How's that for a legacy?  DK
2 Prince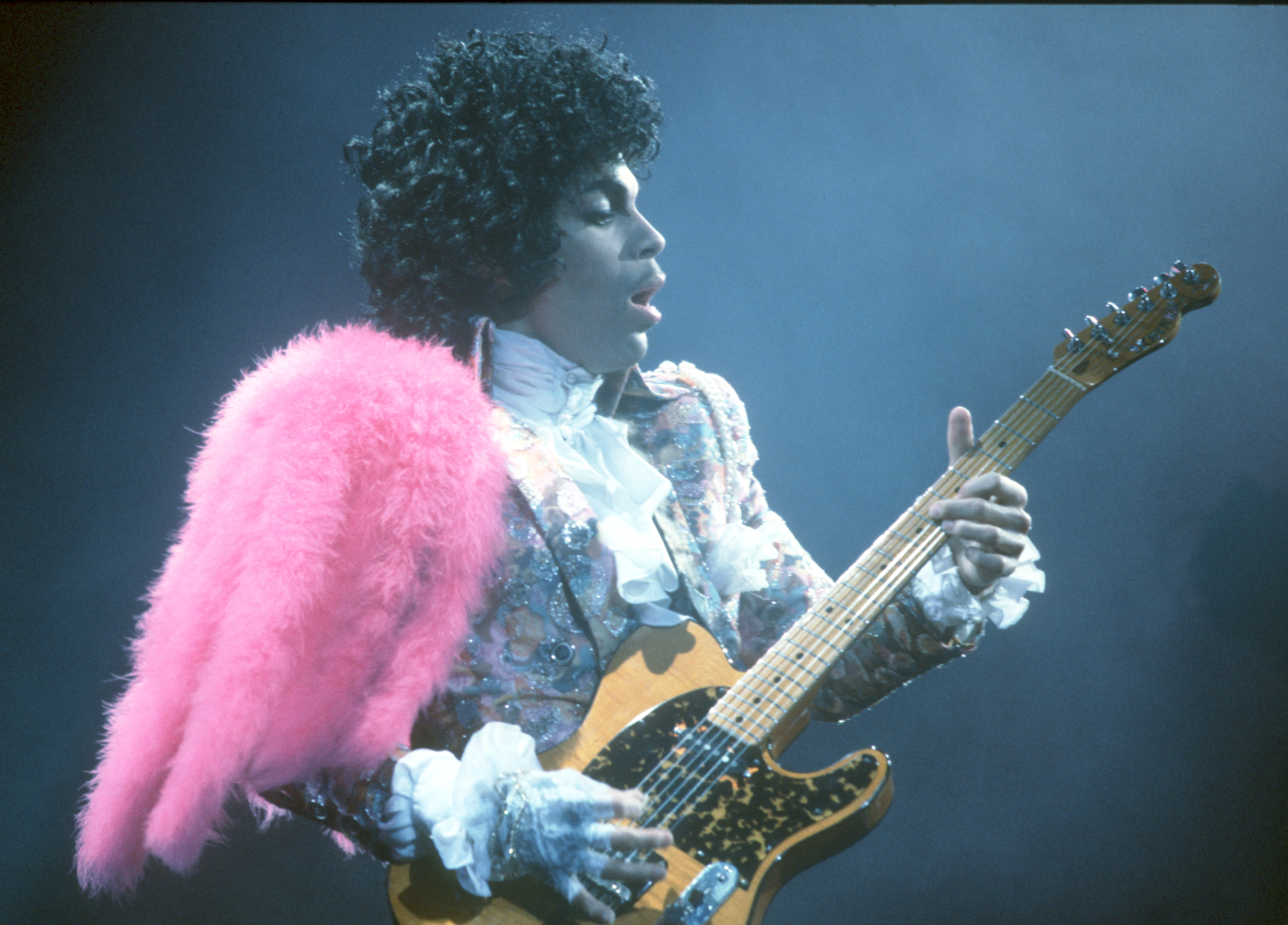 Michael Montfort/Michael Ochs Archives/Getty Images
Wizard. Freak. Icon. Legend. Controversy. One Man Army. A Little Off the Deep End. Control Freak. Those are just some of the words how you can describe the Purple One. What's indisputable is the body of work that he left behind following his shocking 2016 death at the age of 57. Prince was an artist in the truest sense of the word. Always creating, always innovating, never settling for anything less than the best. It could be heard in his demos, lost albums and kinetic live performances that left you feeling like your head was on a swivel. And, just to think, he has literally thousands of songs that didn't meet his standards that are still in his vault. Have you heard any of the songs that have been unearthed yet? If not, do yourself a favor and do so — Prince's leftovers are 96.43% better than anything else that has been put out by others. Yes, it turns out his legacy is a bit muddied by some erratic behavior, but there's no doubt about this: Prince is your favorite rock star's (and musician, really) favorite rock star.  DK
1 Keith Richards
Mick Jagger was the poster boy for the Stones, and Brian Jones the artsy visionary of the band, who introduced the others to the Blues and blended it into their sound. Both were cut from the mystical cloth of the rock star, and resided in that rarified strata of excess high above our average lives. But Keith Richards was the sound of the band, and the real rock star, the guy who really didn't give a damn, including from time to time, it seemed, whether he lived or died. 
He was never the pretty boy and even when he was younger he looked older than he should, and more spent, like the guy who's at the end of the bar in the pub too much. But if anyone in the Stones made a deal with the Devil for musical divinity, ala Robert Johnson's mythical pact, it was Keith. Think of the opening to "Jumpin' Jack Flash" or "Honky Tonk Women." Or the urgent and accelerating intro of "Street Fighting Man." He gave "(I Can't Get No) Satisfaction" its thrust. And then there's "Sympathy For the Devil"'s chilling and immortal guitar line, the wail of "Winter," the ache of "Angie." His guitar propelled the forceful, percussive "Start Me Up" and, as so often his playing has done, once again made the Stones sound fresh when they were far, far from that.
He refers to himself as the Riff Master and wrote in his autobiography Life "I'm blessed with them and I can never get to the bottom of them. When you get a riff like 'Jumpin' Jack Flash' you get a great feeling of elation, a wicked glee. 'Flash' is basically 'Satisfaction' in reverse. Nearly all of these riffs are closely related." 
So the greatest rock star of them all, from the time of the first budding notion of what that might be, is the anti-rock star. The one who never tried to be one in the first place. The guy who, for a little under 60 years, has been the sonic spine of rock 'n roll, the real deal, the baddest of the bad boys.   BGJ