On Saturday, singer-songwriter, real estate mogul, and vape enthusiast Jimmy Buffett played a West Palm Beach rally for Florida Democratic gubernatorial candidate Andrew Gillum and Senate incumbent Bill Nelson. He also changed the lyrics of a few of his songs to take some above the belt swipes at Republican Senate hopeful Gov. Rick Scott and President Trump, and if the comments on Buffett's various social media accounts are any indication, some faction of his Parrothead fanbase think it was all for the birds.
Buffett's fans broke from their laid-back, island daydreams to share their vitriol on the official Facebook pages for his band, Jimmy Buffett and the Coral Reefers, as well as the page for his various Margaritaville-branded restaurants and resorts. Under one innocuous post featuring a picture of Buffett playing Saturday's rally, heartbroken fans left literally hundreds of comments telling Buffett to stay out of politics, calling Buffett a socialist, and offering to sell off previously purchased concert tickets as Buffett stumping for a Democrat is a deal breaker.
"Screw you. Done with your music, you leftist. Move to Venezuela," wrote one distraught Parrothead in Buffett's Facebook comments. "Love, former avid Parrothead who contributed a lot of money to your riches. Off my radio and playlists. Shame on you."
"Lifetime fan gone," another now former fan wrote. "Sorry Jimmy. This is on you."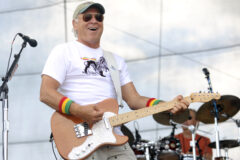 "I always knew you leaned to the left but thought you had the decency to not bring it to the forefront," one woman wrote after mentioning that she went into her husband's closet and threw out all the clothes, hats, and I'm assuming flip-flops that would ID her husband as a Parrothead.
"Moved to Daytona 3 years ago. My mom was looking at a house," one former fan wrote on the Margaritaville FB page. "Not now, I will not go to any of your businesses."
"Smoke one and chill, Jimmy. It's never a good idea to intentionally provoke a sizeable part of your fan base," wrote another former fan. "It's a good thing you don't need money, because you won't ever see any from me."
"No more will I listen to your music," wrote an angry woman under a photo Buffett posted with legendary television producer Norman Lear. "I have been to 8 of your concerts, cheering and singing along to every word of every song. No more, never again. You are a Liberal a**hole, and you suck."
It's unclear why this is surprising to Buffett's fans given that the avowed environmentalist mainly supported Democratic candidates throughout his career, most notably when he famously played for President Bill Clinton on the White House lawn in 2000. Buffett also played a fundraiser for Barack Obama's reelection, and shared a photo of himself serenading Alabama Democratic Senator Doug Jones after trouncing Republican Roy Moore in 2017. This sounds like when some of Willie Nelson fans were genuinely surprised that—gasp!—an old stoner would endorse Democrat Beto O'Rourke in the Texas Senate race over sweaty narc Ted Cruz.