Did any single musician foretell the rise of the #brand better than Jimmy Buffett? The legendary rocker, perhaps best known for turning a song about a cheeseburger into an empire of tequila, has parlayed his Parrothead dominion into yet another business venture. Back on February 16, Margaritaville Holdings, the company shouldering Buffett's business interests, announced an entire retirement community that bears the ethos of his branded resorts and restaurants. "Latitude Margaritaville has the exact coordinates for those looking to live the Margaritaville lifestyle as they grow older, but not up," a press release said.
The first Latitude Margaritaville development community will open in Daytona Beach, Florida, for Parrottheads "55 and better," with residents expected to move in sometime in 2018. It's slated to run a $1 billion price tag, for its 7,000 homes and amenities. Since its announcement two weeks ago, the community has already garnered 10,000 registration applications, according to Bill Bullock, the Senior Vice President for Minto Communities, the development company that partnered with Margaritaville for the project.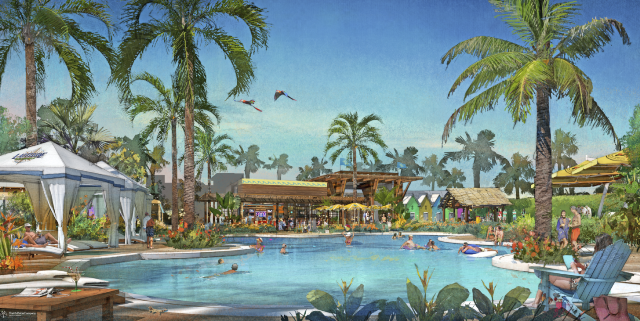 From the press release:
Featuring world-class amenities and design, LATITUDE MARGARITAVILLE, Daytona Beach will reflect Margaritaville's authentic, "no worries," tropical vibe, offering an immersive brand experience. Current plans call for walkable neighborhoods and a Town Center featuring a fitness center with an aerobics studio, indoor lap pool, spa, and group fitness classes; indoor and outdoor dining with signature Margaritaville food and beverage concepts, as well as others; arts and learning programs for residents and guests; and a resort pool area with beach entry. In true Margaritaville fashion, music will also play an important part in the community, with a band shell for live entertainment in the Town Center. A private beachfront club with breathtaking views and beachfront amenities will be set on the Atlantic Ocean, which residents can access via a continuous loop shuttle service.
As Rolling Stone notes, Buffett also has a Margaritaville play headed to Broadway in 2018. Titled Escape to Margartiaville, the play acts as tribute to Buffett's extensively laid-back catalog. Playbill describes the show as such: "Imagine a place where the sun is hot, the ocean's warm, and the drinks are as cold as they are plentiful. Welcome to Margaritaville, the island paradise where city folk get away from it all and the locals get into the kind of trouble you can almost always sweet talk your way out of. This new musical is the story of a part-time bartender, part-time singer, and full-time charmer named Tully who thinks he's got life all figured out. Until a beautiful career-minded tourist steals his heart and makes him question everything."