Pusha T's Daytona, released in late May, was the first of the recent round of G.O.O.D. Music mini-album releases. Today, the former Clipse rapper and label head is still giving interviews explaining the process behind the album and fielding questions about his increasingly controversial collaborator and business partner Kanye West. In a new Guardian profile, Pusha addresses (a bit more directly than in previous interviews) Kanye's expressed sympathies for Donald Trump and the rapper-producer's comment to TMZ that "slavery for 400 years" sounded like "a choice" to him. Pusha claims he discussed the slavery comments with Kanye the day after the TMZ video aired.
"I flew to Wyoming the next day [to confront him]," Pusha told The Guardian. "We spoke about insensitivity. The actual messaging. Where I felt he went wrong. You can't even paraphrase about situations and issues that are so personal to people. When it comes to death and real-life people and persecution and things where families have been divided, you have to be more careful."
Pusha did echo one of Kanye's talking points: that his incendiary comments have been disseminated out of context. "I feel like the keywords in what he said were so strong and powerful, that it doesn't let you get into the nuances, the underlying perspective," he said. "Or even wanna hear how he's thinking. I told him that if you're really trying to get a point across, you have to be mindful a little bit about what's gonna tick people off, so you can get to your end goal."
But never fear, you probably won't find Pusha being touted by alt-right types anytime soon. "The Make America Great Again hat is this generation's Ku Klux hood," he opined. "When was America so great anyways? Name that time period?"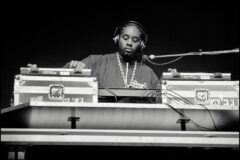 In a behind-the-scenes video about his pre-ye single with T.I., "Ye Vs. The People," Kanye himself explained he posted a photo of himself wearing a MAGA hat to "[force] an evolution, because there's, even for me, I know so much more in the past three days, because I'm getting this energy, positive or negative, agreeing with me, disagreeing with me… When I wear that hat, it's a fight for equality." As far as a retraction or apology…well, that's not really Kanye's style, is it?