Pusha T went on Julie Adenuga's Beats 1 radio show recently to talk about G.O.O.D Music's Wyoming sessions, during which Kanye West produced seven-track albums for Push, Nas, Teyana Taylor, himself and a joint record with Kid Cudi. Push told Adenuga that his album Daytona is "by far my favorite," but that Taylor's K.T.S.E. is his second choice due to his "love for R&B."
He also mentioned Taylor's frustrations with the seemingly final version of her album, attributing some of the issues to the singer's "demo-itis," as Push referred to it. "Demo-itis is when you record a record and begin to love the record as it is, and then somebody comes and change something within the record," he said. "You know, [Kanye] may add a sound or three or add a sample or things that, you know, change the dynamic in her mind."
Push also hinted at a tour with all of the G.O.O.D music artists behind the various records. "That's what we're trying to figure out right now, just how we're gonna do it," he said. "I definitely see us doing this as a collective for sure, and not even by my word, by Ye's. I already see it happening."
As for what's next, Pusha said he already has a new project in mind to follow Daytona, which he described as the "rap album of the year." He said he might not limit his next album to seven songs, calling Kanye's track experiment in Wyoming one singular "story" to establish himself as a "producer God." He originally hated the idea of only having seven songs, but now he acknowledges that seven was perfect for Daytona, saying it would've been a "mistake" to go longer.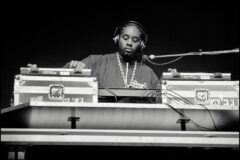 Ultimately, he sees the five albums as an example of Kanye's versatility and a reminder of his greatness. He also singled out "Cops Shot The Kid" from Nas's album Nasir, saying with excitement: "I'm like 'How the hell did I miss this beat, where the hell did this come from, you thought that was okay to give him?!'"
As far the reports about Kanye wanting to make 52 albums in 52 weeks, Pusha said, "I didn't even hear about that from [Kanye], I saw it online like you did and I ignored it the best way I could."
"I'm only 100% focused on G.O.O.D, so if you mean 52 albums, then I'm gonna just stay within the G.O.O.D family," he added. "If he has some like you know personal extensions that he'd like to do that he's gonna put himself to task too, that's fine."
Watch the interview below.