Kanye West has released a behind-the-scenes video featuring a political discussion with T.I. that seemingly culminated with the creation of West's recent single "Ye Vs. the People." The clip was posted to Kanye's official YouTube channel and his website this morning. It shows Kanye, T.I., and a group of largely silent observers looking on as Kanye explains the motives behind voicing support for Donald Trump and wearing a Make America Great Again hat during a barrage of tweets last week.
"Me putting the hat on forces an evolution," Kanye says at one point. "Because even for me, I know so much more in the past three days, because I'm getting this energy, positive or negative, agreeing with me, disagreeing with me. And that sharpens the diamond–our mind, our consciousness, the way we are thinking, just breaking some shit." When discussing the motivation behind his recent tweets supporting Trump, Kanye offers the following: "If I had not done what I felt, and I just thought, then it would have never happened. And when I wear that hat, it's like a fight for equality. Like, 'Oh, I can wear this hat too.'"
T.I. counters by saying: "Your intentions, from what you tell me, are pure, but the direction that you took to get there is a bit unorthodox and kind of, I would say, some people would say, thoughtless." He also tells Kanye: "I just want you to consider all the people who might just like be terribly torn apart and hurt." At one point, Kanye claims that "half the shit Trump does, I don't agree with," to which T.I. responds "What half do you agree with? Let's get that out." The million dollar question!
Kanye explains: "Just the ability to do what no one said you could do. To do the impossible. It is the most inspiring thing to me."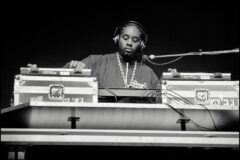 Eventually, Kanye plays T.I. a sketch of his verses from "Ye Vs. the People," and the two discuss interjections T.I. could make into the track to make it flow like a conversation. Following this, there's footage of the two trading places at the mic in the studio. Watch an excerpt from the clip below, and the full video on Kanye's YouTube channel.
Kanye gives us a behind the scenes look on the making of "Ye vs. the People"

Check out the whole video on https://t.co/TpuIcxlU1I pic.twitter.com/BBkBoVuV6R

— Def Jam Recordings (@DefJamRecords) May 1, 2018