In retrospect, Fyre Festival was clearly too good to be true. The upstart festival, launched by would-be tech entrepreneur Billy McFarland and musician Ja Rule, promised headliners like Blink-182, Migos, and Major Lazer, spread over two weekends on a lush private island "once owned by Pablo Escobar" in the Bahamas' Exumas district. Tickets ran to several thousand dollars, or as much as $250,000 for the deluxe packages.
The promised amenities were lavish—elegant villa-style housing, gourmet catering, beach yoga, bikini-clad models aboard rented jet skis and yachts. Perhaps wildest of all was the promised real-life treasure hunt, which was said to offer up to $1 million in "luxury jewelry and watches [and] cash," plus a piece of oceanfront property for the winner. But we all know what really happened: A bunch of well-off young people really did buy tickets, and made it as far as the Exumas, where they found a Lord of the Flies-style "disaster tent city" with no villas, no bands, and no models.
Was it all a scam? What happened? Here, in one timeline, is our attempt to piece together a few key events in the run-up to Fyre's fuck-up.
2015
McFarland meets Ja Rule. McFarland had previously founded Magnises, a "black card" subscription social club for millennials that's been accused of failing to follow through on promises of perks like exclusive concert tickets and luxury vacations. Ja Rule became a Magnises spokesperson.
Late 2015/Early 2016
McFarland and Rule co-found a new venture called Fyre, which has two arms: An app for booking celebrity appearances, and an ultra-luxe festival to promote it. The pair picked the Bahamas as a location, McFarland told Rolling Stone, after piloting a small plane from New York and emergency-landing in the Exumas (a distance of more than 1,000 miles).
December 2016
Festival organizers invite a bevy of beautiful "influencers"—models, athletes, "DJ/producers"—with large Instagram followings to the Bahamas for a photo and video shoot.
https://youtube.com/watch?v=kkovBKfcSJ8
The Fyre Festival social media blitz begins as models start post photos of themselves in the Bahamas. On an appointed day, the 'fluencers flood followers' feeds with an "announcement" image: a Fyre-orange square.
The celebrity marketing isn't cheap: Kendall Jenner was reportedly paid $250,000 for her endorsement, while less popular influencers got $10,000 per post. Many did not disclose that they were being paid to promote Fyre, in possible violation of FTC regulations on influencer marketing.
Meanwhile, Fyre Media hosts its first-ever Bahamas event: A disaster relief benefit concert featuring Ja Rule.
January 2017
McFarland hires a TV production company to shoot a reality show about the festival, but the plan falls through when he reportedly fails to pay a $100,000 bill.
Fyre Festival continues to promote itself on social media, teasing "limited" tickets even as it offered 25% discounts. Kendall Jenner offers her followers a promo code to attend a Fyre after-party.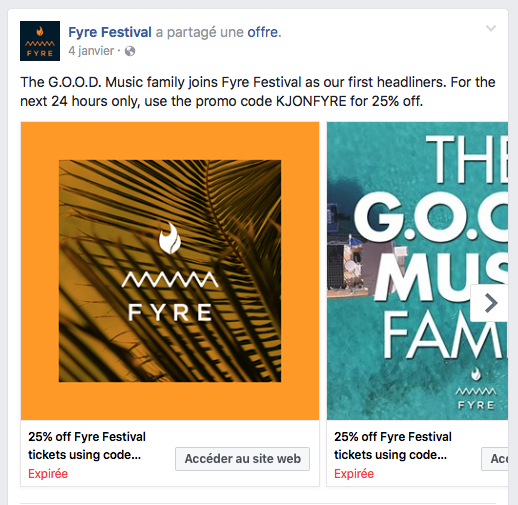 Opps! Kendall better delete this…. #fyrefestival pic.twitter.com/m9G2Xu1LNS

— Chris Kardashian (@BaddieLambily) April 28, 2017
Late February/Early March 2017
With less than two months until showtime, organizers attempt to line up logistics. At this point, a toilet and shower supplier told Vice News, Fyre was already down to the wire—just ordering the trailers would've cost $1 million, before the cost of shipping and disposal. In a cash crunch, McFarland reportedly obtains a $5 million high-interest loan to cover expenses.
April 2
The first public signs of trouble appear as the Wall Street Journal reports some Fyre performers didn't receive money promised in their contracts on time, and ticket holders are nervous about a lack of communication regarding their travel arrangements.
April 11
The website Exuma Online publishes an little-heeded warning titled, "Fyre Festival: Scam or Legit?", pointing out inconsistencies in festival marketing: The place depicted in a CGI rendering of "Fyre Cay" isn't actually a private island, but an undeveloped area on the main island of Grand Exuma; Pablo Escobar never owned an island in the Bahamas; and Major Lazer are booked at the Middlelands Festival in Texas during what's supposed to be Fyre's second weekend.
April 17
More signs of trouble surface as Page Six asks, "Are Fyre Festival organizers in over their heads?"
April 26
Vanity Fair runs a piece about Fyre's Instagram-centric marketing strategy, calling it "a brand activation that plays at being a festival." A number of acts are still TBA, but the magazine and the Bahamas Ministry of Tourism both appear to believe the event will go off more or less as planned.
Separately, Comcast's venture capital arm reportedly considers investing as much as $25 million in the Fyre celebrity-booking app, but pulls out days before the festival was set to begin, "following a due diligence review and the failure of Fyre to provide crucial financial information."
April 27
On the Thursday afternoon before Fyre is set to begin, headliner Blink-182 pulls out, saying they're "not confident we would have what we need" to perform.
That evening, attendees begin arriving in the Exumas via chartered plane from Miami. Instead of the promised luxury villas and gourmet catering, they document an unfinished gravel lot, scattered disaster relief tents, a skeleton staff, and the infamous cheese sandwich. Pictures from the "festival" start to go viral online.
This sums up Fyre Festival. #fyre #fyrefestival #fyrefest pic.twitter.com/x4xcFBL8Yg

— William N. Finley IV (@WNFIV) April 28, 2017
The dinner that @fyrefestival promised us was catered by Steven Starr is literally bread, cheese, and salad with dressing. #fyrefestival pic.twitter.com/I8d0UlSNbd

— Trevor DeHaas (@trev4president) April 28, 2017
Later that night, Bahamian officials cancel all inbound flights. Travel chaos ensues as many attendees decide to turn around, overwhelming the Exumas airport.
April 28
In the early A.M., Fyre reverses course, announcing that the festival is "postponed" and all attendees will have to go home.
Due to unforeseen and extenuating circumstances, Fyre Festival has been fully postponed (con't)

— Fyre Festival (@fyrefestival) April 28, 2017
Due to unforeseen and extenuating circumstances, Fyre Festival has been fully postponed (con't)

— Fyre Festival (@fyrefestival) April 28, 2017
At this time, we are working tirelessly to get flights scheduled and get all travelers home safely

— Fyre Festival (@fyrefestival) April 28, 2017

Ja Rule issues an apology, writing that the festival "was NOT A SCAM" and "this is NOT MY FAULT." He also deletes a number of earlier Instagram posts promoting it. The Bahamian tourism ministry publishes a statement disowning Fyre.
More reports surface as Fyre staff and insiders leak information to the media: Employees and talent were reportedly warned not to leave Miami because the festival site wasn't ready, and the company is said to be having "financial issues."
April 29
McFarland goes into damage control mode, saying organizers were "a little naïve" and blaming bad weather for complications. Fyre Festival will try again in 2018 at a U.S. beach location, he tells Billboard and the New York Times. In addition to full refunds, he promises everyone who bought 2017 tickets can attend free next year.
May 1
Celebrity attorney Mark Geragos files a $100 million class-action lawsuit on behalf of attendees, claiming Fyre's organizers flew guests into the Exumas even though they knew the festival grounds were uninhabitable and unsecured. Organizers asked attendees to upload money to festival wristbands for a "cashless event," so some had no emergency cash for taxis, the lawyers write. In addition, "at least one attendee suffered a medical emergency and lost consciousness after being locked inside a nearby building with other concert-goers waiting to be airlifted from the island." The suit also includes a photo of the cheese sandwich.
Meanwhile, Fyre Festival sends a questionnaire to VIP ticket holders suggesting that, in lieu of refunds, they accept additional VIP passes to the yet-to-be-announced 2018 festival. TMZ reports that McFarland and Rule are banned from attempting another event in the Bahamas.
May 2
Someone apparently leaks the entire Fyre pitch deck presentation McFarland and his partners used to court investors. It's packed full of Instagram models and words like "ideate."
A second $100 million lawsuit accuses McFarland and Rule of breach of contract and fraud, saying they "tricked people into attending the event by paying more than 400 social media influencers and celebrities" to promote a festival that didn't exist.
May 3
A third lawsuit filed in New York accuses McFarland and Rule of negligence, fraud, and violating consumer protection law. "Upon the arrival of guests to the island of Great Exuma for the first weekend, the island was lacking basic amenities, was covered in dirt, and guests had to sleep in tents with wet blankets," the suit claims. "There were no communal showers or bathrooms as promised; instead there were porta potties (only about one for every 200 yards) that were knocked down and only three showers although there were hundreds of people arriving."
May 4
Two more lawsuits are filed against Fyre Festival's organizers, bringing the total count to five. The fourth is another class-action suit initiated by a ticket buyer. The fifth comes from staffing company National Event Services, which says Fyre contracted it to provide medical services at the festival. According to NES's suit, Fyre "failed and/or refused" to buy cancellation insurance and "failed to secure a contract with a medical evacuation helicopter or plane." In addition, NES employees who showed up to work on the island found a shuttered medical clinic and "uninhabitable" accommodations with "bug infestation, bloodstained mattresses, and no air conditioning."
That's most of it, so far. We'll update this timeline with new developments as they happen.