We just got home from SXSW, and saw more than 50 bands in the span of five days. Here's the best of what we saw.
Madame Gandhi @ Las Cruxes 
There's musicians, there's performers, and then there's renaissance tour de forces. Kiran Gandhi, better known as Madame Gandhi, does it all. The Los Angeles-based act first rose to fame drumming for M.I.A., but now she performs alone, casually moving from a laptop to her drum kit to the centerstage microphone without breaking a sweat. At once point, she walked to the stage's edge to conduct the crowd. The left half sang backbeat vocals. The right sang melodic falsettos. "If there's one thing you take away from the Madame Gandhi show," she said with a grin, "it's to own your voice." That they did. The crowd doubled in size by the time her set ended and cheered for an encore, eventually convincing the showcase organizers to let her perform one more song. While everyone swayed in tandem to a number celebrating female empowerment, once again, the audience grinned ear to ear. Madame Gandhi was the leader they didn't know they needed but, now, couldn't wait to swear their loyalty to.
Caddywhompus @ Beerland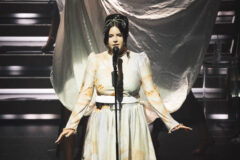 There's two options a duo can take: create intimate, often lo-fi music that builds off personal, cathartic performances; or multiply their sound, creating layers that only seem possible with four people, if not more, in the band. New Orleans duo Caddywhompus takes the latter route. With their instruments—a drum kit and a guitar—facing one another like a standoff, Chris Rehm and Sean Hart debuted songs off their upcoming LP, Odd Hours, that touched on math rock, psych riffs, and freak folk alike. Live, it illuminated the room with tonal similarities to Patagonian Rats-era Tera Melos, James Mercer's whimsical trills, and the spirited burst of Wolf Parade. In barely half an hour, Caddywhompus created an uplifting blend of experimental sounds and it's best to assume they will only create more of it in the future.
Mothers @ Las Cruxes
Mothers changed the course of She Shreds' showcase by breaking up a string of indie rock pop performances. After touring in support of their debut LP last year, they took the stage with an unexpected reinvention, where heedlessness towards reception worked in their favor. Frontwoman Kristine Leschper kneaded her guitar into a source of post-punk anxiety while hectic breakdowns and deadpan vocal delivery scuffed its edges. The elegiac storytelling of their record hasn't left. Instead, Mothers are a band caught in mid-transformation who, as they showed last night, are on the brink of solidifying their sound. Stirring folk rock was the jumping off point. Punkish slowcore is the next step, and they've clearly found they're at their most powerful when both feet are firmly planted on it.
Never Young @ The Sidewinder
Bay Area four-piece Never Young helped kick off Father/Daughter and Riot Act Media's joint showcase, but, in the process, set the bar a bit too high for other acts to jump over it. In under half an hour, they unveiled well-timed contrast, where short breakdowns interrupted dissonant pop and Christopher Adams and Nikolas Soelter's vocals floated above their tone with unexpected levity on par with Peter Bjorn and John's. In a sea of bands who fall victim to cliched chord progressions and threadbare idiosyncrasies, they presented angular pop that sounded wholly original, keeling over their guitars to throw themselves into distortion just when a song sounded even-tempered. Never Young, seemingly without trying too hard, inject just enough '90s noise punk into their songs to give the feeling of an oncoming manic episode, minus the messy cleanup or overplayed Sonic Youth homage.
DJ Esco @ Empire's
Midnight is usually the point where civility corrodes into bedlam, so it makes sense that DJ Esco would pave the way for Danny Brown's set at Empire Control Room & Garage. Future's DJ is also charismatic lead act, and kept the crowd dancing as he ran through a smorgasbord of hits—from Hendrix's 2017 highlight "Mask Off" to meme hall-of-famer "Father Stretch My Hands Pt. 1." Esco's set didn't exclusively extend to his immediate Atlantan family, though: He took a chance and gave Lil Uzi Vert's "XO Tour Llif3" some shine. Although the crowd's more subdued reaction suggested that the song hasn't quite caught on (yet!), Esco knows a hit when he hears it.
Bad Lovers @ Hotel Vegas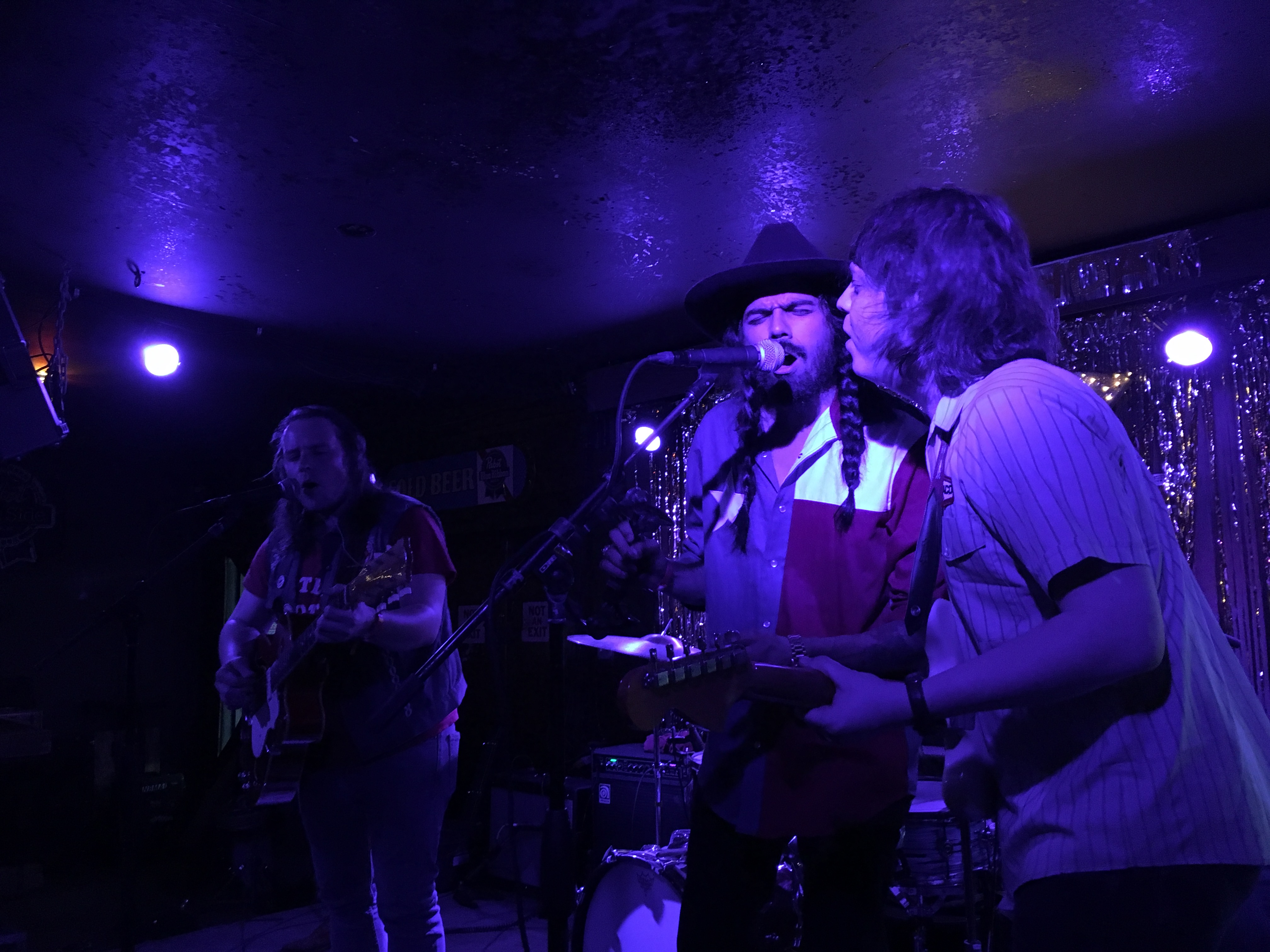 Bad Lovers call themselves, simply and accurately, "Austin TX boogie." These local Austinites play staticky, feel-good rock 'n' roll for people who like to twist and shout, and they know their way around a harmonica. The five-piece hit the stage at Hotel Vegas in full Lone Star State regalia: cowboy boots, Texas flag shirt, denim vest, even a lapel patch from a Texaco station. There's strictly no banter, but when you're all showmen, you don't need it. The drummer marked the climax of the show by spitting an enormous mouthful of water onto the singer. Don't mess with Texas.
Allison Crutchfield & the Fizz @ Empire's
Allison Crutchfield made her proper solo debut this year with Tourist in This Town, but live, she doesn't take center stage. Performing with her band the Fizz, Cruchfield's songs took on the collaborative ruckus of a basement show, sized up for a warehouse space. Lifted out of its bedroom-recording origins, the title track from her Lean Into It EP became something massive and looming. A noisy, faster-paced version of "Mile Away" forced Crutchfield to spit out shrewd insults ("You assume you understand because your voice is the loudest") with even more acerbity than usual.
Bibi Bourelly @ Empire's
You can't un-hear Bibi Bourelly's voice: It's big, smoky, and soulful, and it belongs to an unapologetic rock star. To see her live is to see the woman hold court, complete with a three-man band providing blues-rock backup. Bourelly is animated by a kind of daredevil energy, and she leans all the way into it on songs like "Poet," a song with lyrics that draw listeners into her enigmatic stage presence. ("Addicted to you, I just wanna breathe you in / Inseparable like rock and roll and Kurt Cobain.") Also on the setlist: Free the Real (Pt. #1)'s "What If," the fantastic recent single "Ballin," and a new song—perhaps a taste of Pt. #2—a power ballad about the feeling of finally getting off the road.
A$AP Ferg @ 800 Congress
Ferg isn't quite in the running for King of New York and he often serves as Rocky's burly second-in-command within the A$AP Mob. But Ferg has also been the frontman of some of the decade's most effective New York hits, and they were just as concussive at a 1 a.m. party 1,700 miles to the south. Even though some of the bangers he performed were over three years old (like the still-essential "Work" remix), they were still intense enough to send the audience into a fury. Backed by his wingman Marty Baller, Ferg performed set's climaxing song "New Level" with the verve of a Baptist preacher who's just graduated from a storefront church. ("She's on a new level! He's on a new level!") In the resulting mosh pit, one dude got bodied so hard that he stayed seated on the floor for several seconds before walking off with a limp. The new level ain't for everybody.
Hurray for the Riff Raff @ ATO Records
Hurray for the Riff Raff is the life's work of Alynda Segarra, and the wisdom of her experience is as unmistakeable in her expressive, careworn voice as it is in the weight of her songwriting. At a midnight set at a showcase hosted by her label, ATO Records, she and her four-person band played mostly songs from her new record, The Navigator. It's a concept album about the journey of Navi, a Puerto Rican-American girl and an avatar for Segarra herself, and from stage Segarra animates her character: hopping with excitement during "Hungry Ghost," and raising a defiant fist through closer "Pa'lante." "Pa'lante means to move forward," she reminded a rapturous crowd at the end of the night. "If we're gonna move forward, we gotta do it together. We can't leave anybody behind. We gotta protect each other."
Mozzy @ Emo's
Mozzy is the type of performer who can have his whole crew on stage and make it an all-inclusive shindig (unlike, say, the self-serving, chain-snatching posturing of a G-Unit set). He took the stage an hour after his scheduled set time at the 2 Chainz-headlined Emo's show, but the tardiness was a quickly forgotten nuisance. The Sacramento native's energy was so kinetic that he was shirtless by the second song and his sweats slung low enough to nearly expose bare thigh by the fourth. The crowd shared in the raucousness: This was 2 Chainz's night, but when the set closed with "Bladadah," Mozzy was the star in the room.
Talib Kweli @ Empire Garage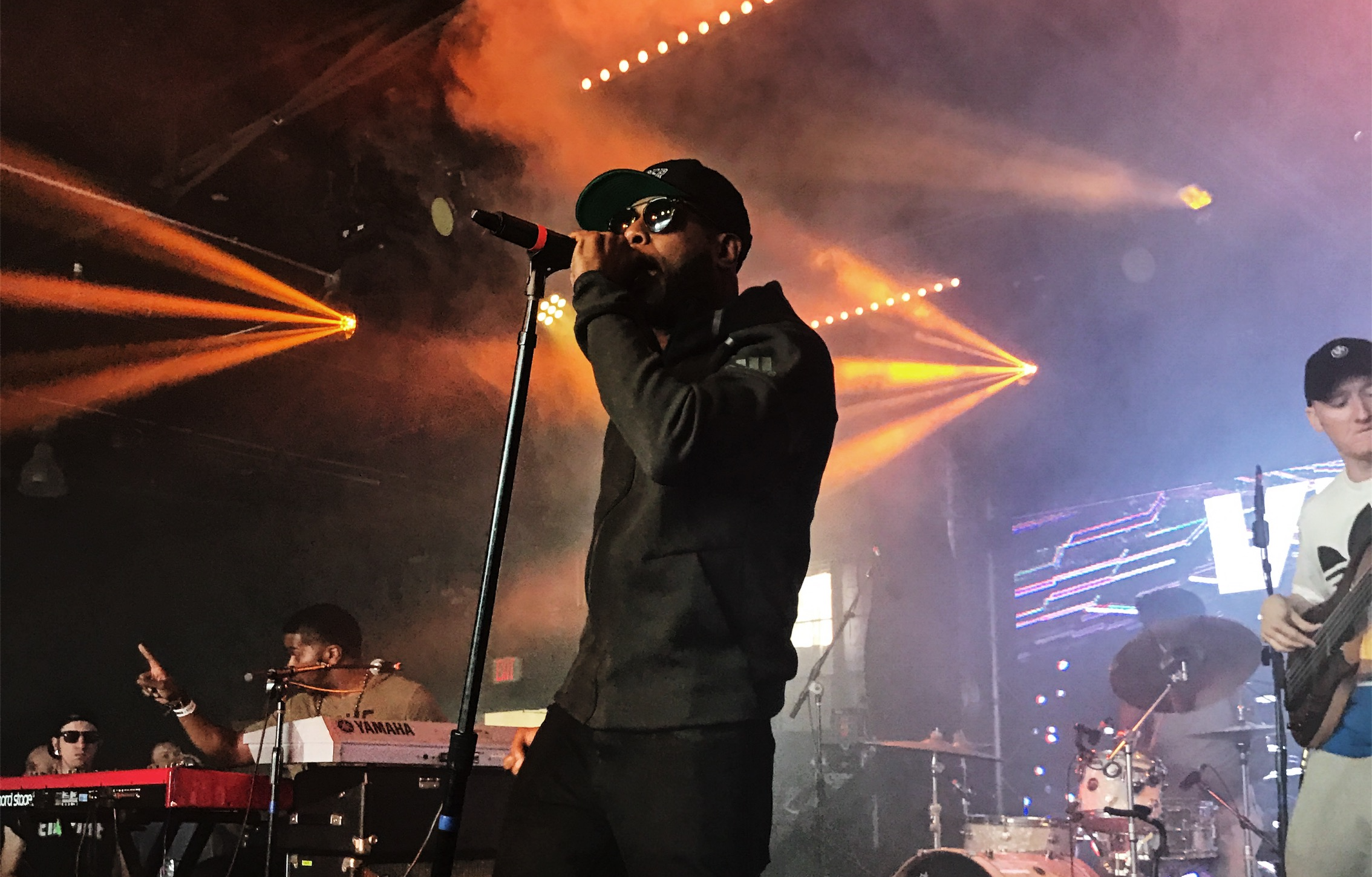 Talib Kweli's backing band doesn't add gravitas to his own catalog as much as it broadens his live show's palette. There's still the intensified Pavlovian joy of hearing Reflection Eternal's "The Blast" and Black Star's "K.O.S. (Determination)," but the afternoon set excelled in how it became this time chamber for black culture fitted for anti-fascist protest. Kweli's band is probably the first to segue from "Linus and Lucy" to "Money, Cash, Hoes" before offering YG his blessings a few minutes later (because "FDT," you know?). There was a workmanship to the MC's performance that kept the crowd compelled, even if a majority somehow didn't know the lyrics to A Tribe Called Quest's "We the People."
Frankie Rose @ Cheer Up Charlie's
Frankie Rose is partial to the new dying rose emoji, and no wonder, really—it could've been invented to symbolize her sour, fever-dream pop hypnotics. What keeps her sound vital is the sense of instability: when Rose balances on one leg onstage and the sounds coming from her dinged-up Fender Mustang sound like a siren going off. "This one's spooky for the afternoon, Austin, Texas," she jokes from the sunlit stage at Cheer Up Charlie's, because Frankie Rose is unquestionably a late night kind of band. But when they hit their stride, band members facing one another, it could be any time at all. Frankie Rose's new album, the follow-up to 2013's Herein Wild, is due out in July.
Lizzo @ Empire Garage
Coming straight out of Minnesota, this fierce vocalist blends a message of self-love with booming dance beats and a high-energy performance that demands the attention of anyone within earshot.  "When the beat drops, I want it to look like a Drake and Rihanna video," she ordered. Supported by a pair of dancers in matching black leotards, Lizzo roared through tracks from her major label debut, Coconut Oil, including "Phone," "Scuse Me" and "Good as Hell," galvanizing the audience with her warm personality and sheer persistence.
Gucci Mane & Meek Mill @ Stubb's
Kelela @ Empire Garage
Kelela arrived promptly at 4:20, entering the smoke-filled stage to the screams of the devoted fans who had waited to see her only festival performance. Opening with "The Message," she cooed through a dreamy, atmospheric performance to prove a very specific point. "People think it's a basic art form," the singer declared, "but I'm here to show you the range and breadth of R&B music." Thick with sensual seductions like "Gomenasai," "All the Way Down," and  "The High" before winding up with the one-two punch of  "Rewind" and "Bankhead," Kelela's performance was panoramic in scope.
Migos @ Coppertank
The Atlantan trio doesn't have to do that much at this point to throw a great show, since all but maybe three songs from Culture are hits. Throw in throwback essentials like "Fight Night" and "Hannah Montana"—as Migos actually perform the songs instead of posture—and we have ourselves a hootenanny. The trio's late night gig was also proof of the medicinal and spiritual powers of the culture. One woman swung her fists wildly to the beat of "Fight Night" as a nearby bro had the wherewithal to FaceTime his friend video of the show. (From where I was standing, we could see that his friend was shirtless in his bedroom.) Going to an intimate Migos show in 2017 is a look into how the culture is made from strangers finding nourishment together, and how refreshing that can be.
Broncho @ Valhala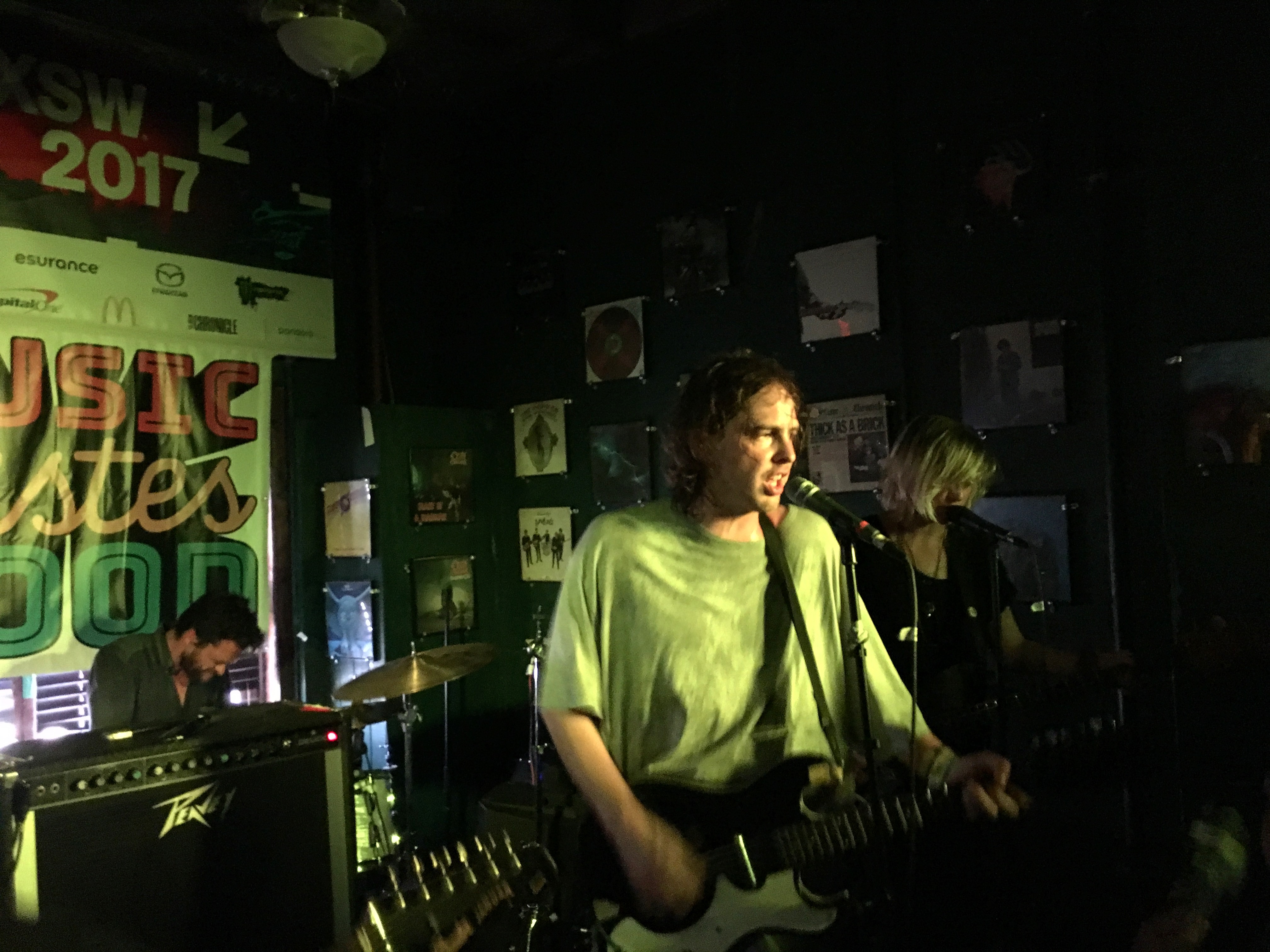 On record, Oklahoma's Broncho play thick, glammy psych rock packed with pop hooks. In the darkened interior of Austin's Valhalla, they played a spectacularly loud set, creating a wall of sound that closed in around the audience. There was so much reverb it was hard to be certain lead singer Ryan Lindsey was evensaying the right words; as he sang, he danced like the current from his guitar was running through him, electrifying his presence. Broncho's set was like getting hit by a train, except that after the final crash, the devastation is a pool of sweat and Lone Star.
Show Me the Body @ Empire Garage
Calling this trio of NYC punks confrontational would be an understatement. All rage, noise and aggression, the band followed a performance by Mastodon and somehow only amplified the crowd's energy. Frontman Julian Cashwan Pratt urged the audience to forge the barricade and rush the stage, much to the chagrin of security. (He would later get on the mic to graciously tell security not to confuse a mosh pit of fans with the potential for a fight. And security went ahead and joined in on the fun themselves.) He even broke out a banjo, on which he conjured violent distorted riffs–the barrage of drums and charisma on stage was enough to pull everyone unabashedly in, including Lizzo who came and raged front-and-center.
Priests @ Cheer Up Charlie's and a Secret Show
Priests played two shows within the course three hours last night—an unofficial backyard gig followed by an official and branded showcase a Cheer Up Charlie's. The contrast between the two inherently pushed a major contradiction to the forefront: Is anti-capitalism protest really anti-capitalism protest if it's done in front of a Union Square McDonald's? But for Priests—a quartet whose sounds draw from an alternate reality where the Pixies made an anti-fascist manifesto between Doolittle and Bossanova—the punk rhetoric still holds up.
"We played a lot of unofficial shows but who fucking cares?" said frontwoman Katie Alice Greer in one of the quips that she sprinkled throughout the Cheer Up Charlie's set. This outfit performs in a way that makes the rebellion feel naturalistic to them, their musicianship in-sync and parallel to their individualism. (As they performed "Pink White House," Greer went full-rage while G.L. Jaguar gyrated with the rhythm.) The result was momentous, enthralling the audience enough to take those Apple logos out of the air.