In theory, Apple doesn't have to pay Lana Del Rey for endorsements at all–her presence alone can prompt everyone in a 30-yard radius to pull out their iPhone. But no ticket was hotter than Del Rey's set at Apple Music's branded South by Southwest venue Friday night. The show, announced just the day before, was her first concert since she wrapped up last year's festival circuit, and the first since the release of her new single "Love" in February.
Anyone hoping to hear a second new song, or a tidbit about an album, will have to wait longer: Lana played it close to the vest, and held the live debut of "Love" for last. As lead-up, she performed music from 2014's Ultraviolence, and highlights from 2012's Born to Die and Paradise EP. "Ride" received a slight makeover as a keyboard ballad; "Born to Die" became even more torchy live. Lana herself picked up a guitar for a shaky solo rendition of what she called "an old song," "Yayo." (She last released an album in 2015, Honeymoon, but you wouldn't know it from Friday's setlist.)
SXSW crowds can tend toward the professionally subdued, but this was not true of people who circled the block trying to get into a Lana Del Rey show. They came wearing her 2014 tour t-shirt and screamed "you're beautiful!" They cheered when she hit the notes, but also just when she appeared to be trying her earnest best. When sound problems affecting Del Rey's in-ear monitors brought the show to a halt three songs in, the fans in the front row begged for selfies and were quickly obliged.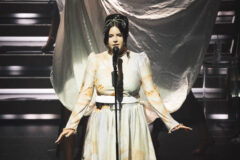 About that live debut of "Love": On record, it's a dream of plodding bass, softly buzzing keys, and the clicking noise of someone cocking a gun. Last night, the drop hit with an unexpectedly powerful ripple of guitar before climbing to a finale drenched in echoing background vocals. Lana wiped her brow with a theatrical "whew" once she made it all the way through the song. There was no encore.
https://youtube.com/watch?v=DRYv-kEdCz8
Lana Del Rey SXSW 2017 setlist
1. "Cruel World"
2. "Ride"
3. "Blue Jeans"
4. "Ultraviolence"
5. "Born to Die"
6. "Yayo"
7. "Shades of Cool"
8. "Video Games"
9. "Love"