SPIN Rating:
Release Date:
January 27, 2012
Label:
Stranger/Polydor/Interscope
Read the review, then check out Deconstructing Lana Del Rey: untangling the year's most divisive new artist.
"Bob Dylan" is not his real name. The "Ramones" were not related. "Sun Ra" was from Alabama, not Saturn. The Strokes' dads are not plumbers. "Rick Ross"… look, we don't have time for this. Yes, Internet, and God bless you for devoting most of the past half-year exclusively to pointing this out, Lana Del Rey is a pose, a persona, a version 2.0, at least, the contrivance of a messy, wayward, unformed, aspiring pop star rummaging through closets and clutching at borrowed pearls. Desperate to be what she thinks you want her to be. Calculated, malleable, untrustworthy, fumbling indelicately for "her" voice or a voice that's "real." As the Bard wrote: "I can change / I can change / I can change / I can change / If it makes you fall in love."
Eat it, Lizzy Grant. We got you. We cracked the code. Consider youself chastised. Feel free now, Internet, to go back to what you were doing before, i.e. subjecting to withering skepticism and operatic disdain the alleged authenticity of every scrap of music ever created by every human being seeking a modicum of public approval, ever, with the possible exception of Fugazi.
Calm down.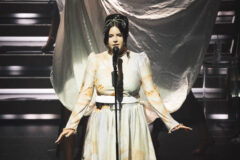 And here it is, Born to Die, the album, the "product," the anticlimax, borne of the lips that launched a thousand thinkpieces. Whether you know Ms. Del Rey primarily through that one YouTube video (the still-unassailable "Video Games") or those two Hulu clips (her still-mortifying Saturday Night Live performances), you've no doubt internalized her Peggy-Lee-joins-Portishead steez by now, fused to a theoretically hip-hop-savvy retro-futurism that is expertly established within 30 seconds of the title-track opener. The liquid-nitrogen 808s and Heartbreak dead-heartbeat, the soporific strings, the teenage-dream romantic fatalism, the sexy-grandmotherly ingénue moaning, "Feet don't fail me now," like a Valley-girl Desdemona.
Another major sonic precedent here is "Milk," the last song on the first Garbage record, the poisoned apple of 1995's eye, wherein (look, okay, the vastly superior) Shirley Manson wailed, "I'm waiiiiting / I'm waiiiiting for you" over nuclear-pathos grunge-glam symphonics. (Toss in that goofy, melodramatic torch song they did for the Leo DiCaprio/Claire Danes Romeo + Juliet remake, too.) Just jack up the goofiness, the melodrama, the glamour, the pathos. This is all stupendously hokey and stylized and yet immensely appealing; it's a fully defined sound — a point of view, as Heidi Klum would have it — and worth surrendering to even if you're the sort of person who'd enjoy watching a TV show where people who use the phrase "the gangster Nancy Sinatra" are shot out of cannons, directly into walls.
OBJECTIVELY RIDICULOUS LYRICS ON THIS ALBUM
"Everything I want I have / Money, notoriety, and rivieras."
"It was like James Dean / For sure / You're so fresh to death / And sick ca-cancer."
"Let's take Jesus off the dashboard / Got enough on his mind."
"Light of my life / Fire of my loins / Gimme them gold coins / Gimme them coins."
Yes, let's get "Off to the Races" out of the way. Holy moly, is "Off to the Races" just wall-to-wall GTFO. Miley Cyrus noir. Let's hear it for the boy: "He doesn't mind I have a Las Vegas past / He doesn't mind I have an L.A.-crass way about me / He loves me / With every beat of his cocaine heart." You had me up until "cocaine." The vast majority of this record is given over to rhapsodizing over some hunky, dangerous fella, and none of the alterations — sonic, biographical, cosmetic — allegedly made to the real-life Lana/Lizzy could distort the truth as thoroughly as her unrelenting Ooh He's a Bad, Bad, Sexy Man routine. It's instructive to picture what this guy would actually look like IRL, some clown with a real emotional haircut, Crocs hanging off his feet, Urban Outfitters leather jacket hung over his IKEA futon, remnants of that Taco Bell burrito with the Fritos in it congregating at the corners of his mouth as he binges on Skyrim, blasts "Pumped Up Kicks" on infinite repeat, and gargles dozens of shots of, like, Goldschläger.
Still, she loves him, yeah yeah yeah. The approximate vocal style here is Crushed-Out Schizo Coquette, especially when she goes the full Marilyn Monroe/Victoria Jackson for "I'm your little Scarlet / Starlet / Singing in the garden / Kiss me on my open mouth." Verily, what made her newborn-foal-on-ice-falling-into-a-volcano SNL debacle so terrible was how it exacerbated the key aspect of her voice: Every consecutive syllable sounds like a different person, rendering even a relatively simple line like "Oh please, stay here / We don't need no money / We can make it all work" into a mind-boggling improv-comedy flash mob. If we're already dealing with an empty/mutable personality, it's best to pretend "Lana Del Rey" is a girl group: Replace Sporty and Ginger, and call the new quintet Posh Spice, Baby Spice, Scary Spice, Drunk Spice, and Nas Spice.
(First thing to do after that is kick out Nas Spice. The nominally rapped "National Anthem" is patently ludicrous: "Money is the anthem / God you're so handsome," delivered in an Off-Broadway lisp that someone somewhere mistakenly regarded as erotic. She sounds like Napoleon Dynamite's brother.)
OBJECTIVELY RIDICULOUS LYRICS ON THIS ALBUM PT. II
"Money is the reason we exist / Everybody knows it / It's a fact, kiss kiss."
"Let's get out of this town / Baby, we're on FIYAH."
"Pabst Blue Ribbon on ice."
"Kiss me in the D-A-R-K dark tonight / Kiss me in the P-A-R-K park tonight."
"My old man is a tough man, but / He got a soul as sweet as blood-red jam / And he shows me he knows me / Every inch of my tar-black soul."
[A bunch of mumbled shit in French]
Is that all there is? Camp tragedy? Unintentional comedy? Yeah, so? Even the terrible parts of Born to Die are just so lovable, which bodes well for the actually great parts. Let no man speak against "Video Games" itself, the pocket-orchestral glamour and true-romance dizziness tuned just right: "He holds me in his big arms / Drunk, and I am seein' stars / This is all I think of." (The video, too, worthy of the Hollywood-as-Beautifier/Annihilator canon right alongside Mulholland Drive, or The Big Sleep, or the videos for "Welcome to the Jungle" and Poison's "Fallen Angel.")
Even the filler here bemuses and/or dazzles. There are at least two things wrong with the song title "Dark Paradise," but the mesmerizing stereo-panned, Greek Choral backing chants of "Radio" will remind you how much money, effort, and studio time have been poured into all this. And "Carmen" gently ascends/descends to Drake/Weeknd empty-hedonism poignancy: "Relying on the kindness of strangers / Tying cherry knots, smiling, doing party favors / Put your red dress on / Put your lipstick on / Sing your song, song / Now the camera's on / And you're alive again." Lyrically, Born to Die is as rigid and self-referential as any Hold Steady record, the lipstick/bikini/party dress/mascara/high heels tableaux repeated until it passes from lasciviousness to slight nausea to deadened malaise.
And climactically, "This Is What Makes Us Girls," whose title alone is just trolling you so hard. Wherein a pack of small-town Lolitas booze it up, trigger catcalls, skip school, break into pools, steal police cars, maybe hit the pole, etc. etc. This is all breathy, breathtaking bullshit, a shameless jumble of Rebel without a Cause, Fast Times at Ridegemont High, Twin Peaks, Showgirls, Smashing Pumpkins' "1979" video, Gossip Girl, and Grand Theft Auto: Vice City. But if you forget to approach this with a cynical, detached remove — if it catches you Internet-distracted and momentarily vulnerable — the last verse will, for a split-second, whack you across the nose with an old Vanity Fair: "They were the only friends I ever had / We got into trouble and when stuff got bad / I got sent away / I was waving on the train platform / Crying 'cause I know I'm never coming back."
This, too, is objectively ridiculous (even if it's apparently true), but she sounds so serious and genuinely despondent. This all has been so absurd: Who cares what percentage of that, or this record, or her is true? What do you care? Whether Born to Die sells 100,000 copies or 10,000 or 1,500, it has served a valuable purpose as the Internet's insta-backlash, hype-vortex tipping point, the darkest night yet of our Tumblr-ing soul. A cautionary tale. We should be ashamed; what we did to Black Kids looks rational and nurturing by comparison. This record is not godawful. Nor is it great. But it's better than we deserve. We broke her; we bought her.