SPIN Rating:
Release Date:
September 21, 2015
Label:
Interscope
"Don't Let Me Be Misunderstood," the final song and only cover on Lana Del Rey's wistfully catatonic third LP, Honeymoon, has — like the singer formerly known as Lizzy Grant and, let us not forget, Gangster Nancy Sinatra — gone through a series of reinventions. Nina Simone's dolorous 1964 original preceded the Animals' kicked-up contender for top of the charts, only to be blasted into dusty memory by the lusty horns in Santa Esmerala's (ten-minute long!) disco reboot. "Baby, you understand me now," Del Rey murmurs through lazy lips over a slowed-down, thinned-out version of that iconic organ phrase; and yet another layer of meaning swims to the hazy surface of a half-century-old song. "I try so hard, please don't let me be misunderstood."
https://cache.vevo.com/assets/html/embed.html?video=GBUV71501024&autoplay=0
All evidence on Honeymoon to the contrary of that first clause: Del Rey can barely muster the energy to match her mouth movements to the backing vocal in the video for "High by the Beach," admittedly an album, well, highlight with its lightly blipping jj synths and baby-soft trap beats. If Simone's "Misunderstood" can be read through the lens of the civil rights movement, Del Rey's ode to the finer things in her life can also be interpreted as her fighting against external circumstances she had little control over. "The truth is," she sighs, "I never bought into your bullsh—t when you would pay tribute to me." Though such hunger games gifted last year's Ultraviolence with the best album sales by a female artist since Beyoncé's 2013 self-titled LP, Del Rey is so over it she'll obliterate with a rocket launcher the paparazzo that probably considers himself to have had a hand in her success.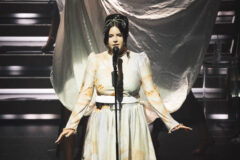 Upon first listen, Honeymoon's languorous pace and muted instrumentation can inspire yearning for the singer's early, more indelibly varied smashes: "Video Games," "Blue Jeans," "Summertime Sadness" (and fellow provocateur-in-weed Miley Cyrus' acoustic cover). But Born to Die, despite its high points, was a melodramatic mishmash at once ambitious and directionless: Del Rey's candy-swaddled voice struggled to distinguish itself from an overwrought suite of studio tools and orchestras of live stringed instruments. And Ultraviolence, though more streamlined, was mostly overshadowed by its more muscular sound of wah-wah pedals and '70s guitar rock — a vintage look that some wrongly attributed only to producer Dan Auerbach. As if speaking to her old self, the one that nearly lost her way among production bells and whistles, Del Rey asks on "Art Deco" — her voice the most inviting it's ever been even as it floats to loftier, more dismissive registers above foggy film noir saxophone curls — "You want more? Why?"
Indeed, why? That's one of the reasons Honeymoon can take so long to come to terms with the first time around: The most anticipated pop albums of a given year have rarely proceeded at the pace of the ocean eroding the land into beaches. Is she even trying? Does she even care anymore? Especially "Honeymoon," which opens the album with seemingly never-ending enunciations of cruuuiiising to the bluuueees on Wilshire Boulevaaaaaard — it's just too much of not very much, even though the album credits are just as complex as any Rihanna creation (except for writing and production, almost solely credited to Del Rey and Rick Nowels). What's that sound, or lack thereof? It's the sound of Del Rey's DGAF performance style, which is to say, doing things at the pace of watching petals fall off of a dying flower — singing "soft grunge to soak up the noise," which we knew she was (weakly) capable of beforehand, anyway.
She fills the space with more intellectual depth than she's shown before, incorporating T.S. Eliot's apropos poem "Burnt Norton" as a space-age interlude. Ignoring the most offensively nonsensical of her lyrics ("Baby you're so ghetto / You're looking to score"), such a relatively monochrome album spans a breadth of cultural markers. Many of the 14 tracks meander like scenes in a Sophia Coppola film, all variations on depression and scenic pans of sparkling cities and desert expanses — or perhaps it might be more accurate to say an afternoon spent watching shirtless men play volleyball in the sand, as on "Music to Watch Boys To." Dim congas and wisps from a flautist place Del Rey in a '53 Bel Air sedan on the Cuban streets, while a violin screams to mind a particularly un-chaste love scene from a Sean Connery-era James Bond film. She shouts out (well, mutters out) to David Bowie on piano ballad "Terrence Loves You" ("Ground control to Major Tom"), and the lugubrious "Salvatore" follows, somewhat in the occasionally ham-fisted tradition of Dean Martin's 1953 hit, "That's Amore" (wherein she rhymes "cacciatore" with "ciao amore").
"I've got nothing much to live for / Ever since I found my fame," Del Rey moans on her dirge-like ode to spaghetti westerns "God Knows I Tried," the production saturated with the cricket sounds of a hot early evening. It's the album's most depressing moment, but also its most winking. She finally knows she has everything to live for, with or without money. Or a man.