During his Saint Pablo tour stop at Seattle last night, Kanye West gave a mini-speech about why the Earth will have to continue rotating without a Watch the Throne 2 collaboration with Jay Z. He blamed the streaming wars, as he has in the past, and said that the Apple/Tidal battle is the reason they were excluded from the album version of Drake's "Pop Style."
"There will never be another Watch the Throne 2," West said. "That's the reason why I wasn't on the song. I wasn't on the song because of Hov. Because of this Apple/TIDAL bullshit. And this shit be getting me tight every time I perform in this motherfucker."
West also mentioned that Jay Z didn't appear on the "Pop Style" because of Roc Nation artist Meek Mill's ongoing beef with Drake. He said: "Jay thought of a couple lines. I said, 'Man, just go ahead and throw that on there. They'll be so surprised. He probably wouldn't expect you to be on there.' And [Drake] was like, 'Oh shit, the Throne is on this shit.' Then Jay thought about it and, out of respect for Meek Mill, he ain't want to be on the track." (Drake also said Jay Z's two-bar contribution was unexpected during an interview with Zane Lowe.)
Lastly, West alluded to some strife between him and Jay Z that's been caused by the streaming wars.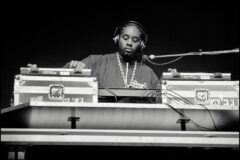 "It went into some Tidal shit, some political shit, some shit about percentages on songs," West said. "I can't take this shit, bro. Our kids ain't never even played together.
"[Jay Z] called me after the robbery to say, 'How you feeling?'" West continued later in the show. "You wanna know how I'm feeling? Come by the house. Bring the kids by the house—like we brothers. Let's sit down."
Watch West's speech below.
ye talking about Watch The Throne 2 & Apple/Tidal problems @TeamKanyeDaily #SAINTPABLO pic.twitter.com/kXZNZuvTfP

— ike®? (@IkerLopez27) October 20, 2016
pt. 2 @TeamKanyeDaily #SAINTPABLO pic.twitter.com/N64PEXu7N7

— ike®? (@IkerLopez27) October 20, 2016
"Don't call me, after the robbery, and say 'how you feelin?' You wanna know how I'm feelin? Come by the house," – Kanye #SaintPabloTour pic.twitter.com/G6wkIzbY0n

— McKenna Moe (@MoeMunyMoeProbs) October 20, 2016