Kanye West has postponed two dates of his Saint Pablo tour "due to family concerns," according to concert promoter Live Nation. The rescheduling was announced one day after Kim Kardashian West was robbed at gunpoint in the couple's Paris apartment, prompting Kanye to cut short his performance at the Meadows festival in Queens, New York. Live Nation's statement, via Rolling Stone, is below.
"Due to family concerns, this week's Philadelphia [10/4] and Detroit [10/6] dates on the Saint Pablo Tour have been rescheduled. The Philadelphia show will take place on December 13th and the Detroit show on December 22nd."
The tour will resume as scheduled Friday night at Chicago's United Center.
Kardashian was robbed of millions of dollars' worth of jewelry early Monday morning by masked gunmen. According to a harrowing account by TMZ, the thieves, who were disguised as police officers, taped her ankles together and forced her into the bathroom, where they demanded her engagement ring. Six minutes later, they'd made off with an estimated $11.2 million in jewelry, which Billboard reports will be difficult to fence.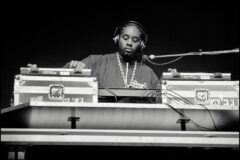 "They are so famous and identifiable from a gemological perspective, it will be almost impossible to sell them," Joseph DuMouchelle, of DuMouchelle International Auctioneers & Appraisers, told the magazine. "Even if the thieves had the stones slightly recut to alter their appearance and submitted them to a lab for a certificate, they would be identifiable as Kardashian's diamonds. Gems that big and rare have individual characteristics you don't see in two stones."