In something of a surprise given recent rumors centered around the reunited 'N Sync, Usher will headline the 2024 Apple Music Super Bowl LVIII Halftime Show on Feb. 11, 2024. The event will take place at Allegiant Stadium outside Las Vegas and air live on CBS.
"It's an honor of a lifetime to finally check a Super Bowl performance off my bucket list. I can't wait to bring the world a show unlike anything else they've seen from me before," the multiple Grammy-winning Usher said in a statement. "Thank you to the fans and everyone who made this opportunity happen. I'll see you real soon."
Usher, who previously joined the Black Eyed Peas as a special guest during their 2011 Super Bowl halftime performance, is no stranger to Las Vegas. His Sin City residency, My Way, resumes Oct. 11 at the Park MGM and concludes Dec. 2. He has scored nine chart-toppers on the Billboard Hot 100, with his 2004 album Confessions having sold more than 10 million copies in the United States.
The Halftime Show will again be produced by Jay-Z and Roc Nation, following a hip-hop celebration in 2022 with Dr. Dre, Snoop Dogg, Eminem, Mary J. Blige, 50 Cent, and Kendrick Lamar, and this year's return to the stage by a pregnant Rihanna.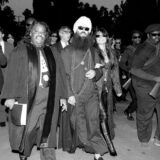 "Usher is the ultimate artist and showman. Ever since his debut at the age of 15, he's been charting his own unique course. Beyond his flawless singing and exceptional choreography, Usher bares his soul," said Jay-Z, who has previously teamed with Usher on tracks such as "Best Thing" and "Hot Tottie."
"We are so proud of what we were able to accomplish together with the NFL and Roc Nation last year and now with the insanely talented Usher set to take the stage, we're looking forward to another incredible Halftime Show from one of the world's all-time greatest performers," added Oliver Schusser, Apple's vice president of Apple Music, Apple TV+, Sports and Beats.