Walter Martin asks to start over. The 39-year-old husband and father of two is recording a May segment for NPR's Weekend Edition and he's just tripped over his words, fumbling his introduction. More than a decade into his music career, this long-limbed and handsome man — who, it should be noted, looks natural in a cowboy hat — isn't accustomed to doing press by himself.
Throughout the 2000s, the Washington, D.C. native played bass and organ for the Walkmen, that very same recently defunct band that, in hindsight, ranks as one of the decade's most formidable — if still slightly underrated — rock groups. Before that, he handled keys for Jonathan Fire*Eater, a long-gone '90s outfit that's remembered fondly but, at this point, is best known for providing three future members of the better-known act. Right now, though, inside of the public radio bastion's Midtown Manhattan headquarters on 42nd Street — where we're patiently waiting for him to gather himself — Martin is speaking on his own music's behalf.
After the show's host reintroduces Martin, the salt-and-peppered singer-songwriter settles into the rhythm of the Q&A. We all want to talk to him for the same reason, of course: In May, he released his debut solo album, We're All Young Together, a heartwarming collection of family-friendly songs that don't exactly square with the Walkmen's world-weary aesthetic.
//www.youtube.com/embed/H5yQkVJ2-g4?rel=0
"When I first had the idea, I was calling it a children's record," Martin tells SPIN after he's wrapped the chat and dabbed the beaded sweat from his brow. We're in a cab now, heading toward ProCro — the portmanteau'd section of Brooklyn between Prospect Heights and Crown Heights — where he, his wife, and their two young daughters live in a white-washed, two-story row house. "I liked telling people that I was making a children's record. I could tell they were like, 'Wow, that's a really dumb idea.' It just felt so incredibly uncool."
He clearly sees this as a plus, and he should. The 10-track LP is as inventive as it is playful. The arrangements are simple, the melodies a little sleepy, and the lyrics sweetly goofy, but it's a refreshing set of tunes imbued with indie star power. Yeah Yeah Yeahs' Karen O and Nick Zinner appear. So do the National's Matt Berninger and Clap Your Hands Say Yeah's Alec Ounsworth. Still, the project's true appeal lays in its unpretentious and endearing nature. We're All Young Together turns its featherweight status — that whole "children's album" thing — into its strength.
The album is also notable for being the first of three solo projects to spring from the Walkmen's dissolution. In November, the band's other bassist/organist, Peter Matthew Bauer, told the Washington Post they were going on "a pretty extreme hiatus." Since then, we've additionally seen frontman Hamilton Leithauser's Black Hours debut, and Bauer's own inaugural venture into solo-dom, Liberation! (no word from drummer Matt Barrick or guitarist Paul Maroon yet, but we're holding out for a royal flush).
It's a testament to the Walkmen's collective talent as a group — as an actual band — that all three LPs are worthy efforts, and distinct at that. Leithauser's Black Hours salutes the Big Band era, with its emphasis on vocals and swingin' '50s atmosphere. Bauer's Liberation! explores spirituality by way of reverb-lathered heartland rock. But Martin's We're All Young Together might just be the most adventurous of the lot.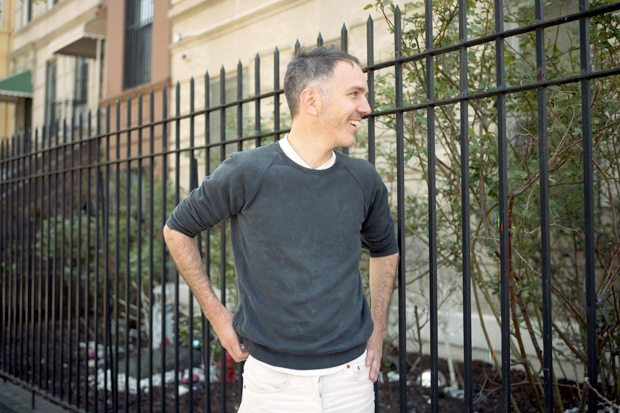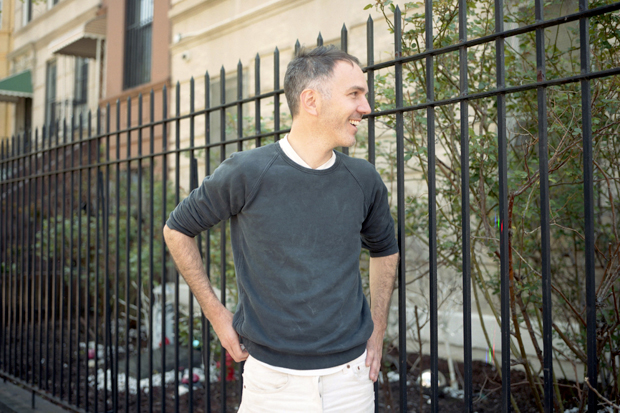 Fittingly enough, Martin first envisioned crafting his own thing at about the same time the Walkmen were wrapping up what would become their (for now, at least) final album, 2012's Heaven. But he credits the inspiration to a different life event.
"I think it was honestly brought on by my wife being pregnant," Martin says as we inch away from a typically congested Grand Central Station, retreating at a pace dictated by traffic lights. "I felt like I had fallen into a pattern. I've been playing in bands with my best friends since I was literally 13 and most of those same guys were in the Walkmen. If I'm going be a dad I might as well put myself on the line a bit. I wanted to take a risk. I didn't know exactly what I wanted to express but I was like, 'I need to really, really work and try to make something on my own.'"
After toying with the idea of assuming the "fake persona of a slime-bag country singer," Martin elected, with his wife's encouragement, to pursue an all-ages angle.
"I was like, 'Will my nephews and niece think it's funny?' And then I'd be like, 'Would the Walkmen guys think that it was clever?' And then I'd be like, 'Would somebody like my mom or my wife think it was romantic and sweet?' I feel like those are the three things that I was striving for," he explains.
Tempting as it is to assign a surface-level narrative to his new direction — guy finds out he's going to be a dad; writes music that ma, pa, and the kids can cuddle up to — Martin insists he was more interested in honoring rock'n'roll's early, innocent years. As such, the album includes: a track that argues for the worth of each Beatle ("The Beatles (When Ringo Shook His Mop)"); a moony-eyed, yodel-heavy lullaby ("Sing to Me"); and metaphors that rarely get more complicated than "If I Were a Tiger."
"I feel a lot differently about this because it has my name on it, my ass is on the line, and I poured my heart and soul into it," Martin says. "If nobody likes it or nobody cares I'm not going to be embarrassed because I know I made something that is purely me. All of the good stuff that comes out of it is just a game."
//www.youtube.com/embed/kb4-eVxpPwI?rel=0
Several days later, Martin takes the stage at Joe's Pub — a posh, seated venue in downtown Manhattan — for the first New York City gig of his solo career. His cousin Leithauser gave his debut solo performance at the nightclub-evoking space a month before, and the Walkmen leader's returns tonight to sing backup, just as he does on the studio version of the aforementioned Fab Four homage. Drummer Barrick is also on hand — he too contributes to We're All Young Together — and jazz-inclined singer-songwriter Kat Edmonson lends her high-pitched, girlish vocals to a pair of songs.
Karen O and Zinner are sharing a table in the audience and, at different points in the night, leave their respective seats to walk through the crowd and join Martin up on the stage. She duets on "Sing to Me." He twangs guitar on "Rattlesnakes." It may be the nature of the songs or the intimate and dimly lit setting, but the show carries a familial air. Karen and Zinner are survivors of the same early-aughts rock revival scene the Walkmen were lumped into, and Leithauser's presence makes the event, literally, a family affair. Martin and the others are solo now, but they're not alone.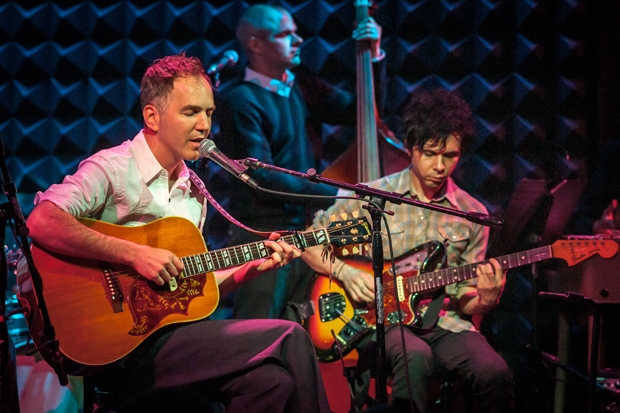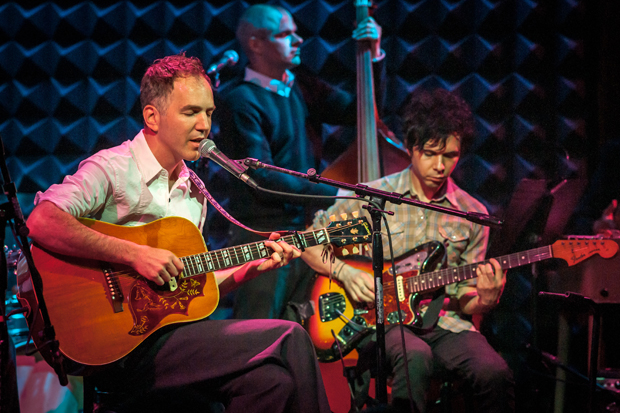 For the encore, Martin plays a song from what he hopes will be his second solo album. He plans to carry the childlike wonder of We're All Young Together over to its successor, but with an organizing principle: Each song would focus on the life and work of a different visual artist. This one openly winks at Dutch painters like Van Gogh, Rembrandt, and Vermeer in a manner similar to the Beatles song.
"All right, I'm going to do one last song by myself," Martin says, sitting underneath the spotlight with his guitar and no one else around, looking not quite comfortable, but something approaching it. "I guess it's sung from the perspective of a kid," he says. He trails off, then a curious smile crosses his face. "Well, you'll see."