By the time Peter Matthew Bauer steps up to the microphone, he's red in the face. The 36-year-old singer-songwriter appears lit with some mixture of anxiety and excitement, enhanced by an evening's worth of red wine. He's about to perform a private show at Gary's Electric Studio, a recording space in Greenpoint, Brooklyn, in service of his debut solo album, Liberation!
The dozens-deep crowd consists largely of intimates including Bauer's longtime friends and bandmates, singer Hamilton Leithauser and guitarist Paul Maroon. For roughly 13 years, they made up three-fifths of the Walkmen, one of the finest rock outfits to emerge from New York City in the early 2000s. That tenure ended recently — Bauer told the Washington Post in late 2013 that the group was going on a "pretty extreme hiatus" — so Leithauser and Maroon are here simply to support their ex-comrade, who has chosen to soldier on under his own name.
But Bauer isn't alone in that decision. His Liberation! is the third Walkmen-related solo record to come out this year. In early June, Leithauser released Black Hours, a full-length homage to classic crooners that he worked on with Maroon; and in mid-May, the band's bassist/organist Walter Martin (who is also Leithauser's cousin) put out We're All Young Together, an LP of family-friendly tunes.
//www.youtube.com/embed/wJRJV4dYSJ0?rel=0
Here in front of the mic, Bauer is noticeably nervous. In between songs, he tries to explain what each is about, but rambles a bit. He name-drops late Chilean author Roberto Bolaño at one point, and toys with metaphors at another, pondering the balance between transcendence and the "shadows."
His unease is understandable. Not just because he's new to leading a live band, but also because this post-Walkmen project is in a slightly more precarious position than the others. Leithauser benefits from being the face and voice of a modern indie institution. And Martin is courting the daycare crowd, a move that could be written off by some, but also be embraced for its novel and idiosyncratic approach.
Liberation! is tougher to categorize. Meandering in some parts but infused with a charismatic swagger in most, the 11-track album offers a fluid set of heady, reverb-washed meditations on faith, philosophy, and salvation — subjects that have swirled around Bauer since childhood. Raised by parents who favored Eastern spirituality and followed certain gurus, he lived in various places of worship as a kid — a fact plainly addressed via the record's opening track, "I Was Born in an Ashram."
When Bauer plays the song live at Gary's, his face turns a deeper shade of scarlet and his coiffed black hair abandons its softly slicked-back position, swooping in front of his face. It's clear from his intensity — the tightly clenched eyes; the three-piece, tieless black suit he's not afraid to wrinkle — that the man is actually working through something with this material, that he's giving life to ideas he's held onto for a while, stuff that he never engaged with as a member of the Walkmen.
"I was in this other band and I love those guys, they're like my brothers. But we decided to can that band," Bauer says early into the gig, earning a few scattered and awkward laughs from the audience, plus a chuckle from himself. "And I thought, 'Why would you ever want to make a record again?'"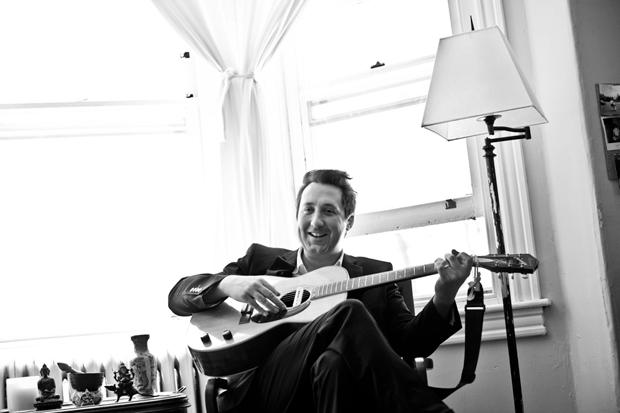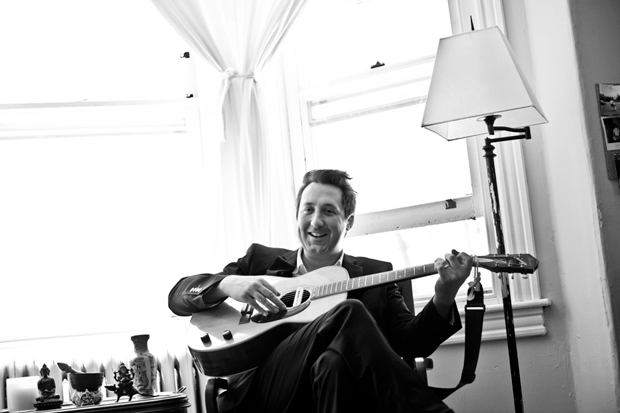 "I don't know exactly what the impetus was," Bauer says on a sunny Pennsylvania afternoon, "beyond trying to see if I could start over and really make my own world of it."
The husband and father of two is sitting in the backyard of his Chestnut Hill home, one-half of a row house he shares with his wife, actress Marisa Brown, and their children, Otis and Lola. Even here, in the quiet, leafy Philadelphia suburb, the singer appears jittery. Asked about his lyrics, he answers, hands shaking, "I'll try, but I'm having little fits and starts. I'm still learning exactly how to describe everything."
When Bauer does get going, he speaks quickly, preferring long sentences packed with Big Ideas. Miraculously, he's able to use the word "phenomenological" with a straight face and remain personable. His attraction to high-minded concepts no doubt stems from his unique upbringing. Like the other members of the Walkmen, Bauer originally hails from Washington, D.C., but between the ages of five and seven he lived in India with his parents. Later, they'd spent summers at an ashram camp in upstate New York. Though he's not shy about referencing this period of his youth, when he'd indulge in "classic teenage rebellion stuff," he demurs on the details.
"When I was a kid, it was really great and then as a teenager, you start to really dislike that sort of thing," he says. "There's all sorts of strange stuff that goes on in the background and weird rumors and really bad stuff that starts to arise."
//www.youtube.com/embed/L2P7a0NYz94?rel=0
Though Bauer doesn't subscribe to any one organized system of belief, his interest in religion and mythology held. At age 20, he learned to read Indian astrology, a skill he continues to use as, yes, a part-time astrologer. And now his cautious fascination with faith is bleeding into his other job. The imagery on Liberation! nods to, pilfers from, and takes the piss out of various rituals and practices. Song titles like "Shiva the Destroyer," "Shaved Heads & Pony Tails," "Scientology Airplane Conversations," and "Irish Wake in Varanasi" speak volumes. The actual music, meanwhile, bears closer resemblance to Tom Petty and fellow Philly wanderers the War on Drugs.
"One thing I thought about consciously," Bauer says, "was, 'How am I going to make this record? I want to make it in a way that's exciting like you're 18 years old.'"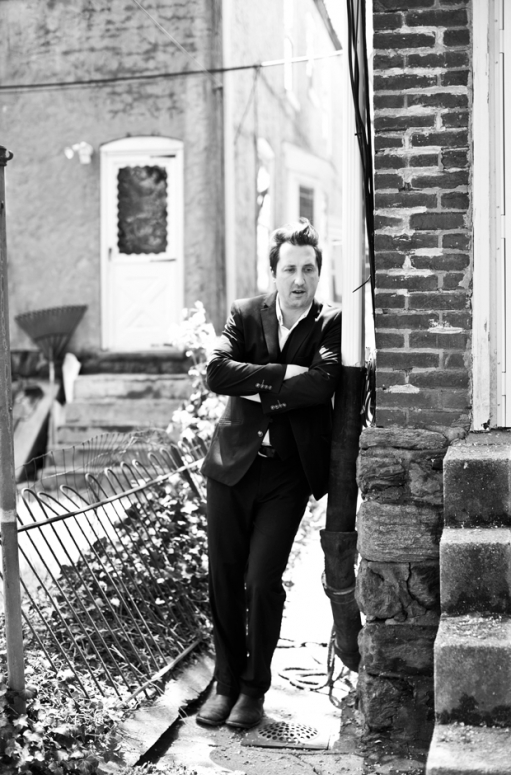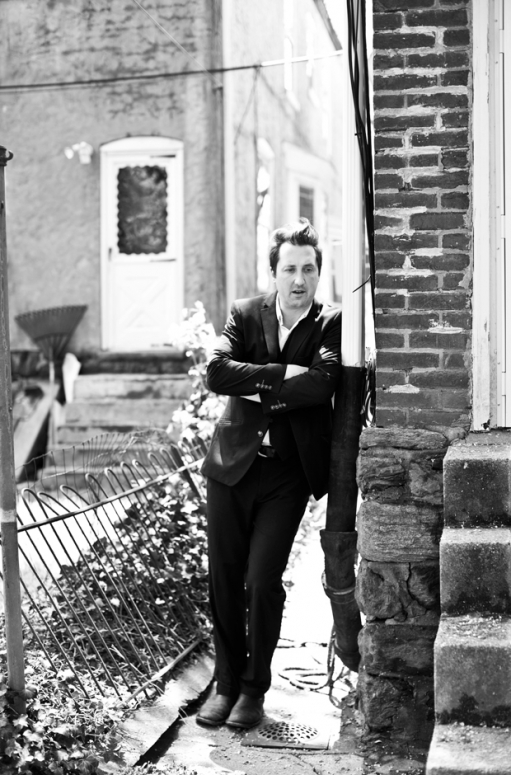 There's an obvious interpretation of the title Liberation!, as Bauer is well aware.
"I'm just going to have to bite the bullet on that, just take it on the chin," he says in his yard, overdressed in that same Gary's getup. "The name fits all the words to the music and if you do give the thing a chance, it doesn't sound so incredibly ridiculous like, 'This guy goes solo and calls his record Liberation!' That'd be so dumb.
"But the other side of it is, yeah, 'Thank God that's all over,'" he says with a laugh of relief. "That stuff's all true — it's just not why I named the record that."
Bauer began work on the album around February 2013, after he and Leithauser had a conversation about the Walkmen winding down. "I decided immediately that I wanted to write a record," he recalls. "I wanted to see if I could do it." While the band toured Europe on behalf of 2012's Heaven, their sixth and apparently final album, Bauer spent his nights writing. "I knew how hard it is to make a record, so I wanted to make sure it was that hard," he says. "I understood the amount of effort that went into it with five guys doing it, so I wanted to make sure to get that quality."
But while the Walkmen employed vintage instruments to sound perpetually stuck out of time, Bauer had no interest in making sheer technical aptitude a top priority.
"We were very good craftsmen. We knew exactly how to do stuff. But at the same time, you can get too caught up in craftsmanship, like, 'God, this guitar just sounds great.' Or, 'This organ has been really carefully recorded.' Who the hell cares? Now, I've got, like, a $60 microphone going into a laptop and I'm like, 'Whatever, it's fine.'"
//www.youtube.com/embed/XVYqTVeMF7M?rel=0
Once he returned to the States, Bauer recruited some friends — including local singer-songwriter Quentin Stoltzfus, who makes music under the name Light Heat — to record the bulk of Liberation! in a factory space in Philly's Port Richmond neighborhood. The sessions helped the Walkmen bassist/organist tap into senses of urgency and fun that, by the time of the somewhat underwhelming Heaven, had drained out of his longtime outfit.
"It's a lot more fun to be the singer. Don't ever be the organ player — it sucks," he says. "It's boring, and you're just sitting there getting fat while everyone's moving around. You know, it ain't rocket science, any of this stuff. There's only so many times you can turn on the vacuum cleaner until you just don't care anymore."
Of the three former Walkmen who have gone solo, Bauer speaks most flippantly about the group's nearly decade-and-a-half-long run. That's not to say he dislikes the work he, Leithauser, Martin, Maroon, and drummer Matt Barrick did together —though he says his son Otis plays the band's best-known song, 2004's "The Rat," on guitar just to annoy him. Rather, he's ready to dive into a new phase of his life. The Walkmen are now what they've always sounded like: a thing of the past.
"I don't take credit for the Walkmen stuff. It was a nice experience that gets me to where I am now," Bauer says. "That was a great thing with some friends and it was very exciting. I'm proud that we spent all that time together, but this is its own world and I hope it turns into something that lasts another 15 years."