Jack White has words for the Black Keys, and they aren't nice. In an excerpt from the next Rolling Stone cover, the Lazaretto-maker reiterates his previously made-in-private theory about the Nashville-via-Akron duo ripping him off. He even takes it to the schoolyard, which is fitting not only because of the inherently childish nature of the conversation, but because the beef arose when White told his ex-wife he didn't want their kids going to school with Dan Auerbach's kids.
"There are kids at school who dress like everybody else," he said, "because they don't know what to do, and there are musicians like that, too. I'll hear TV commercials where the music's ripping off sounds of mine, to the point I think it's me. Half the time, it's the Black Keys. The other half, it's a sound-alike song because they couldn't license one of mine. There's a whole world that's totally fine with the watered-down version of the original." Oof.
White explained what he meant by way of grouping Duffy, Lana Del Rey, and Adele in the same category, implying that they're also purported ripoff artists in the vein of his nemeses the Black Keys.
"Some people will hear that and say 'Oh, Jack White thinks he's the first person to play the blues,'" he said. "But certain acts open up a market for a certain style. Amy Winehouse: Did she invent white soul? Wearing a beehive? No. But she did something brand new and fresh, altogether as a package, and you see who's in her wake, from the Duffys to the Lana Del Reys. Adele selling 20 million records? That would not have happened if Amy Winehouse was alive."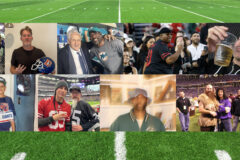 Perhaps if he and Meg White were still friends…
"The White Stripes did the same thing," White went on, "and in our absence, you're gonna find someone to fill that. And you get a band like the Black Keys, who said they never heard of the White Stripes? Sure."
Lest we forget, Keys drummer Patrick Carney weighed in on this drama with RS recently too — the timing of the publication's beef rollout couldn't seem more calculated, but so it goes — saying that White "sounds like an asshole" but that the band won't hold a grudge over something the man said in private while weathering a divorce. Okay, so, what about now? Chances are we won't have to hold our breaths till we Turn Blue.