Stephen Colbert is having trouble deciding who should win the Grammy for Best Alternative Album, so Monday night he invited his two favorite nominees to duke it out on The Colbert Report: The Black Keys and Vampire Weekend!
As the winner of the Best Comedy Album Grammy in 2010 for A Colbert Christmas, the TV host is now a voting member of the National Academy of Recording Arts & Sciences- and he needs to turn in his ballot for this year's ceremony. So he pitted VW singer-guitarist Ezra Koenig against the two Keys in a "sell-out-off," a battle to determine who will get his vote by the number of TV commercials their music has been featured in. It made for some stiff competition: Zales vs. Honda? Victoria Secret vs. Tommy Hilfiger? Hewlett-Packard vs. Sony Ericsson?!?
As for the winner, well, you'll have to watch the hilarious skit below to find that out (the segment starts around the four-minute mark). But Colbert's verdict is decisive: "Clearly you have equally whored out your music."
Tune into CBS on February 13 to watch the Grammy ceremonies. Check out the nominees here.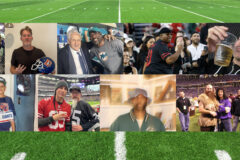 WATCH: The Black Keys & Ezra Koenig battle it out on Colbert