The Black Keys' Patrick Carney has continued his recent run of provocative statements by addressing a whole mess last year that became public with Jack White's divorce. At the time, leaked private emails found the Third Man Records boss complaining to his now ex-wife Karen Elson that their children would be going to school with Keys singer Dan Auerbach's children.
"That's a possible 12 fucking years I'm going to have to be sitting in kids chairs next to that asshole," White wrote. "He gets yet another free reign to follow me around and copy me and push himself into my world."
But now the Black Keys are doing interviews around their new album Turn Blue, so that means it's Carney's turn to weigh in. The Nashville-via-Akron garage-rockers' drummer insulted both Justin Bieber and Michael Jackson's posthumous Xscape recently. Now, while he still couldn't help but dis the White Stripes frontman, he has also defended his fellow musician and publicly called out the gossip site TMZ.
Yes, Carney being Carney, he called White "an asshole," to Rolling Stone. But the Keys member reportedly ripped into TMZ for publishing the aforementioned emails in the first place, and he comes down harder on the gossip site (which also instigated his Bieber beef) than on the Lazaretto maestro.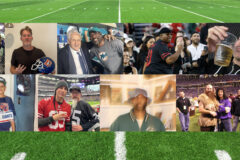 "I actually feel embarrassed for him," Carney said of White. "I don't hold grudges, man. I really don't. We've all said fucked-up shit in private, and divorce is hard… I really think personal things are personal things. Like, TMZ? Honestly, they should be fucking ashamed of themselves, that they make a living dragging poor souls that have nothing, that aren't famous, into this world."
In case that wasn't clear enough, he also said: "?Those e-mails that Jack White wrote that got leaked, as fucked up as that shit is, that was a private conversation, and it doesn't register to me. You know how horrifying it would be if all of our private shit was aired? And people go sniffing around looking for this shit. And ultimately it's no one's business."
For the record, Auerbach — whose own marital woes hit TMZ just after the White emails — avoided weighing in on the situation. "I don't know him, so it's extra-unexpected," he told RS.