The jailed members of Pussy Riot could go free as early as today under a sweeping Russian amnesty law that comes ahead of the Winter Olympics there in February. Russian President Vladimir Putin, who pushed the amnesty, ties it to the 20th anniversary of the Russian constitution. In a press conference today, Putin made clear the release of Pussy Riot doesn't mean he regrets putting them in prison.
As quoted by the Telegraph, the kleptocratic authoritarian ruler said he feels "pity" for Pussy Riot. Because of their suffering in faraway prison colonies? Nyet. Because, as Putin said, the riot grrl-influenced group's members "started to engage in activities which are humiliating for women." (NBC has a slightly different translation, but the gist is the same.) Would it be mansplaining to point out this takes "mansplaining" to a whole new level?
Putin reportedly continued: "It's just a PR campaign but they crossed a line … The court decided to punish them, not for that, but for other actions … The amnesty has nothing to do with Greenpeace or this band … We need to humanize, to make our criminal code more humane to mark the 20-year anniversary of the constitution." (The amnesty will also probably affect Greenpeace activists jailed on similar charges.)
Nadezhda Tolokonnikova and Maria Alyokhina are serving a two-year sentence for staging a February 2012 protest at a Moscow cathedral. Their crime was something called "hooliganism motivated by religious hatred." Fellow Pussy Riot member Yekaterina Samutsevitch was also convicted but got out last year on appeal.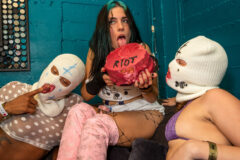 Pussy Riot's cause has drawn support from Madonna, Green Day, and the Beastie Boys' Ad-Rock, and the film Pussy Riot: A Punk Prayer is on the Oscars short list for Best Documentary.