Pussy Riot could be headed to the Oscars next year — well, in spirit, at least. The Academy of Motion Pictures and Sciences has announced the short list of films vying for a 2014 Best Documentary Feature nomination, and Pussy Riot: A Punk Prayer is among the contenders. Produced and directed by Mike Lerner and Maxim Pozdorovkin, the doc follows the much publicized trial of Pussy Riot members Maria Alyokhina, Nadezhda Tolokonnikova, and Yekaterina Samutsevich, who were found guilty of "hooliganism motivated by religious hatred" after staging a February 2012 protest performance against Russian president Vladimir Putin.
The film premiered at this year's Sundance Film Festival, where it won the World Cinema Documentary Special Jury Award for Punk Spirit. Shortly afterward, HBO acquired the rights to A Punk Prayer and aired the doc on television in June. Now the movie is one of 15 competing for an Oscar nod. Another documentary that's eligible is 20 Feet From Stardom, director Morgan Neville's in-depth look at the lives of backup singers. The piece focuses on several vocalists, including Darlene Love, Merry Clayton, Lisa Fischer, and Jo Lawry, and also features appearances by Mick Jagger, Stevie Wonder, Sting, and Sheryl Crow.
Originally, 147 films qualified for the Best Documentary Feature category, but the Academy's Documentary Branch whittled the roster down to the 15 titles found below. Only five docs can compete in the actual Oscar race, and those finalists will be revealed on January 16, when the nominations for the 86th Annual Academy Awards are revealed. The winner will be crowned on March 2.
Watch a trailer for Pussy Riot: A Punk Prayer, then scroll down for the full short list (via the Hollywood Reporter). And for up-to-date coverage on the Pussy Riot saga, click here.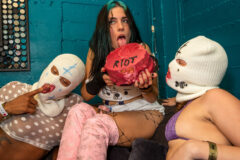 //www.youtube.com/embed/4QzblZ-Dg0U?rel=0
The Act of Killing – Final Cut for Real
The Armstrong Lie – The Kennedy/Marshall Company
Blackfish – Our Turn Productions
The Crash Reel – KP Rides Again
Cutie and the Boxer – Ex Lion Tamer and Cine Mosaic
Dirty Wars – Civic Bakery
First Cousin Once Removed – Experiments in Time, Light & Motion
God Loves Uganda – Full Credit Productions
Life According to Sam – Fine Films
Pussy Riot: A Punk Prayer – Roast Beef Productions
The Square – Noujaim Films and Maktube Productions
Stories We Tell – National Film Board of Canada
Tim's Vermeer – High Delft Pictures
20 Feet from Stardom – Gil Friesen Productions and Tremolo Productions
Which Way Is the Front Line from Here? The Life and Time of Tim Hetherington – Tripoli Street