The battle over "Blurred Lines" keeps getting uglier. Marvin Gaye's family has responded to Robin Thicke's preemptive lawsuit that insists his mega-hit wasn't ripped off from Gaye's 1977 song "Got to Give It Up" by filing a countersuit that asserts that Thicke did indeed steal the tune and that he also committed copyright infringement against another Gaye song, 1976's "After the Dance," to craft his 2011 track "Love After War." What's more, Gaye's family is also dragging EMI, the song publisher that has business ties to both Gaye and Thicke, into the fray.
According to Billboard, Gaye's family is suing EMI, alleging that the company has breached a contract and its fiduciary duty by not protecting Gaye's work, trying to bully the family against taking legal action over the dispute, failing to stay neutral in the face of a conflict of interest, and attempting to turn the public against Gaye's family. As punishment, Gaye's family is demanding EMI lose all profits from "Blurred Lines," as well as rights to administer Gaye's song catalog.
The counterclaims allege that EMI — which reportedly co-owns and controls "Blurred Lines," in addition to being responsible for protecting copyrights to Gaye's songs — failed to raise claims of infringement. And after EMI apparently admitted that such claims were viable, the publisher supposedly instructed "its litigation attorney to intimidate the Gaye family from filing an action by antagonistically warning that any lawsuit would be frivolous." The Gaye family also says that the chairman of EMI contacted their legal representation and charged the family with "ruining an incredible song," "killing the goose that laid the golden egg," and being the reason why "Blurred Lines" didn't win an MTV Video Music Award.
As if all that wasn't enough, Gaye's family is also accusing EMI, as well as attorneys for Thicke and producer Pharrell Williams, of planting a false story that the family turned down a six-figure settlement, just so they'd seem unreasonable. In light of these alleged offenses, Gaye's family is seeking a contractual rescission to severe their business deal.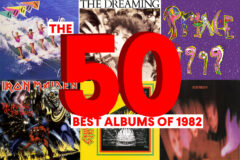 Elsewhere in the countersuit, the Motown legend's family members argue that Thicke's "Love After War" bears a troubling similarity to Gaye's "After the Dance," noting a comparable chorus, hook, and more. Back in August, Marvin Gaye III suggested to TMZ that Thicke's alleged theft extends far beyond "Got to Give It Up," saying, "If you listen to the music, I'm sure anyone will see the similarities clearly between what my father does and what Robin Thicke has been trying to do."
Scroll down to hear Thicke's "Love After War," followed by Gaye's "After the Dance."
//www.youtube.com/embed/VLnvbHkeeTM