Organizers for Fun Fun Fun Fest have announced the roster for this year's FFF Nites showcase, the series of after-hours performances happening at venues throughout Austin, Texas. Artists tapped for the bonus shows include SPIN cover star Kurt Vile, Misfits, Chelsea Light Moving, Mac DeMarco, Pop. 1280, Flatbush Zombies, the Men, and Bleached. Fun Fun Fun Fest proper takes place at Auditorium Shores and runs from Friday, November 8 through Sunday, November 10, but the Nites gigs kick off on Thursday, November 7.
Other performers working late into the eve: Quasi, Pelican, RJD2, Dana Falconberry, OBN III's, Coliseum, Lemuria, Small Black, Bob Mould (DJ set), Big Black Delta, Cro-Mags, Del the Funky Homosapien, White Lung, and Simian Mobile Disco (DJ set). Comedians booked for FFF Nites include Sarah Silverman, Tenacious D, Jenny Slate, Craig Robinson, Kyle Kinane, and Doug Benson.
As for venues, fans will be dividing their time between Austin's Mohawk, Red 7, Beerland, Holy Mountain, the Parish, ND, Elysium, the Belmont, Hotel Vegas, New Movement, the Paramount, and Empire Control Room.
The FFF Nites events are free with a festival wristband or pass. Tickets can be purchased through the Fun Fun Fun website. A schedule of happenings associated with FFF comes with the offical FFF app, now available for iOS and Android.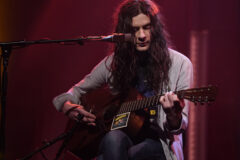 Find the full list of night-show performers below, broken down by day and venue.
Thursday, November 7:
Mohawk: Kurt Vile, the Tontons, Roger Sellers, Dana Falconberry, Leopold and His Fiction
Red 7: ((sounder)), Blake Schwarzenbach, OBN III's, the Blind Shake
Beerland: Pop. 1280, Crooked Bangs, Night Slaves
Holy Mountain: Title Fight, Code Orange Kids, Boyfrndz, Pushmen
The Parish: RJD2, Boombaptist
Friday, November 8:
Mohawk: Subhumans, White Lung, Special Guests TBA
Red 7: Pelican, True Widow, Coliseum, Phantom Lakes, Chelsea Light Moving, Lemuria, Merchandise, the Young
Elysium: Misfits, the Attack, Lost In Society
Beerland: Small Black
Holy Mountain:The Underachievers, Ratking, Antwon, Fat Tony, Kosha Dillz
The Parish: Poolside, Bagheera, Orthy
ND: Mac DeMarco, Quasi, Booher
The Belmont: Bob Mould (DJ Set), Larry Gus, Star Slinger, Bronze Whale
New Movement: Doug Mellard, Kyle Kinane
Hotel Vegas: Christian Bland and the Revelators, Blues Control, Holy Wave, Mirror Travel
Saturday, November 9:
ACL Live: Simian Mobile Disco (DJ set), Making Time DJ's, Special Guests
Mohawk: Matt Bearden, Jenny Slate, Craig Robinson, Tenacious D, the Karaoke Underground
Red 7: Latasha Lee & the Blackties, Brownout, Lee Fields & the Expressions, Soul Clap & Dance-Off with DJ Jonathan Toubin
Beerland: Drakulas, Audacity, Scott Reynolds (All), the Last (Members of the Descendents)
Holy Mountain: Cro-Mags, Ceremony, Regents, Coliseum, Narrows, Retox
Hotel Vegas: Eagle Claw, Yakuza, Inter Arma, Black Tusk
Empire Control Room: Dark Room, Big Black Delta, Chet Faker
ND: Saint Rich, Hunters, Bleached, the Men
The Belmont: Bodega, Flatbush Zombies, Del the Funky Homosapien, Tony Trimm (DJ set), DJ Abilities, Serengeti, Jel
New Movement: Altercation Punk Rock Comedy Hour
Sunday, November 10:
The Paramount: Kyle Dunnigan, Doug Benson, Sarah Silverman
Mohawk: JMSN, Cayucas
Red 7: Nik Turner's Hawkwind
Holy Mountain: Illustrations, Beartooth, Defeater
The Parish: Bonobo (DJ set)
Hotel Vegas: The Impossibles