In Philadelphia, city of murals and Brotherly Love, there is a piece of wall art hidden from public view, down a cobblestoned alley off of Bainbridge Street. Impressive in scope if not in size, it's an Escher-indebted soft-core scramble of lips and labia and lactating breasts meant, presumably, to inspire rock bands that pay to rehearse in its airbrushed glare. But even this visual affront can't distract Kurt Vile — he's staring at his guitar: a blood-red Fender Mustang he bought from "some kid" this morning. "It looks like it's new," he says with a laugh, as a bandmate arranges his cup of coffee beneath a falling stream of breast milk. "But it's from fuckin' '66."
It's the last week of November and Vile, 33, is renting this festive, centrally located practice space so that his band, the Violators, can prepare for their gig as openers for Dinosaur Jr. in New York City, on an evening dedicated to the 25th anniversary of Dino's landmark album, You're Living All Over Me. It's the Violators' first show in months. "We've played so much this year, but we're just taking our time now, trying to find new licks and riffs," Vile says, plugging in. "I'm not stressed out about it at all because I'm not going to go out there and destroy. I'm just going to play my guitar."
And at this moment in rock's dotage, there are few more exhilarating experiences than listening to Kurt Vile lose himself in "just" playing his guitar. Though he's no "guitar hero" in the showoffy sense, Vile's style is subtly grand, marked by psychedelic understatement and liquid expanse. Whether he's massaging a simple riff, over and over to meditative effect, or fingerpicking through pools of delay, he remains supremely confident and searching. He may not always know where he's going, but he explores his ideas in such an honest, immersive way that you trust the destination will be worth the wait.
"I like the sound he gets and the stuff he plays," says Dinosaur Jr. guitarist J Mascis, an obvious influence on Vile. "I'm not a big fan of metal guitar guys who play super fast. I'm looking for someone who's saying something to me with what they're playing. He does. Kinda like David Gilmour… if I liked David Gilmour."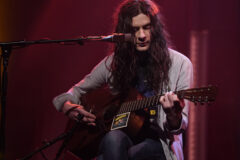 "It all flows naturally through him," says John Agnello, who produced Vile's 2011 breakout album, Smoke Ring for My Halo and this year's Wakin on a Pretty Daze. "He doesn't have to force himself to do it, or record take after take after take. It just comes out of him. I grew up when guys like John Fahey and Leo Kottke were shredding on acoustic. We never called it that at the time but Kurt is the best of those guys, this awesome combination of so many different things: the guitar prowess, the great melodic content, and this matter-of-fact lyrical style that's so alluring it just draws you in. That's why his records are the way they are: There's so much going on. They're never sitting in one place. They're always moving around."
In February of last year, Vile and his wife Suzanne discovered that they were expecting their second child, Delphine, a girl. Having spent the past year on the road in support of Smoke Ring for My Halo, while his wife and two-year-old daughter, Awilda, were back home in Philadelphia, Vile needed to capitalize on career momentum and record a worthy follow-up before the new baby arrived. Studio time with Agnello (who's worked with Sonic Youth, Dinosaur Jr., the Breeders, Patti Smith, Screaming Trees, and many others) was immediately scheduled, scattered over five months in upstate New York, Los Angeles, and Philadelphia, between lengthy tours across North America and Europe. The pressure began to paralyze Vile, who says he felt as though a giant hand were pressing down on him from above. "I was so squashed with stress," he remembers. "I was in a total time crunch."
When Delphine signaled her arrival a week early this past October, just hours into a final New York recording session, Vile rushed home just as the sun was rising. He hasn't been in the studio since. "We're like a big traveling circus now," he says of his family, smiling, tucking his long, chestnut hair behind his ears. "There's always somebody to hold. But it's almost totally freeing because I don't feel the urge to prove anything anymore, you know? Like, in the middle of everything, I was a completely different person, with my mojo going, busting my ass, making this record perfect. But this is the real me. There's a lot of love in this music, for my wife and my kids and my family."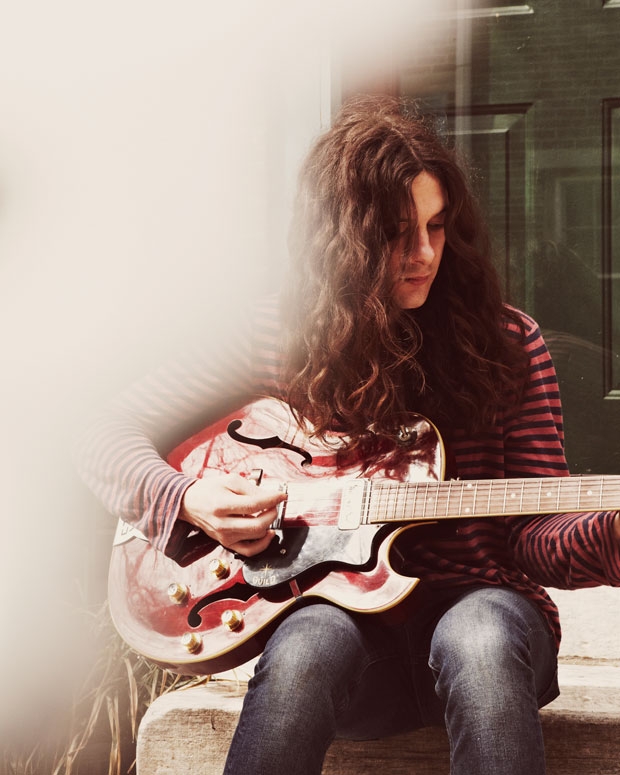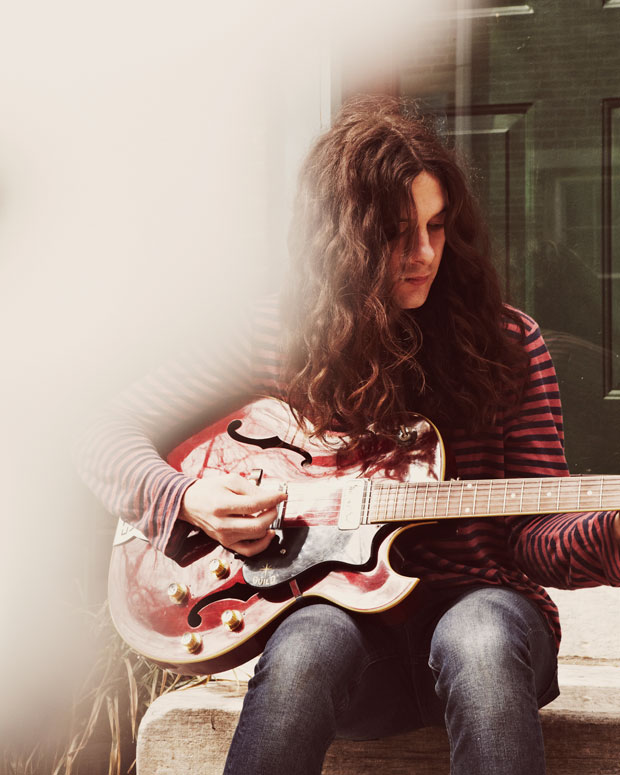 That's been a guiding principle of his for more than a decade, through obscurity to cult stardom to this crisp November afternoon, just weeks away from completing Wakin on a Pretty Daze, a 70-minute rock odyssey that — because it first took shape so far away from them — bears his family's indelible influence. Written in lonesome hotel rooms and stretched out during sound checks, it's an album about holding on to your roots as you're constantly uprooted, a future classic from a songwriter whose working-class worldview belies both indie-rock context and indie-rock ambitions.
"One of Kurt's greatest strengths is that he doesn't see himself as part of that [indie] continuum," says Tom Scharpling, writer, director, and host of WFMU's The Best Show in nearby Jersey City, New Jersey. "There was no indie rock in the 1970s, but what was Bruce Springsteen doing then, coming from a place with no pedigree for what he was trying to say? He was trying to go toe-to-toe with Roy Orbison and Phil Spector and Bob Dylan. He wasn't trying to compete with some subset of rock. Kurt's the same way."
On Wakin on a Pretty Daze, Vile moves away from the cosmic folk songs of previous outings and applies his will to windswept, festival-ready FM rock. Symphonic, patient, and inspired in part by Fleetwood Mac's 1979 left-field classic, Tusk, it's a beautifully recorded, wonderfully detailed quest for what's possible within the space of a guitar-driven pop song.
"Twenty years ago," says Flaming Lips multi-instrumentalist Steven Drozd, "you couldn't admit that you listened to classic rock. But now, there are these younger guys coming up, and to them, Led Zeppelin and the Clash and Pink Floyd and the Sex Pistols are all part of the past. They don't care that one thing was punk rock and one thing was not. It's all just a mesh of music to draw from. And Kurt seems like he could have existed 30 years ago, like he could have been on tour with Joe Walsh or Led Zeppelin in the early '70s. And he writes songs that — even though they sound new — also sound like they could be from that time, too. He knows 40 years of rock'n'roll, but he's trying to do something new with it. He has this really sad voice, but in a good way, like he's a much older person than he is, like he's been through a lot of shit. He's an old soul."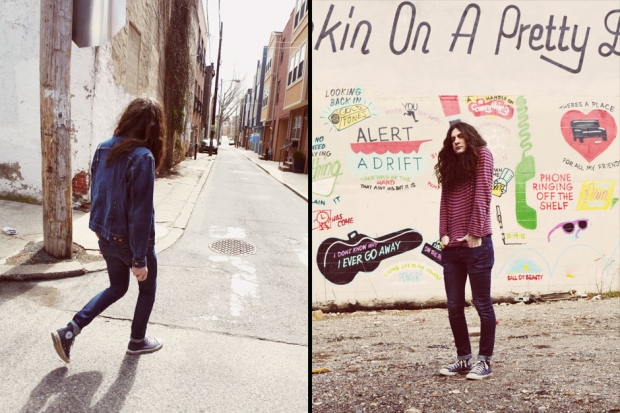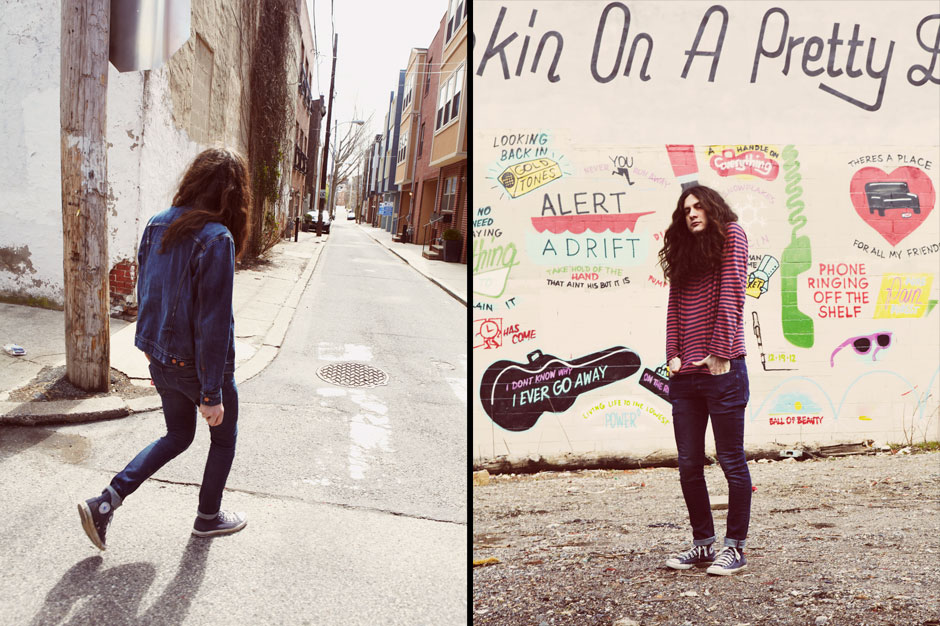 Before finishing up for the day, Vile informs the band that his younger brother Paul — a "sort of roadie" for the Violators — is stopping by the practice space. "He's a total schemer," Kurt says to me in warning, "always wheeling and dealing and trying to figure out a way to make a bunch of money. Because he's blood, it's a lot like the Three Stooges whenever he's around." Paul, it turns out, has just embarked on a new business venture: Paul's Balls, a fleet of gumball machines he's planted all over the city — in coffee shops, pizza shops, and even in Tony Luke's, the famed South Philly cheesesteak establishment. "I wasn't expecting to get that one," Paul says excitedly, blurring his words. "You don't have to refill these things but every six months or so and all I have to do is collect."
The two seem related only in their sidewinding speech patterns and Philadelphian way in which they coil their vowels. And though Paul looks as though he weighs twice as much as his wiry older brother, his shoulders and chest as broad as billboards, Kurt's presence looms large in his life. "It's not like I never want a son," Kurt had said earlier in the day. "But I wasn't ready to have a son looking up to me. I wasn't ready to be a male role model. Because sometimes I've gotta go away and I feel guilty." He sighs. "Boys are also crazy, you know?"
Before we all file out into the cold, Paul takes a long look at the mural, spreads his feet to steady himself, and snaps a photo with his phone.
[ooyala code="1sd3JwdTqxmvEDzU7_2lJ0Ks6dllruQf" player_id="8bdb685537af477d8cd5ea1ebd611511″]
Vile grew up in nearby Lansdowne, Pennsylvania, a suburban small town just west of Philly. He's the first-born son in a family of ten children — five brothers and five sisters who all shared bunk beds in a three-bedroom twin home. Vile's father, Charlie, worked long hours driving trains, first for CONRAIL and then Amtrak. (That's a young Charlie, standing in front of a CONRAIL train, on the cover of his son's 2009 LP God Is Saying This to You.) Vile's mother, Donna, stayed home and looked after everyone. "She's a saint," Vile says. "I mean, there are ten of us."
Before anything else, Charlie introduced his son to bluegrass music. "It's not exactly hip when you're growing up," Vile says. "But he'd play bluegrass songs at my birthday parties and he'd start dancing along to make people laugh. He'd play them in the car, the same ones over and over, so loud, and we'd just sit there, laughing. Just hearing those melodies so young was good. It's in my DNA at this point." And though he'd been angling for a guitar, his father bought him a used banjo off a friend for $100 when he was 14, though not before the younger Vile had listened to and fell in love with it as it was played for him over the telephone. "I'd strum it like a guitar, which was key for me," Vile says of the banjo. "Kids who learn to play guitar usually do it in standard tuning. But a banjo is in open tuning, with more overtones and ethereal chords. I didn't start out playing that blues-scale rock box, I had to learn how to get into the box."
When he wasn't skateboarding, he was writing songs, recording tapes, and playing open-mic nights under the name Kurtisy. "I was a hit on the coffee-house circuit," he says. "Which is not hard to do." And when he finally picked up a guitar, he started writing constantly, primarily for his grunge band, Pelvic Thrust, which in typical '90s fashion, would later shorten its name to Pelv. "I had this one song," he says, reminiscing, "that was kinda angsty but kinda pretty. It was the first song I'd really recorded, but it had the exact melody as Bush's "Swallow," only before that song came out. It was literally the same thing, same progression and everything. I was convinced that guy had totally ripped me off somehow, like he had found that tape somewhere and stolen it. It was just so weird."
Eventually, Vile discovered the oddball pop of Beck and the classic rock-divined primitivism of Royal Trux and Pavement, echoes of which remain audible in his work today, his channeling of folk and rock's history blurred at the edges. It wasn't until 2003 that he started recording and performing in Philly under his own name, which, when placed next to "the Violators" on a bill, always seems cheeky enough to pass as a pseudonym. "The joke," he says, "is that I always forget my ancestry. I'm told it and I forget it again and again. But I think I'm part French and part German. And at first, my family name was DeVille. Then it became Ville. Then, it was just Vile. My dad was actually about to change it back to Ville at one point because he didn't like that it sounded so…vile. But I said, 'I'm not doing that. I am Kurt Vile.' He said, 'If you do it, I'll buy you a new guitar, a resonator.' I said, 'Okay, fine,' and he bought me the guitar." But, he adds with a grin, "We never changed it. That's my name."
On a dreary Spring morning, Vile paces through his brick row house in Philly's Northern Liberties neighborhood, gathering gear for an afternoon rehearsal with an auditioning drummer, stopping to hold and kiss Delphine each time he walks past her. Awilda is perched on the couch, singing to herself, coloring old issues of Highlights magazine, her eyes deep-set like her father's, dark and heavy. Since finishing the album back in December, he's enjoyed some downtime at home. "Delphine's five months now and totally obsessed with me," he says, snapping his fingers as he gloats. "Either that or Awilda hates me."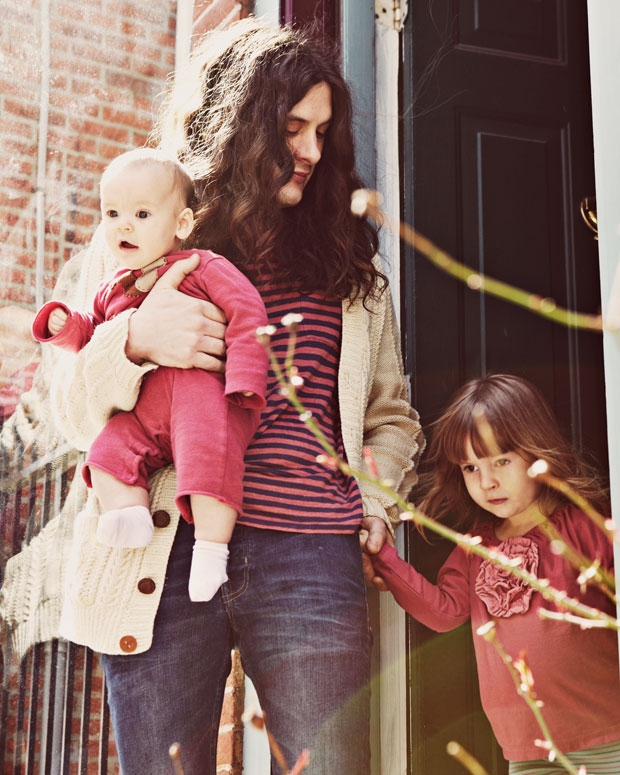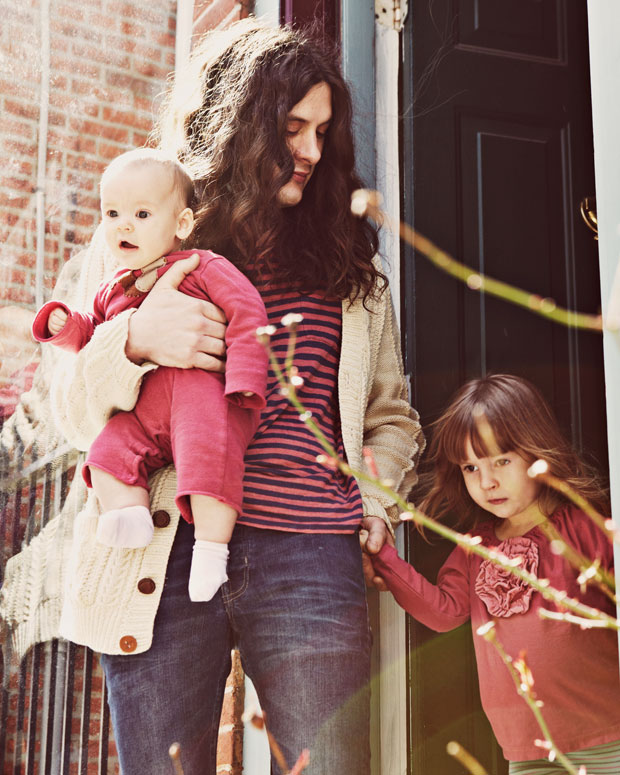 Kurt and Suzanne met as teenagers, when he was 14 and she was 16. "He had just been in a skating accident, so he was bleeding," she says of that day. "It was a nice, dramatic moment, and we were best friends a week later. We'd call each other up after school and pretend we couldn't find anyone else to hang out with, just because we wanted to hang out together. [Lansdowne] is about a square-mile big, and we lived on opposite corners. But he used to always tell me, 'Suzanne, I can get to your house in six minutes by skateboard.' And he could."
After graduating from high school, Vile moved into Philly right away and got a job bussing tables. But before long, he relocated to Boston, where Suzanne, already his girlfriend for several years, was pursuing her MFA in poetry. To support himself, he took a job driving a forklift and unloading tractor trailers at a freight operation just outside of the city. The work was hard, and so were his co-workers, enough so that Vile decided to apply to Philadelphia Community College as soon as he could return home. "And then I realized why I couldn't go to school," he says. "First of all, I wanted to play music. Second of all, to be a full-time student, that's your full-time job. But my full-time mind was in music. And I'd just drift off, stop paying attention."
Living with his parents before marrying and moving in with Suzanne, Vile started writing and recording at a furious clip. While in Boston, he'd befriended some guys who introduced him to John Fahey and "music you wouldn't discover if you never left your hometown." And it was Fahey's fingerpicked hymns that Vile's home recordings during that time referenced most intensely. "I was recording so many songs, writing so many good songs," he says of the period that bore early standouts like "My Sympathy" and "Song for John in D," a tribute to a friend who'd just passed away, the same friend who'd taught him how to fingerpick. "Things were really coming together musically."
He began playing out around town, giving CD-Rs of his recordings to other bands and musicians he admired, an ethos he'd uphold upon learning that lo-fi cult figure Ariel Pink had developed a following and earned a record deal hustling the same way in his native Los Angeles. But in meeting Oakland transplant and War on Drugs founder Adam Granduciel, Vile found a collaborator who was similarly intrigued by the idea of rethinking classic American FM rock and folk standards at sumptuous, hallucinatory lengths. "They were inward in this pretty profound way," says Dave Hartley, who records on his own as Nightlands and plays bass with the War on Drugs. "At the time, there were a lot of good bands in Philly, but they were either extroverted or defiantly 'indie.' Kurt and Adam were really digging, though, trying to figure out what they liked and what they had in common…[and to find] this gateway that allows you to hear it all again for the first time, to enjoy it in this new way."
Vile would join the War on Drugs and Granduciel the Violators, each contributing to the other's recordings (until recently), as their singular but slowly diverging visions have, ten years later, reached audiences far beyond southeastern Pennsylvania. Vile, who had been working in the warehouse at the Philadelphia Brewing Company, was starting to jump on DIY bills in New York, a move that led relatively quickly to the release of 2008's Constant Hitmaker and 2009's God Is Saying This to You. For six years, he'd been bottling beer until his fingers bled, using his lunch break to book shows and tours on the office computer, and irritating his "ball-buster" supervisor in the process. The week he finally got himself fired, it was announced he was signing to Matador. "It was a scary," he says. "All I knew was the blue-collar life and we'd just been approved to buy a house. All of a sudden, I was forced to take every gig that was offered."
Just before Delphine arrived in October, Suzanne decided to stop teaching at the community college and stay home with the kids full-time. It was a decision made possible, Vile, says, by all the interest generated by Smoke Ring for My Halo. "There were a lot of growing pains with Awilda," he says, of touring as aggressively as he did in the past two years. "It was just so new to us. Everyone was so exhausted and ping-ponging around everyone else. But Suzanne doesn't really have to work if she doesn't want to, while there's so much KV traffic to capitalize on. It's sad to go away, but it's understood now. You see all the festival offers coming in. [Vile is booked for, among others, Primavera, Field Day, 4 Knots, Calgary Folk Music Festival, Pickathon, Outside Lands, and Hopscotch.] You could say, 'No, I'm going to stay home.' But this is what I do so so naturally. This is what I'm qualified for."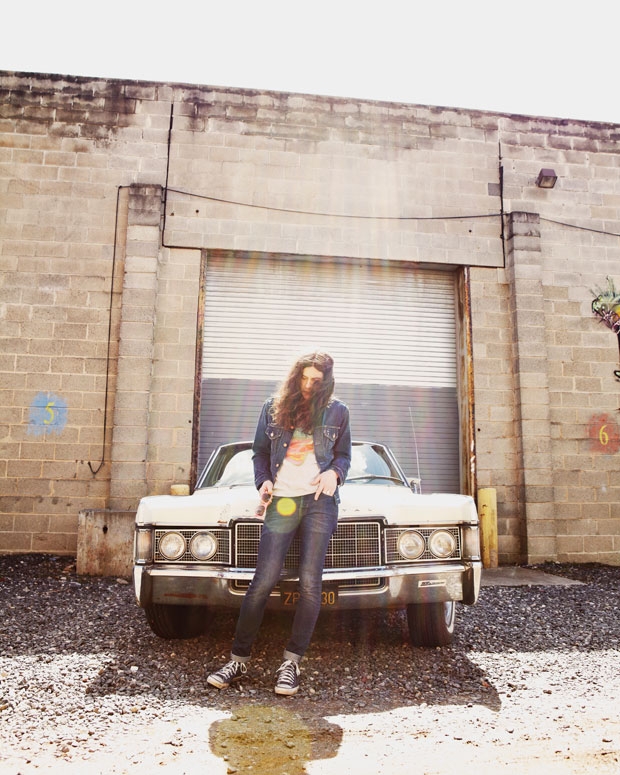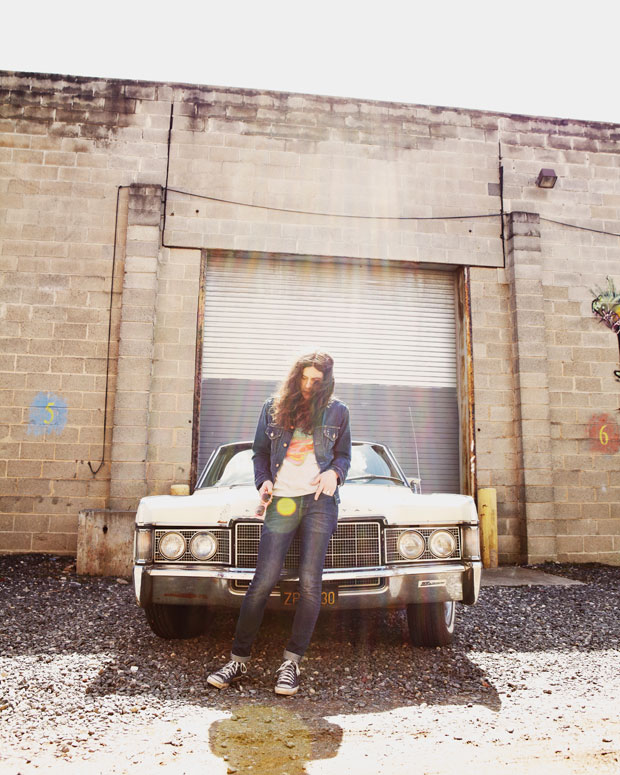 As Vile kisses the family goodbye, we pile into his 15-seat Dodge van and drive through downtown to Reading Market to pick up longtime friend, fellow Lansdowne native, and new Violators guitarist Steve Gunn, fresh off the bus from New York. We swing by guitarist Jesse Trbovich's in South Philly, then on through a quiet stretch where Vile's father grew up, back when it was still called the Meadows. The rehearsal is in Secane, a small community just west of Lansdowne where Vile's been coming to record demos for years, in a basement studio built for him by an old friend named Dave Park. After stopping at the local WaWa so everyone can grab hoagies ("This is what we live on," Vile says. "It's got everything you need…but alcohol."), we roll down a driveway that wraps around into a massive carport out back. There's a boat under a blue tarp and a half-dozen cars parked in a row. Two oak trees tower over a massive back yard where Vile and his brothers performed as kids during Fourth of July parties (with Kurt getting heckled for covering Silver Jews songs).
Vile met Park through his younger brother Bob, when the two were teens and just starting to experiment with recording. A hobbyist who earns his wage in fire and water restoration ("Burn your house down, I'll fix it"), Park has taken the day off to record everyone on this console he bought on auction several years ago, after the Art Institute of Philadelphia ditched it for digital equipment. Upstairs, Park's wife has filled the house with her collection of cockatiels. But downstairs, much of the space is dedicated to Vile: his high-school paintings line the hallways and studio walls, boxes upon boxes of his old recordings sit in stacks that Park has assembled in the control room.
As everyone plugs in, Park sheds his Hawaiian shirt in the control room, and starts rolling tape. Unlike the November rehearsal, Vile leads his band through some of the new songs, all three guitarists waking up and warming up simultaneously, while Kurt's brother Paul provides piano parts he's been studying in hopes that he might join the band. "That sounds like Springsteen," Kurt shouts at his brother, howling as he laughs. Park, who has observed all of Vile's studio sessions through the years (save for last August in L.A., alongside Farmer Dave Scher and Royal Trux's Jennifer Herrema), mouths the words to "Goldtone" and "Air Bud" and "KV Crimes," all of which, in this setting, continue to unfold and stretch out indefinitely.
While Vile's lyrics often have come across like the sound of a man in conversation with himself — as they did to heartbreaking effect on Smoke Ring — his songwriting now addresses friends and family in direct, similarly devastating ways. "There's humor in there, too," he swears. "I've been struggling for so long just to be able to express myself. I always felt that people who were too serious or despairing in their music made it theater. Life is not only that. It's more complicated than just feeling low. Everybody feels that way at different times, but honestly, I feel better than I ever have before. I'm happy because I have an amazing family and I'm happy I'm able to support them with what I'm made to do. It took so long for me to work my way here, but I finally arrived."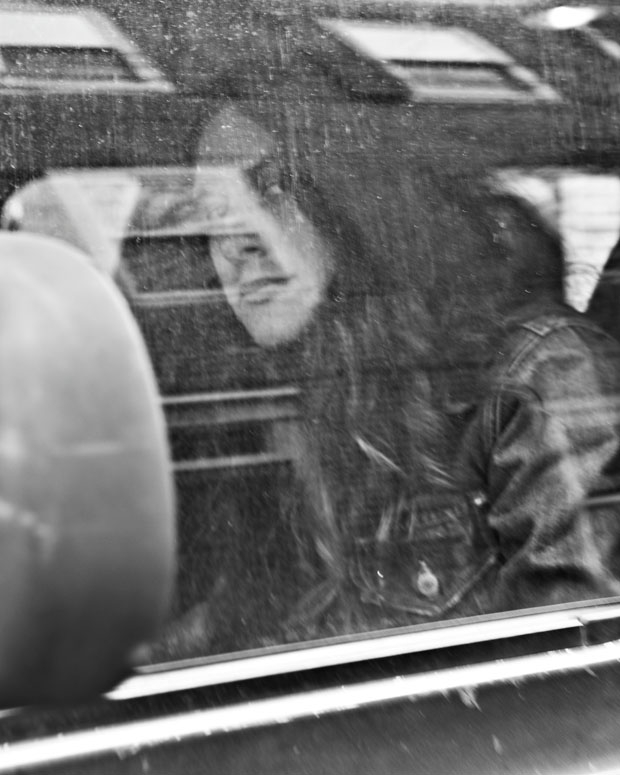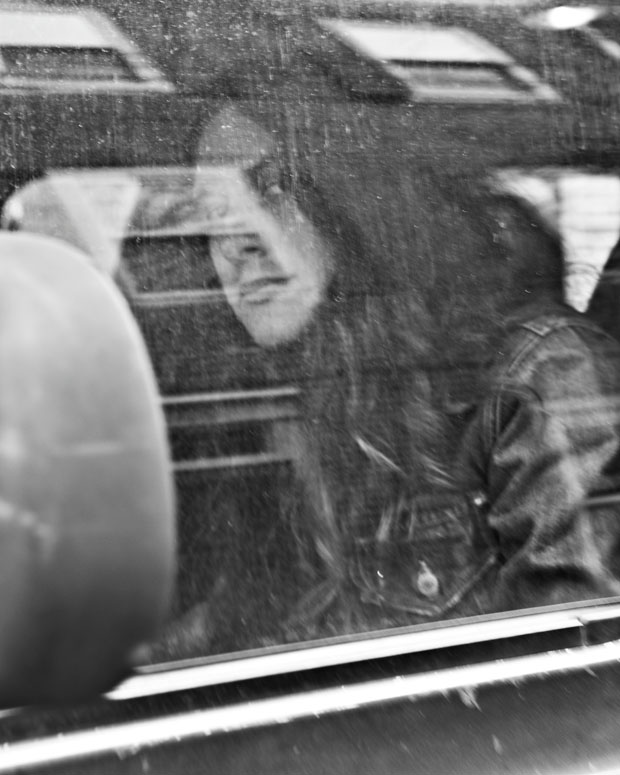 After dark we drive to Newtown Square, where Vile's parents have been living for the past ten years. Paul's just purchased a rotten RV he's currently keeping in their driveway and tonight he's resuming his efforts to gut it and refurbish it completely, in hopes that he can use it to house his burgeoning Jell-O shot operation at festivals all over the country. Charlie wears a blue plaid shirt tucked into denim and Donna's in red. As we walk in, Kurt heads straight to the kitchen and starts munching on slices of white bread he's folded over slices of white cheddar. "Growing up," Charlie says as he looks over at his son, "the ground always had vegetables and chickens. I miss that." So he keeps a garden behind the house and hens for fresh eggs, which Donna scrambles for me and Kurt's younger brother Sam, who's working on a bootleg t-shirt design for Paul to peddle with the Jell-O shots. (That's Sam, seated on the cover of his older brother's 2009 Matador debut, Childish Prodigy.)
"Paul's into the illegal subculture of the music business, while I'm in the totally legal side of things," Kurt says with a laugh. "They're going to collide really soon. It's going to be comedy." On the side of a gate leading to the living room, two black pugs, Franky and Lucy, yap in alternating tones beneath some religious art. And on a wall just between Sam's desk and a beautiful heirloom cabinet handed down to Charlie and Donna on their wedding day, is a carefully hung collage of gig posters, pulled from Violators shows over the years, as well as from Vilebred, Sam's own recording project. Maddy, the youngest of the Vile children, is an accomplished violinist.
But it's Dot, Kurt's tiny, 22-year-old redheaded sister who's been selected to accompany Suzanne and the girls to Sweden this coming summer when they'll reunite with Kurt on the road for their tenth wedding anniversary. "I think marriage has kept him grounded," Donna tells me of her son. "It's something he has to work hard for." His father immediately nods in agreement.
At night's end, Kurt gives Dot a lift back into the city. As we speed down the empty interstate, she asks her brother what he's planning to give Suzanne for their anniversary. "Nothing," he says drily, teasing her, tossing his hair from his eyes, concealing a smile. "I'm working on it."