Last week, Pusha T unveiled the cover art for his upcoming album My Name Is My Name. Designed by the Kanye West-affiliated art agency DONDA, it's just a giant barcode over a white background. The alternate art is a stark, high-contrast black-and-white image of Pusha T staring up into the sky, his dreadlocks and baseball cap distorting his near-silhouette.
This sort of anti-artwork artwork follows the path forged by the presentation for Kanye West's Yeezus: essentially, an unadorned plastic CD case sealed with a red sticker and a barcode on the back. (And don't forget the artwork for Pusha's own "Numbers on the Board," consisting entirely of the words "No Artwork" in black on a white background.) While Yeezus suggested the "minimalism" Kanye hyped in interviews, My Name Is My Name suggests the rap album as "product" — fitting for a rapper who made his name with the Clipse as a cocaine-pushing capitalist. Sure, both covers are about half as clever as they seem to think they are — entry-level postmodern design and minimalism that misses the point by calling way too much attention to itself — but they remain engaging, if rather groan-inducing images with some kind of thought put behind them.
At the start of 2012, Kanye West went on an epic Twitter rant announcing DONDA, his Steve Jobs-ian "creative company," which was initially viewed as a bit of a joke. But while it hasn't lived up to West's world-changing rhetoric, DONDA actually has a pretty impressive resume so far: Along with the Cruel Summer short film and Kanye's black metal-esque late-2012 live shows in Atlantic City, there's the artwork for 2 Chainz's Based on a T.R.U. Story, the Cruel Summer album, A$AP Rocky's Live.Love.A$AP, Lil Wayne's I Am Not a Human Being 2, Yeezus, Big Sean's Hall of Fame, 2 Chainz's upcoming B.O.A.T.S. II: Me Time, and now My Name Is My Name.
2 Chainz's T.R.U. Story is one of the few iconic album covers few years: A closeup of two gold chains dangling around a neck against a black background. Because Def Jam is one of the few major labels still putting out hip-hop on vinyl, it's especially nice to see that one all nice and blown up 12 x 12. The art for B.O.A.T.S. II is a doting, Versace-esque echo of that image. As for Lil Wayne's I Am Not a Human Being 2 — an ominous, red-tinted butterfly on black — it gave Lil Wayne's rappity record some seriousness, and a sense of vision, that nothing Wayne has done since Tha Carter III had suggested.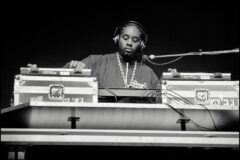 There are also some aesthetic threads running through these designs: How My Name Is My Name lends a starkness to black skin similar to Kanye's "New Slaves" projections; the security-camera grain of Live.Love.A$AP and Big Sean's "Guap" single, which ties into the security-camera-like video for "Mercy"; or even the cribbing from more unlikely sources (Spiritualized's Let It Come Down for Cruel Summer, New Order's "Crystal" single for Yeezus). There's a lot of thought being put into these designs, even if they don't always pay off. Like so many things with Kanye West, it isn't that what he's doing isn't good (or great, or even brilliant), it's just that it can't live up to the nutbar hype he laid on us before we even got to see any of this stuff.
And so, even if DONDA isn't exactly innovating, they are making some of the most interesting and/or engaging album art around, in an era where barely anybody is paying attention to such a thing. Riffing on an outdated formula and aesthetic like this is exactly what Kanye's always been great at doing. Resurrecting old ideas and twisting them enough to make them feel new — whether it's soul samples ore backpack-rap rhetoric — is his true talent. And he's an expert at fusion, as the maximalist boom bap and baroque trap he's been mining with the help of Travi$ Scott lately would suggest. DONDA is adjusting rather than innovating, and they're doing an excellent job at it. Just don't tell Kanye that's all they're doing.