Kanye West's upcoming G.O.O.D. Music label compilation will be titled Cruel Summer, and he'll be premiering a film of the same name on May 23 at the Cannes Film Festival in France, Island Def Jam has announced.
Created by West and his recently formed fashion venture, Donda, the film will be shown on seven screens and is being touted as a mix of short film and art installation. A poster promoting the event says West directed and co-wrote the film, and it will feature both rapper Kid Cudi and comedian Aziz Ansari. Cruel Summer will be showing for two days, and tickets are available through West's website.
The Cannes premiere follows a few weeks after the video for West's "Lost in the World," from 2010's My Beautiful Dark Twisted Fantasy. The film also comes as West ramps up the publicity for his G.O.O.D. comp, releasing a star-studded remix of Chicago rapper Chief Keef's "I Don't Like" on the heels of his own "Way Too Cold" (née "Theraflu") and posse cut "Mercy."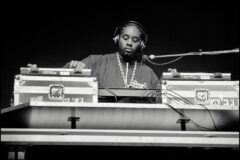 That much we know. Until Cruel Summer actually comes out, of course, it's difficult to say much else about its contents for sure. But it's always fun to speculate, and in this case, West has thrown out some hints. Here are five things we can probably surmise about the film, and our thoughts on how reasonable each possibility seems:
1. It involves the Middle East. The New York Observer reported earlier this year that West was planning a film project in the Middle East, and the poster promoting the film credits Qatar's Doha Film Institute. Plausibility: 99 percent.
2. It's science-fiction — sort of. In West's epic January Twitter rant announcing Donda, he said: "I'm currently working on a new 7 screen experience … This one of our projects to be released this year called 2016 OLYMPIC's … It's a semi sic-fi since 2016 is only 4 years away : )" Then again, obviously Cruel Summer is a different title than 2016 Olympics, so it's possible West was just having a joke here. Plausibility: Eh, we'd say 50-50.
3. It includes screens on the floor and ceiling. Well, where else would all those seven screens go? Also, West posted this image during his Twitter rant early this year. Of course, no idea if Cruel Summer will actually involve swimmers and the illusion that the viewer is underwater. Plausibility: 99 percent.
4. It doesn't feature "hoodies with sports coats," "button up shirts with hoodies," or "khaki trench coats with jeans and off brand work out sneakers." These are things West recently tweeted that he doesn't like, in a nod to Chief Keef's G.O.O.D.-remixed "I Don't Like." Also on Kanye's dislikes list: "big ass striped scarves," "long ass sideburns with the line up RnB beard," and more. Plausibility: 75 percent, because what if Ansari committed a fashion faux pas just for shits and giggles? Kanye can laugh at himself, right? OK, 98 percent.
5. It shows nude or nearly nude women. West's previous short film, for MBDTF's "Runaway," starred Victoria's Secret model Selita Ebanks in potentially NSFW levels of undress. You may also have seen that album's "banned" cover art. Or the "Way Too Cold"/"Theraflu" art. Or, going back a bit further, the Spike Jonze-directed clip for Graduation's "Flashing Lights." Then again, if Cruel Summer was really shot in Qatar, scantily women might've run West into trouble with the local authorities. So you never know. Plausibility: 50 percent.