SPIN Rating:
Release Date:
September 18, 2012
Label:
G.O.O.D. Music/Def Jam
Everything about Cruel Summer, the first compilation album from Kanye West's G.O.O.D. Music crew, should play like a victory lap — run in Oscar De La Rentas on a Persian rug adorned with images of cherubs. His 2010 solo jaunt My Beautiful Dark Twisted Fantasy was probably the best-reviewed record since the Beatles wrote the original "Good Morning"; his 2011 Watch the Throne confab with Jay-Z taught the world to say "cray" and "ham"; he ethered Santa Claus at his own Thanksgiving Day Parade; the President of the United States treats him with the same tentative praise that film critics reserve for Roman Polanski; and his girlfriend is a conventionally attractive woman of some public renown.
But instead, what we have here is a runway show of small, costly, uncomfortable missteps. There's "Mercy," a walking SXSW showcase wherein trendy ringer 2 Chainz goes full Busta-on-"Scenario," registering a full 20 decibels louder and 20 watts brighter than anyone in Camp Kanye, including Kanye. There's "Theraflu" or "Way Too Cold" or "Cold" or whatever the fuck it's called now, a LiveJournal entry that stalled out at No. 86. There's "New God Flow," in which veteran MC Pusha T brags about being the Shyne to Kanye's Puffy (and he never even got a "Bad Boyz," only a "Jimmy Choo"), now totally George Lucas'd out with a tacked-on Ghostface verse. And finally, the four-month-old "I Don't Like" remix, which hitches its swag to Chief Keef's star — a young minimalist drillster threatening to become a national pariah.
This album feels like some Atlantis-sinking-under-waves-of-Cristal shit, because our host has entered that widescreen 2 Legit 2 Quit "I'm better than Michael Jackson" stage where everything costs a million dollars, just because. Biggie dreamed of fucking an R&B bitch; Kanye dreams of designing hotels. "The Morning" logs seven guest credits in under five minutes. "Mercy" has a tempo change, a key change, and an EDM breakdown. There's a spoken-word interlude somewhere on here. Sometimes 2 Chainz just says, "Yeah," because it's hot to have 2 Chainz say, "Yeah" on a song, and that probably doesn't come for free anymore. Cruel Summer lives in that era between Puffy's "Victory" and Puffy's "Come With Me," where everything is multi-tracked out the wazoo, quietly faxed to Robin Leach for validation, and ultimately aches to fight Godzilla. You think it's a coincidence Ma$e is on this thing?
And that's all fine and G.O.O.D. for a dude whose lyrics are basically two mirrors reflecting his own egomania into infinity. But whither CyHi the Prynce? This is supposed to be Kanye's crew album, showcasing the Yeezy-fied, designer-soaked, George Condo-sketched armada of hit- and money-making machines currently running the industry: Six of the top 10 Billboard Rap Chart singles rep either G.O.O.D., Maybach Music Group, or Young Money. But Kanye West is an artist, not a businessman. Hopelessly so. Yeah, he'll posse up if that's our economic reality when you want to make albums like My Beautiful Dark Collection of No Real Radio Singles, but unlike hip-hop's smarter, savvier historical entrepreneurs (Marley Marl, Birdman, Eminem, Lil Wayne, Jay-Z), he will never let anyone in his crew truly outshine him.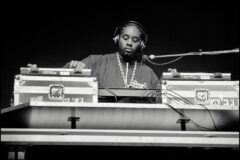 No, G.O.O.D. will never have a Big Daddy Kane, a Kool G Rap, a Juvenile, a Weezy, a 50 Cent, a Nicki, a Drake, or even another Kanye West — all artists originally vetted through the crew system, all instances where student surpassed teacher. Instead, Cruel Summer is Kanye Night Live, where he's the host and the musical guest, and everyone else has to be Darrell Hammond and never even gets so much as Obie Trice's "Got Some Teeth."
So, despite Team G.O.O.D.'s first-round draft picks — that's CyHi, Big Sean, Pusha T, Kid Cudi, and Common — trying their damnedest to prove themselves, they're never gonna compete with the obscene tabloid spectacle and perfect Twitter storm of Yeezy dropping down from a gold-plated helicopter to point out, "I was suicidal when my mother died" and "Hey, remember when you saw my girlfriend's vagina on the Internet?" in the same verse on "Clique." The best raps on this album are by (in descending order) Jay-Z, Ghostface, 2 Chainz, Raekwon, and then 2 Chainz again. That doesn't showcase Kanye's ability to nurture talent — it shows off the breadth and depth of his Rolodex, and his willingness to throw around money. If we're supposed to use this moment to ponder the great up-and-coming ability of Teyana Taylor, then Kanye buried the lead about ten tracks after he declared himself "The god of rap / Shittin' on you / Holy crap." He thinks he's God and Rick Ross and Francis Ford Coppola and Lebron James and Salvador Dali, not to mention Tyson, Jackson, Jordan, Phelps, etc.
Still, this screening of Ocean's 1 isn't without its joys. The beat to "Clique" is nothing short of a masterwork, like a hiccupping Gil-Scott Heron (via Jamie xx) sneaking under the very last gasp of "A Milli" rip-offs. Kid Cudi makes the most electrifying cameo of all the G.O.O.D.sters, growling and mumbling and not even bothering to rhyme his eight bars ("If I had one wish it'd be to have more wishes, duh / Fuck tryna make it rhyme, throw them stones with your bitch ass"). And you can certainly do worse for supporting actors than R. Kelly and The-Dream.
So no, this is not a cohesive crew album, but has there really been one since Marley Marl's In Control, Vol. 1 came out 24 years ago? (Note: Jay-Z's The Dynasty: Roc La Familia doesn't count.) It's also not a great Kanye album, because you can tell he's trying to play it (relatively) humble, which is a Yeezy tic that lost its effectiveness sometime in 2005. But even Lebron misses free throws, and Coppola released Jack, and maybe some kids just don't play well with others. Here are Kanye's kids, but all we'll remember are the pictures of his cribs. Welcome to heartbreak.