At a certain point, Billy Corgan's world became less like a vampire and more like an oyster stuffed with costume pearls. He's been a tea madame, a freelance lumberjack, a music critic, a cult leader, Mr. Tila Tequila and, perhaps best of all, a pro wrestling commissioner. That most inexplicable latter designation comes into play in the above video — a commercial for a Chicago furniture vendor starring Billy and his Resistance Pro wrestlers.
When the clip begins, we see Corgan and three suited gentlemen participating in the "Musical Chairs Finals," which happen to be taking place in a wrestling ring. The dapper dudes are the Walter E. Smithe brothers who, according to the Smashing Pumpkins' publicist, are "known across Chicago for their witty and memorable television commercials" not to mention their "well-made, stylish and functional furniture and home accents."
But things heat up when one of the Smithes gets a little handy with Billy the Body, who calls in the big buff guns to do his evil bidding. The Resistance gang busts up the bros., but as one brawny dude prepares to smash a chair over the head of a guy who undoubtedly doesn't know what a Gish is, Corgan calls him off. Why? Well, you'll have to see for yourself. "The commercial will officially air on TV soon," says the press release.
"I am proud of Resistance Pro's growing popularity," Corgan (probably had someone else write and say that he) said via statement. "Tim Smithe and his brothers presented us with the opportunity to share our brand. I'm grateful to the Smithe brothers for their $50,000 donation to PAWS, a charity that is important to me." Indeed, the Pumpkin has helped raise over $140,000 for the homeless animal rescue organization this year alone.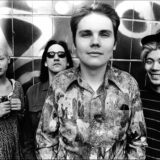 But still: