Smashing Pumpkins and Pavement will share slots at next weekend's Planeta Terra Festival — and Billy Corgan isn't happy about it.
The Smashing Pumpkins frontman unleashed a tirade on his Twitter, taking shots at the reunited indie-rock icons (with whom his band has feuded since the mid-'90s) for representing the "death of the alternative dream."
"Just found out SP is playing with Pavement in Brazil. It's gonna be 1 of those New Orleans type funerals," he Tweeted. Corgan later clarified: "Funny how those who pointed the big finger of 'sell out' are the biggest offenders now…yawn. They have no love."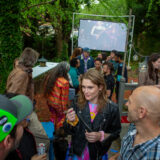 Corgan's reason for his beef? Malkmus famously made fun of the band in the 1994 Pavement song "Range Life," which includes the lyrics, "Out on tour with the Smashing Pumpkins…I don't understand what they mean / And I could really give a fuck."
Corgan and Malkmus would go on to trade barbs in the press over the years. In '94, Corgan refused to share a slot on Lollapalooza with the band. "Smashing Pumpkins said, 'No, if Pavement does it, we're not doing it,'" Scott "Spiral Stairs" Kannberg recalled in 1999. Malkmus later said his lyrics weren't intended as a jab at the Pumpkins' songs: "I never dissed their music. I just dissed their status." In 2008, he said his Pumpkins shout-out was meant as a "tribute to their relevance" and a "back-handed compliment."
In better news, Corgan posted on Twitter that Smashing Pumpkins' Primavera set will feature new material, from Corgan's mammoth Teargarden By Kaleidyscope project. "We'll be up there playing new songs because we have the love," Corgan Tweeted.