Among the numerous stylistic standouts and anachronistic oddities that gave Baz Luhrmann's Romeo + Juliet (1996) its distinct charm, the soundtrack played paramount. His forthcoming F. Scott Fitzgerald adaptation The Great Gatsby isn't due to hit theaters until May 10, 2013, but we're already getting an idea what what sounds will be in store for viewers.
In October, we reported on the rumors that Prince and Lady Gaga are contributing original music to the film, which stars Leonardo DiCaprio and Tobey Maguire. Now, a new trailer, streaming above, helps heighten our expectations. Between the two official clips released thus far (find the first one below), we've got Jay-Z and Kanye West's Frank Ocean collab, "No Church in the Wild," Florence + the Machine's "Bedroom Hymns," Filter's cover of the Turtles' "Happy Together," and Jack White's version of U2's "Love Is Blindness."
While the original trailer focused largely on the legend and largesse of Jay Gatsby, played by DiCaprio, the latest one takes a long look at the leading man from the viewpoint of Maguire's Nick Carraway. We also see much of Daisy (Carey Mulligan), Carraway's cousin who finds herself in a fate-altering love triangle with Gatsby and her husband millionaire Tom Buchanan (Joel Edgerton).
Trailer 1: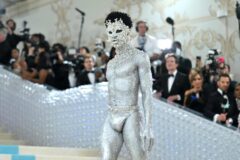 Filter, "Happy Together":
https://youtube.com/watch?v=Xgi0IpZTvYo
Jay-Z and Kanye West feat. Frank Ocean, "No Church in the Wild":
Florence + the Machine, "Bedroom Hymns":
Jack White, "Love Is Blindness":
https://youtube.com/watch?v=6T-7S02-RJk