This past weekend, Austin's seventh annual Fun Fun Fun Fest saw the once-modest, mid-autumn gathering finally metamorphose from off-season distraction to a festival-season staple capable of attracting more than just Ryan Gosling and a few local punks (and thanks to the Austin Music Office, SPIN was hanging in a sweet ATX Airstream). The headliners were heavyweights in their respective fields (Run-DMC, Refused), and the daily lineups (split between three specialized stages) were uniformly strong. There was both a taco cannon and a Black Lips set made zanier by contributions from Val Kilmer and Rooney Mara, the latter introduced by the former as Miley Cyrus. (Michael Fassbender acted as their chauffeur, carting them around backstage in a golf cart; he is a vocal Penguin Prison fan.) There was a nautical-themed skate and BMX ramp. Napalm Death were there. So were Superchunk and Seaweed and a few thousand music nerds, so many of which made the best sets we saw even better. Here are the 20 we'll remember.
FIDLAR
Friday, 1:05, Black Stage
To make your way to the Black Stage, you have to walk the length of Auditorium Shores, past dozens of tents, locally sourced food trucks and lastly, Fun Fun Fun Fest's skate and BMX park, which plays host throughout the day to countless kids on bikes and skateboards. In the first few hours of the festival, as FIDLAR, a nascent bunch of SoCal pop-punks, were just starting to hit their mid-set stride, it wasn't odd to think that theirs was the noise soundtracking the kickflips as you walked. But it wasn't: The skate and BMX park was blasting dubstep, its low-end often congealing with the more sinister edges of FIDLAR's mix, a mutant blend of hardcore-steeped lullabies played at roaring volumes.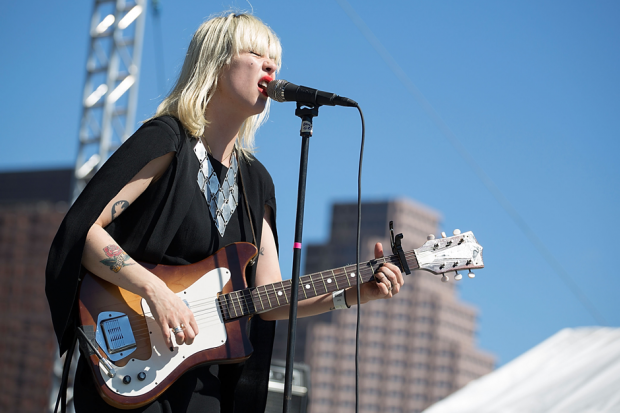 DUM DUM GIRLS
Friday, 1:45, Orange Stage
The heat was at its most intense (Friday's high was in the mid-80s) and luckily, every song felt like a breeze. For the past four years, Dum Dum Girls frontwoman Dee Dee has quietly become a lights-out songwriter, continuing to craft warm, windswept gems long after the Spector-ized swell of late '00s lo-fi pop has subsided. "This one is to the kid in the Black Flag shirt who knows every word," she said before leading her uniformed (black, white, lots of leggings) crew into "Season Of Hell," a highlight from this year's End Of Daze EP. There was definitely more than just one.
CURSIVE
Friday, 2:35, Orange Stage
Few strains of punk went unrepresented at Fun Fun Fun, and turn-of-the-century emo, like that served up by long-running Omaha outfit Cursive, enjoyed face time atop the Orange Stage. In recent years, frontman and chief songwriter Tim Kasher has strained to keep his band's output from remaining in one place for long, tangling and overloading his arrangements in the process. But in a set split evenly between material new and old, one could hear how well a lot of his early, much-beloved work continues to hold up over time: The teeth-gnashing and stomach-churning of Ugly Organ's "A Gentleman Caller" and "Art Is Hard" were highlights. Twice, one could spot singer-songwriter Sharon Van Etten taking a break from her band's setup on the other half of the stage to play air drums and scream along.
SHARON VAN ETTEN
Friday, 3:25, Orange Stage
Anyone familiar with Sharon Van Etten's backstory could quickly understand why Cursive's early records would be a formative influence. The Brooklyn singer-songwriter packs her songs with pained confessionals, many of which are the byproduct of a torn relationship or two. But her latest, Tramp, found her thickening her songwriting with more muscular arrangements. Plus, months upon months on the road (with her finest band yet) have transformed her from soft-spoken, saucer-eyed wallflower to a singer in full command of the stage. What was once an almost meditative and hymnal experience has become something staggering.
BOB MOULD
Friday, 5:05, Orange Stage
Bob Mould barreled through Copper Blue his 1992 post-Hüsker classic under the Sugar moniker. In front of a reverent crowd, Mould made it halfway through the record without saying a word, focusing his efforts instead into wringing every bit of crunch he could from what continues to be one of his most beloved sets of songs. The energy never flagged and neither did the melody.