A.DD+
Sunday, 1:10, Blue Stage
Heavily influenced by OutKast and the rest of Atlanta's Dungeon Family, the Dallas-bred duo leaned on material from their Loosies singles comp, an implacable slab of BBQ-ready rap. Their on-stage back-and-forth never felt like it was in danger of wilting in the considerable heat. They danced, goofed around, and, over crisp snares, prompted an "I wanna party" chant that would have done wonders in the evening, but felt just right under the sun.
NICKY DA B
Sunday, 2:25, Blue Stage
"Bitch, I'm not a freak. I'm just a little nasty." Had you been anywhere near Auditorium Shores on Sunday afternoon, you would have heard this chant, as it was led by New Orleans bounce dynamo (and Diplo collaborator) Nicky Da B. Flanked by two roving, constantly twerking dancers, the blonde mohawk'd vocalist erased the divison between stage and field by inviting everyone up for a dance party that lasted for much of the set. Most festivalgoers wiggled their asses, one dropped his pants and shook his (sheer-briefed) shy parts instead.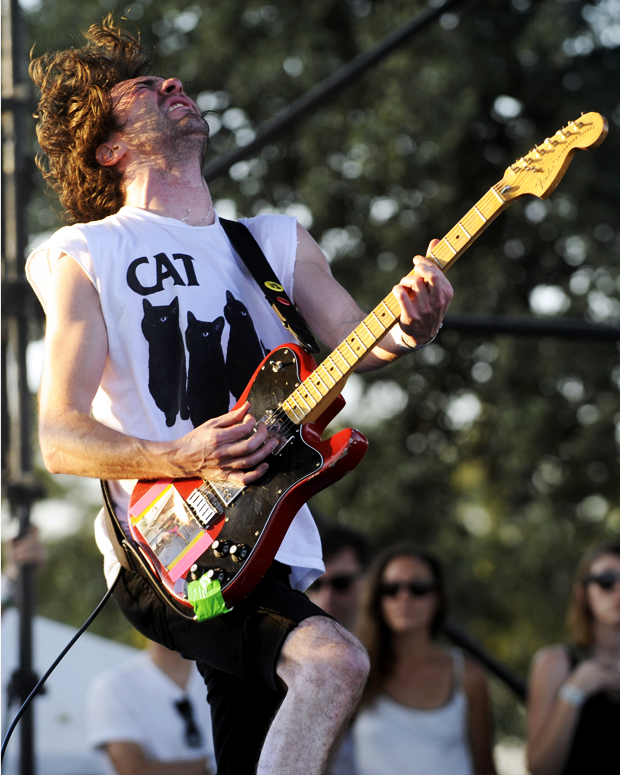 JAPANDROIDS
Sunday, 4:20, Black Stage
Known to speak at great length and high speeds during his band's shows, Japandroids frontman Brian King pledged to keep stage banter to a minimum due to the tight FFF set time. It was a wise move. By the time he and drummer David Prowse launched into "Adrenaline Nightshift," a highlight from this year's excellent Celebration Rock, much of the festival had poured into the Western end of Auditorium Shores to catch a glimpse. And though the sound was muddied in parts, the Vancouver duo seemed to have found another gear while on tour in Europe for the past two months, the ferocity with which they took to each number echoed by the rows of yowling, crowd surfing diehards up front.
THE PROMISE RING
Sunday, 6:05, Orange Stage
"Do you have a background in….mindreading?" Promise Ring frontman Davey Van Bohlen asked of one supporter who'd just been pleading to hear the reunited emo outfit's 1996 single "A Picture Postcard." This was an exceptionally playful and joyous performance, Van Bohlen shuffling and kicking and teasing his way through some of his Milwaukee crew's most beloved songs, all of which felt, if not dated by their lyrical subject matter (see: the aforementioned "A Picture Postcard," among other pay phone and mixtape-enriched choruses), completely untouched by time.
EXPLOSIONS IN THE SKY
Sunday, 7:55, Orange Stage
The Austin instrumental rock heroes (one of three local acts helping to close out the festival) underscored the melancholy inherent their songwriting by making the expansive even more so. The peaks were high, the valleys great, and the volume tangible.