TANLINES
Saturday, 4:45, Blue Stage
Though some wonky sound did in the first half of this Brooklyn duo's performance, Jesse Cohen and Eric Emm bounced back to unfurl what was perhaps the afternoon's most buoyant set. Much of that owed to their extraordinarily strong finish, Emm and Cohen (who was wearing a newly made, custom ball cap emblazoned with their "winky sad" emoticon) gliding through a good portion of this year's Mixed Emotions.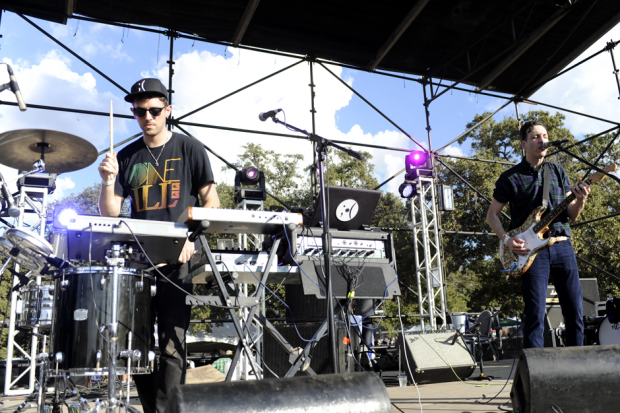 OFF!
Saturday, 4:45, Black Stage
Before the Keith Morris-fronted hardcore supergroup got going, the much ballyhooed "Taco Cannon" was readied and put to use, and dozens of Torchy's tacos were hurled into the crowd. "Are those vegan tacos," Morris asked, just one of a few platforms he would take throughout the set. (They were.) Between outbursts of the punk variety, Morris also became one of the very few musicians to wax political over the weekend, expressing his distaste with our two-party system, outsourcing to China and cell-phones. But none of it threatened to distract from what was a furious, sometimes terrifying set.
SCHOOLBOY Q
Saturday, 5:30, Blue Stage
Though recent critical darling and fellow Black Hippy member Kendrick Lamar was not in attendance, Schoolboy Q did rumble through a lip-curling, Ab-Soul-enriched rendition of "A.D.H.D" (from the former's Section.80). It was one of several rousing moments in one of the most focused outings of the day, the Los Angeleno peppering his set, much of which was culled from his this years Habits & Contradictions, with inspirational observations not unlike what you'd hear during a hardcore set. After surviving prison and fatherhood, "finally," he said, marveling at the crowd's size, "I'm a rapper rapping in front of you motherfuckers."
REAL ESTATE
Saturday, 6:05, Orange Stage
"It's nice to play while the sun is setting," Real Estate bassist Alex Bleecker said halfway through the New Jersey outfit's time on the Orange Stage. Given Real Estate's gifts for languid, sigh-like indie-rock, their slot was perfectly scheduled — there are few better settings for their handiwork. The fivesome ambled through a sumptuous set of highlights from their most recent full-length, Days, closing with "Beach Comber," an exceedingly tuneful cut from their 2009 debut.
REFUSED
Saturday, 8:50, Black Stage
Perhaps the set of the festival. The reunited Swedish post-hardcore pioneers drew a massive gathering in front of the Black Stage on Fun Fun Fun's second night, delivering a crushing, hour-long (relatively lengthy for the weekend) run through older material and call-and-response freakouts from their 1998 masterstroke The Shape Of Punk To Come. Elastic frontman Dennis Lyxzen, in slim-fitting black, recalled for everyone a 1996 tour stop in Houston with Snapcase in which local skeptics derided as Skid Row-indebted imposters. "We're glad we can be here tonight," Lyxzen said, panting, "to show you guys we don't sound like Skid Row."