The latest threat to bus drivers — or at least the latest squeeze — comes from a company called BandWagons, run by a father-and-son team who are both former tour-bus drivers and bus-company owners. BandWagons traces its origins back to 2008, when the economy fell off a cliff and landed squarely atop the music industry, which had already plunged off the same cliff a couple years earlier. At the time, Jeremy Clarke was booking and driving buses for Northern Gold, a company his father had started in the early '90s. Most of their clients were punk-rock and screamo types who were feeling the financial pinch: Fans had little money for concert tickets, record labels had stopped offering tour support and guarantees from clubs and promoters were shrinking rapidly.
"It got to the point where everyone was saying, 'Come on, can you give me a bro deal? We don't have any money,'" says Clarke. "We wanted to fill that gap between a van tour, which is horribly uncomfortable and not as cheap as you might think, and a bus, which is holy-shit expensive and not always reliable on the budget end of the spectrum."
Their answer was the BandWagon, which was designed to be shorter and lighter than a full tour bus so it couldn't be classified as such by the DOT (it falls into the same category as a U-Haul). They rent for $325-$365 a day, which is roughly half of what you'd pay for a tour bus, and there are additional savings because it doesn't required a commercial-licensed driver to operate. When you factor in the money saved on hotels, the price is comparable to what many bands pay to tour in a van. The company started out with three vehicles; since then, the fleet has grown to 22.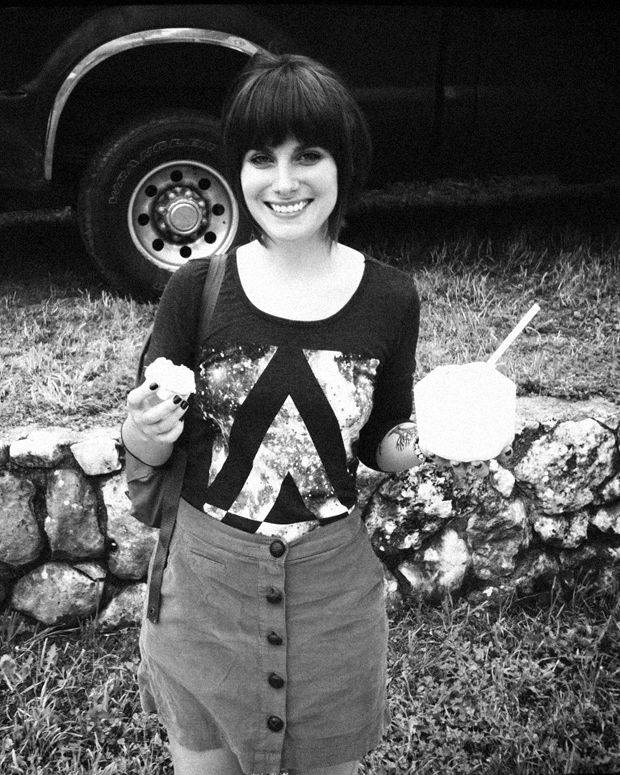 I get a look inside a BandWagon when Foxy Shazam play Atlanta in April. It's still pretty big and bulky, but definitely smaller and sparer than a typical tour bus. There are two couches and a table up front, eight bunk beds lining the walls of the back hallway, and a bathroom with a shower in back. Though there have been some grumbles that the ride isn't as smooth as a full-sized coach, the guys in Foxy Shazam have few complaints. They've hired a friend of a friend to drive, but many bands either designate a member of the crew to drive or simply take turns doing it themselves. A few bus drivers I spoke to thought the idea of having an inexperienced hand behind the wheel — especially if he or she is also tasked with selling merch or playing bass — is an accident waiting to happen.
"I've had a lot of people say to me, 'How do you feel okay letting these bands drive themselves?'" says Clarke. "They have no idea how easy it is to drive [a BandWagon]. Also, if I'm the merch guy and it's my turn to drive, you're my good friend in the band, so on a human level, you're not just a paycheck. I care a lot about not killing you."
So far, according to Clarke, there have been no serious accidents, and clearly some of the criticism is motivated by self-preservation. But Clarke insists his company isn't looking to displace tour buses or drivers, only to fulfill an unmet need. "These are to take the bands that are in a van and give them a more comfortable, cost-effective option, or to take bands that are used to a bus and want to save money," he says. "If you're a good bus driver, I don't care how bad the economy gets, you will have a job. Tom Petty will always take a bus. Radiohead will always take buses. You can still be in business but you've got to earn it now."
Clarke is almost certainly right. BandWagons may nip away at the corners of the tour-bus industry, the DOT may institute more stringent regulations, touring budgets may get tighter, and relationships between drivers and artists may grow more distant, but good drivers will continue to work.
Back on Gillis' bus, he's getting ready to swing by the hotel to pick up Counting Crows. After he drops off the band in Nashville tomorrow, he's going to drive Sheryl Crow for a run of dates, then there's a Huey Lewis tour, and after that, back with Counting Crows again through the busy summer season. Life on the road has taken a toll on Gillis over the years: He and his wife, who convinced him to buy that first bus, are now divorced; he rarely sees his girlfriend, who lives in Chicago, and he hasn't been around as much he would have wanted for his three grown children in Nashville.
Still, he has no major regrets.
"Look, bus drivers all have the same thing in common," he says. "We're all renegades, running from something, at some point. I guess I'm running from just having to sit at a desk every day. We're all in a situation where it's really hard on our personal lives and our kids take a punishment from it." He takes a deep breath and shrugs his shoulders.
"But we just don't like to sit around all that much."