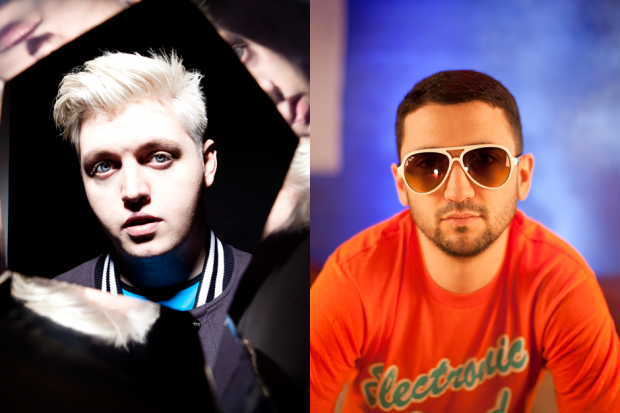 20. Flux Pavilion & Doctor P – "Bass Cannon" (2011)
Dubstep gets its Black Sabbath moment, its Throbbing Gristle moment, and its Flipper moment rolled up into one caustic migraine befitting its hilariously literal title. Two U.K. big-beat blasters team up for a full-moon experiment, pushing the acceptable limits of slow'n'low chainsaw bass, imagineering a "hook" that's essentially a six-second blurst of power-drill noise that wouldn't sound out of place on an Einstürzende Neubauten album. It's been sucking the air out of festival crowds for two summers straight. C.W.
19. Kode9 & the Spaceape – "Kingstown" (2005)
Dubstep's actual ties to Jamaica have become more and more tenuous over its decade-long development, leading even a reformed brostepper like Rusko to frontload his last LP with a shout-out to King Tubby, as though atoning for the scene's collective sins of omission. But reggae's spiritual home is front and center on this 2005 cut from Hyperdub head Kode 9. Over a bed of melodica and clanging chords, the Spaceape growls gravelly dub poetry in the fashion of original London-via-Jamaica legend Linton Kwesi Johnson. P.S.
18. Jamie Woon – "Night Air (Ramadanman Refix)" (2010)
With its original version coproduced by Burial, "Night Air" was an overdue party for a dude who, by 2010, was getting his U.K. soul-tronic lunch eaten by James Blake. Here, with David Kennedy's help, Woon took a side trip into slightly more jammy hinterlands. As with many things Hessle Audio-related, this is a bass-music-as-drum-circle-friendly outing. Except we've left the city, and are beatboxing fireflies. P.O.
17. Pinch – "Qawwali" (2006)
Next time you hear someone complaining about dubstep's elevated testosterone levels, counter with a spin of Pinch's "Qawwali," one of the canon's most blissfully meditative songs. The title nods to the Sufi devotional music popularized by Pakistan's iconic singer Nusrat Fateh Ali Khan, as do a plaintive harmonium melody, an intermittent flourish of strings, and soft hand percussion accentuating the track's liquid pulse. It feels as natural as breathing &#8212 an attribute Pearson Sound used to great effect when he placed it between two far-tougher tracks on 2011's FabricLive 56. P.S.
16. Untold – "Discipline" (2008)
All sticks and stones and foghorn moan, U.K. cryptkeeper Untold's "Discipline" feels like dubstep as Jan Svankmajer might have imagined it. He sets the scene with a ticking grandfather clock and ratchets up the tension with radiator clang and disembodied mewls. Quicksand sucks at every footfall, and the groove lurches with the uncanny motion of an automaton. Somehow it still skanks hard. P.S.