It looks like the producers of the upcoming CBGB movie are charging ahead in spite of the controversy brewing between the filmmakers and members of deceased club owner Hilly Kristal's family. A new batch of actors have been announced for the movie tracking the history of one of New York City's most iconic spots, which has already confirmed Alan Rickman in the lead role as Kristal.
THR reports blond-maned (and recently Bamboozled) Foo Fighters drummer Taylor Hawkins will play Iggy Pop. The Foos and Stooges have crossed paths before — most recently at last year's Isle of Wight festival in the U.K., where the perennially shirtless Detroit legend pulled Dave Grohl up onstage to dance while the Stooges charged through a full Raw Power set. Hawkins, presumably, was studying Pop's sinewy frame and unique stage manner from the wings.
In addition, Micky Sumner (of HBO's The Borgias) will portray Patti Smith, Johnny Galecki (of The Big Bang Theory, and, forever in our hearts, Roseanne) will take on Television manager Terry Ork, Steven Schub (whose credits include an episode of Sesame Street wherein he played "Dan the Clarinet Man") will join Joel David Moore and Julian Acosta, who are playing Joey and Johnny Ramone, as Dee Dee, Evan Alex Cole (of She's Outta My League and As The World Turns fame) will become punk style innovator Richard Hell, and Peter Vack and Kerry Bische will play rock historian Legs McNeil and I Shot Andy Warhol filmmaker Mary Harron, respectively. The new additions join Malin Akerman, who will play Debbie Harry, and Rupert Grint who will tackle Cheetah Chrome of the Dead Boys.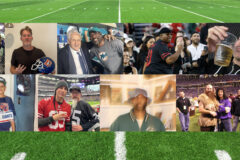 News about the film picked up earlier last month with the announcement of Rickman's casting; it was given a full green light almost a year ago.