Sánchez, the 666 Fest organizer, says he had to offer assurances to government officials about the event. "Weeks ago, we had to say which bands were going to play and what kind of lyrics they'd sing," he says. "We were told there can't be anything against the government. We said, 'There won't be any trouble. All the bands are about Satan and "Fuck God," and all that.'?"
Ultimately, for a festival of black metal — which celebrates individualism above all else — to be supported by a state founded on forced collectivism is somewhere between ironic and absurd. But all this uncertainty leads, inevitably, to the most insidious strain of censorship.
"You grow up censoring yourself," says Sánchez. "You know what you can say and what you can't. We have that incorporated since we were kids."
Santa Clara is 175 miles east of Havana, but it takes me nearly five hours by bus to make the trip. The city, built by the Spanish in the 17th and 18th centuries, was the site of the decisive battle of the Cuban Revolution, where battalions led by Camilo Cienfuegos and Che Guevara (whose remains are housed in a nearby mausoleum) overwhelmed government forces. President Batista fled the country 12 hours later.
My monthly salary is about $20. I'm not going to buy a microphone or I'll starve to death. There's no shop with instruments anyway.
—Blinder's Eric Domenech
There's not much to look at on the ride from Havana, except for the occasional billboard touting socialism's virtues or decrying U.S. injustices — "End the Blockade," "Free the Five" (a reference to five Cubans imprisoned in the U.S. on espionage charges — one has since been released). Like the infamous Japanese sergeant who was found hiding in a cave in Guam nearly 30 years after World War II ended, Cuba often feels like it's stuck fighting a Cold War that everyone else quit paying attention to decades ago.
Eric and Jorge Domenech live on a narrow street of dusty, low-slung buildings in Santa Clara, not far from the picturesque city center. Eric, short and compact, with a shaved head and a thin goatee, is the frontman for Blinder, one of the country's best-known death-metal bands. His brother, Jorge, tall and slender, is Blinder's manager. They invite me into the tidy living room of their small home on a Sunday afternoon.
The two first discovered metal as teenagers in the 1980s. With an antenna fixed to the roof of the house, they could pick up FM stations from South Florida. "There were two or three stations in Miami you could listen to," Jorge says. "They'd play Quiet Riot, Twisted Sister, Ratt. One station, 101.5 FM, had a 30-minute program of hardcore, punk, and metal with bands like Napalm Death, Obituary, Sepultura, and Deicide."
Eric points past the small kitchen and out the back door of the house to show where the antenna was perched. "When I listened to the radio, it was always like this," he says. He mimes pressing his ear to a transistor and imitates the alternations between static and ferocious metal barking that used to waft from the speaker. "It was hard to find music. It took real sacrifice."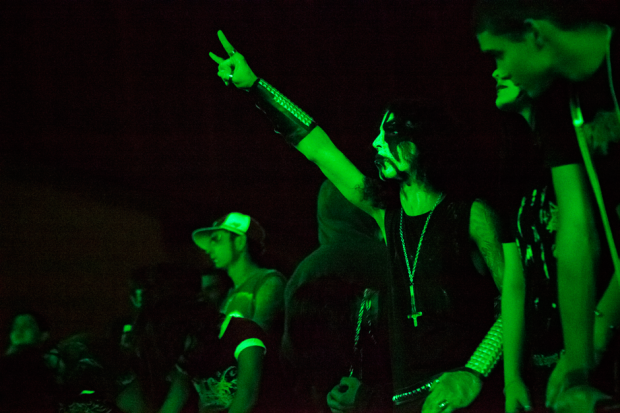 Jorge wrote letters to foreign bands, asking them for posters, T-shirts, and music. "The mail service is fucking shit," he says. "But from time to time, I'd receive things." He disappears for a moment into a bedroom and returns with a prized bounty: His extensive correspondence with Oystein "Euronymous" Aarseth, the guitarist of the Norwegian band Mayhem who was murdered by his bandmate in the most notorious incident in black-metal history. "He seemed like a nice guy," Jorge says.
As difficult as it was to be a metal fan, it was simple compared to starting a band. When Eric formed his first group, Cronos, in 1991, they had to manufacture most of their equipment from scratch. Eric, whose full-time job is teaching art, constructed the guitar bodies from wood, then fixed them with pickups that came from former Eastern Bloc nations such as Poland and Czechoslovakia. Friends helped him jury-rig together homemade amplifiers. These days, getting equipment is only marginally easier.
"My monthly salary is 480 pesos," says Eric. "That's about $20. I'm not going to buy a microphone or I'll starve to death. By the way, there's no shop with instruments, anyway."
Most musicians get their instruments from friends traveling abroad and then hang on to them until they disintegrate. A few days later, I sit with the band Chlover, across the street from the Havana terminal where, in 2003, armed men hijacked a ferry and tried to sail it to Florida (they were caught and three ringleaders were quickly executed). The band members tell me about taping together broken drumsticks, making guitar picks from old phone cards, and only changing guitar strings every seven months. As one of Chlover's guitarists Milton Núñez explains, "Normally, you buy equipment to get the sound you want to achieve. Here, you take anything that shows up and somehow get to the sound you want."
The phrase I heard most from musicians here is "No es facile," or "It's not easy," and they weren't just talking about playing in a band. Nothing is simple for Cubans, and almost everything requires standing in a long line. It took hours of explanation from my interpreter before I could decipher the processes behind procuring cellphones, buying groceries, using the two different currencies — don't ask — and finding a place to live here.
Traveling the country is arduous. Buying a car was illegal without specific government permission until last year, and still remains prohibitively expensive. Decent public transportation between provinces is also pricey — my bus trip to Santa Clara cost as much as the average monthly salary — and the cheaper options are unreliable. At the 666 Fest, one of the headlining bands, Unlight Domain, hitchhiked to the gig, which isn't uncommon; but two other bands tried to and didn't make it, which also isn't uncommon.
In a country without any Internet culture, promotion and distribution is mostly hand-to-hand and by word of mouth. Getting music from overseas is easier than it once was but still requires resourcefulness: When Chapet (of the Brutal Beatdown label) discovered I was coming to Cuba, he had me bring a flash drive with 50 or so albums on it.
Then there's the challenge of spreading the gospel worldwide. As the rest of the world's music industry moves online, uploading and downloading music here is nearly impossible. "There is no Internet here, so no one knows you," says Fanny Tachin, bassist for Hipnosis. "Nobody knows there are bands here."
Go inside Cuba's hidden metal scene via stunning photos from SPIN's report.