Central Havana is a strikingly handsome shambles of gorgeous 200- and 300-year-old buildings on the verge of collapse. Small, blackish clouds rise from the tailpipes of aging automobiles and fill the air with a sickly sweet sulfuric smell. Down one side street, Maxim Rock stands out from its dilapidated neighbors. Formerly an old theater, the venue was renovated and painted a deep, dark red before it opened in 2008. Inside, the main room has a four-story-high ceiling and space for nearly 1,000 concertgoers; the stage is framed by the kind of large, steel lighting rig designed for outdoor festivals. All this was the handiwork of the Cuban Rock Agency, which houses its offices inside Maxim Rock.
Although entrepreneurial opportunities have expanded in recent years — the state allows limited private ownership of real estate and automobiles, and grants licenses to operate small businesses — most everything is still government-run, including music. For musicians to get paid, they must be "professional," a status bestowed on them by a government agency, through the Ministry of Culture.
For years, rock and metal acts were licensed through the same agencies as salsa and jazz bands. What that meant, in reality, was that they were mostly ignored and therefore couldn't earn money legally. In 2007, the Cuban Rock Agency was formed to represent them. Shortly after, the agency began auditioning bands to receive their professional credentials. At present, it has 16 acts on its roster, most of them metal, and, due to limited resources, nearly all from Havana. These bands either get paid a monthly salary or 60 percent of ticket sales whenever they play a show. What that amounts to is not much: Only one musician I spoke to, Arce, the ex-Venus singer who began fronting Zeus in 1996, makes enough from music to live on. He earns 3,000 national pesos a month, or about $125, which is four to five times more than the average Cuban.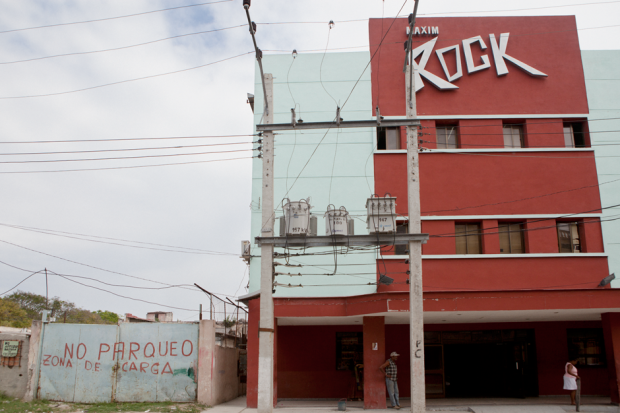 Even though the money most bands earn is negligible, the situation itself seems bizarre to an outsider: A gaggle of insanely angry metal bands — including Ancestor, Escape, Zeus, Hipnosis, and Chlover — who are partially subsidized by the same government that's frequently the source and target of their rage.
Yuri Ávila has run the Cuban Rock Agency since its inception, but doesn't look like your average government functionary. She's short and stocky, and when I meet her one afternoon at Maxim Rock, she's wearing a fading black JuiceheaD concert T-shirt and gray shorts. She's a longtime metal fan who used to work alongside Gattorno at the Patio. When Gattorno passed up the opportunity to head the agency — she was reportedly still disillusioned over the Patio's shuttering — she suggested Ávila. Ávila's is a complicated job because she's both the voice of the rock community and an employee of the regime who is occasionally charged with keeping that community in line. "We have bands in the agency with very strong politics, and it's okay," she says. "But there are rules we must not trespass. It's not my intention to break those rules and fuck up everything we've built. There are ways to say things, there are moments to say things. But I always want the musician that stands up on that stage to be aware of what will come from the things he says."
These are rules that apply to all bands here, not just those signed by the agency. Certain lines can't be crossed. Criticism of society's ills is usually okay; criticism of the government is usually not. Lázaro Hernández, drummer for the metalcore band Switch, told me that when they played a song called "Represión" on a popular TV show, their performance was cut from the final program. Others I spoke to offered similar tales; but several mentioned the particular case of Gorki Águila.
Águila is the outspoken frontman for the punk band Porno Para Ricardo. His incendiary tunes mocking Cuban bureaucrats, denouncing Communism, and in one case, taking Fidel to task personally ("El Comandante wants me to work for next to nothing / El Comandante wants me to applaud his bullshit sermonizing") have gotten him banned from playing music in public and imprisoned several times, including a two-year stint in maximum security during the mid-2000s. A week before I arrived, Águila was arrested again (and released a day later) when he tried to play an unauthorized show at G Street park.
But the standards of what's deemed "over the line" by authorities are hazy. Chlover, for example, have gotten significant play on state-run radio and TV with songs like "Poder a la Gente" ("Power to the People"), which calls on Cubans to rise up, stop being silent, and fight for change.
"There are some lyrics on our CD that are risky," says Chlover drummer and lyricist Orlando Acosta. "We don't know how we've been able to get away with it, but we've never been criticized or censored."
A lot of bands sing in English, which offers a measure of protection. As Abaddon's Olivares points out, many of the lyrics are indecipherable anyway. "If you sing in English and your voice is all growls, they can't understand what you're saying," he says. "If they understood, it would be more problematic."
Go inside Cuba's hidden metal scene via stunning photos from SPIN's report.