One website, Cuba-Metal.com, run by a Cuban expat living in Spain, has become a good clearinghouse for music and information, but it's inaccessible to most Cubans themselves. Chapet has had some success drawing attention from abroad: Although Brutal Beatdown hasn't sold many copies of its two releases — the Not Salsa compilation, plus an album by veteran death-grindcore act Combat Noise — it has gotten some favorable notices on foreign blogs and in European metal magazines. Brutal Fest has grown into a ten-day tour around Cuba and now also features foreign artists. This year's festival, in mid-August, will include, for the first time, an American band, the New Orleans horrorcore group She's Still Dead.
But as Blinder's Eric Domenech points out, this is the exception, not the rule. "We don't get a lot of bands from other countries coming to Cuba." Mostly, he says, because it's a money-losing proposition. "They have to pay for everything. But that would be our opportunity to interchange with other bands. When they go home, they would talk about our Cuban scene."
Then there's the inability of Cuban bands to tour abroad. While it's theoretically possible to be granted permission — a formal invitation is required from a promoter or an institution, plus someone has to put up the money — the only band I spoke with who'd actually completed the process were Zeus, who have played in France and Spain. The rest had lots of stories of near misses: lost paperwork, passports that didn't come through in time, money that was never raised. Even if all the travel restrictions were lifted tomorrow, financial reality would keep most bands trapped on the island. Since Fidel Castro passed power to Raúl in 2008, there have been some economic reforms and a slight easing of regulations, but nothing that's made much difference in the lives of ordinary Cubans.
"There have been certain changes but not the necessary ones," says Eric Domenech. "It's a very slow process. The rest of the world is opening up right now, but there are very old ideas here. The people that run the country are old and orthodox."
Few I spoke with have much hope that even the demise of the Castros will make a difference. When I ask Domenech what changes he'd like to see, he laughs and shakes his head. "I'll go to jail if I say. It's too many. I think I'm not going to live to see the changes I want."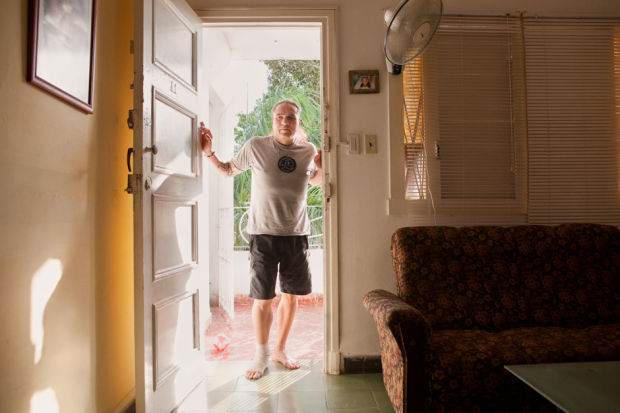 Besides hosting concerts, Maxim Rock serves as a rehearsal space for many bands. On my final afternoon in Cuba, I return to the venue, where Escape are beginning practice. One of the guitarists has his instrument upside down on his lap and is working on the back of it with a screwdriver. Alejandro Padron, the band's drummer, strips off his shirt and pounds out double-time rhythms on his small kit. Once everyone else joins in, the force of sound is overwhelming. The sextet's music might be defined broadly as thrash, but there are elements of hardcore and industrial at play too, and the songs are surprisingly dynamic, with a keyboard adding hints of melody. The aggressive and often baldly political language in songs like "Simbolo de Libertad" ("Symbol of Freedom"), "Ahora o Nunca" ("Now or
Never"), and especially "Rebelion," which features lyrics that all but call for an uprising (one section translates roughly as "Rebellion / The only way?/ No more pain / No more fear / These changes are inevitable"), has helped make them one of Cuba's most beloved metal bands.
"We're just saying what we're seeing," says Padron. "This is our point of view. And they haven't stopped us yet."
This seems like progress, but many here are suspicious. There's a sense that the government tolerates some criticism from the metal scene because it's small and therefore not a threat. With the Cuban Rock Agency and Maxim Rock, the state provides the community with just enough oxygen to survive, but not enough to thrive and grow.
"They created this place [Maxim Rock] and the agency as a way to get the metalheads all together in one place and only one place," says Escape's frontman Yando Coy.
As Dionicio Arce puts it, "Maxim Rock is a hell of a good place, but we are buried there. We can't work anywhere else."
In this way, the government's approach toward the scene feels devilishly clever: They're allowing a measure of freedom, while ensuring that the metalheads remain nothing more than a tiny, noisy, impotent rabble.
"It looks like we're in a dollhouse having fun," says Chlover's drummer Acosta of the shows at Maxim Rock. "We're not dangerous. At least that's what they think."
Chlover vocalist Michel Hernández goes further. "They look at us like we're dark people with tattoos," he says. "But we're a voice of a big part of the youth. We know what we're saying and we know what we're doing. We're not nobodies."
But as these artists struggle for more freedom and attention, both from Cuba and the world, the bitter ends faced by El Patio de Maria and Cuba's first metal band, Venus, as well as the ongoing struggles of Porno Para Ricardo's Gorki Águila, stand as cautionary tales for those who dream of turning this scene into a real movement. Still, hope endures.
"Things will get bigger," says Escape's guitarist Justo Valdes. "Society will get more open. Everything will be better."
He sounds more prayerful than confident, but even if he's right, when will it happen? In this place of supposed permanent revolucion, the gears of incremental change grind too slowly.
Back onstage at their Maxim Rock rehearsal, Escape are whipping through "Rebelion," which dates back almost a decade, but seems to grow more pointed as time crawls by. Yando Coy, his left foot balanced on a monitor, stares into the empty room at an imaginary audience, clutching the microphone to his mouth. "Cuantos años mas?" he hollers, veins bulging visibly from his neck. "How many more years?"
The band brings the song to a crashing climax. Then, for a moment, the room goes silent. Coy takes a deep breath, turns back to his bandmates, and practice continues.
Go inside Cuba's hidden metal scene via stunning photos from SPIN's report.
This story was originally published in the May/June 2012 issue of SPIN. Buy the issue now!