On G Street, I fall into conversation with a group that includes Abaddon's hulking drummer, Damian Vivás. Vivás is at least 6'2″, with a buzz cut, a passable command of English, and a bone-dry sense of humor. In five days, he'll begin two years of compulsory military service and he's not happy about it. His mother is Spanish, which means he qualifies for a coveted Spanish passport, but in an example of the sort of unexplainable illogic familiar to all Cubans, he must first complete his army stint. I ask what he plans to do when he finally gets his precious travel document.
"I'll go to Stockholm, then walk to Norway so I can be with black-metal people," he says, with the faintest hint of a wry smirk.
"Do you know how cold it is there?" I ask.
"It's okay," he replies. "I'll eat flesh and listen to black metal to keep warm." He pauses for a moment. "Cuba is a prison."
His friends laugh and his girlfriend shakes her head. "No, it's not," she says.
Vivás stares into the night, unsmiling. "Yes, it is."
Rock'n'roll in cuba dates back to the 1950s, but after a scrappy band of guerillas led by Fidel Castro, his brother (and current president) Raúl, and Ernesto "Che" Guevara engineered an unlikely revolution against the U.S.-backed government of Fulgencio Batista in 1959, the U.S. imposed a trade embargo, the broad outlines of which remain in place today. In the subsequent backlash against all things American, rock was outlawed for much of the 1960s and '70s. Often, long hair was forcibly cut, and possession of a Beatles album was punishable with imprisonment. Just getting music was tricky: There were no stores that sold rock albums, so they had to be ferried in by tourists or those lucky enough to travel outside Cuba. Instruments and equipment were even more difficult to obtain. Laws and attitudes began softening in the '80s — though record stores and instrument shops never really took hold — and eventually Fidel himself came around: In 2000, he unveiled a statue of John Lennon in a Havana park and apologized for the earlier ban.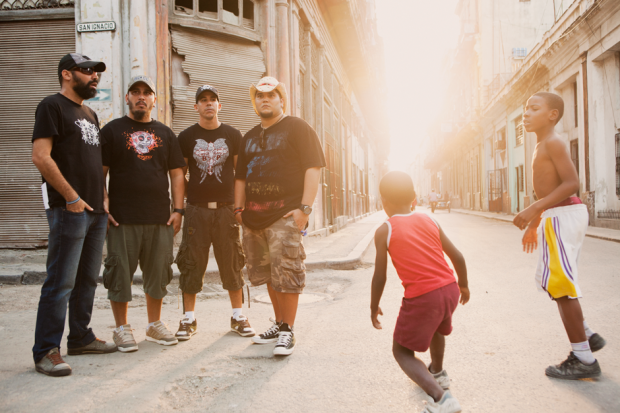 The first real metal band in Cuba was Venus. Formed in 1981, the band was inspired by Deep Purple, Black Sabbath, and Led Zeppelin. At their height, Venus could draw as many as 5,000 people to a show, but in 1986 the government forced them to split up, according to the band's singer, Dionicio Arce. "They said we were taking young people's minds out of the path," he tells me when we meet in his Havana apartment, a small second-story walk-up with a blue toilet sitting disassembled on the patio and a large, mirrored cross with spikes nailed to it hanging from a living-room wall. "We were told the group wasn't matching with the principles of the Revolution."
The spark was lit, though. In the mid-'80s, Metal Oscuro, a harder-edged, death-metal outfit, emerged and was soon followed by Zeus, whose furious riffs and brawny drumming were influenced heavily by Pantera. Zeus subsequently became the country's most popular metal band. They still are.
We were told there can't be anything against the government. We said, 'There won't be any trouble, all the bands are about Satan.'
—Alexander Sánchez
Venues were difficult to find in the '80s, with most clubs shunning rock and metal in favor of traditional Cuban music, which brought in tourists. But by the late '80s and early '90s, the extreme-metal scene, featuring acts like Combat Noise, Blinder, and Agonizer, began to coalesce around a community house in Vedado known as El Patio de Maria, in honor of its director, a middle-aged woman named Maria Gattorno. Today, metalheads talk of the late '90s and early 2000s at the Patio with mythical reverence.
On the second night of the 666 Fest, I sit in the theater lobby before the show with another festival organizer, Alexander Sánchez, a lanky, enthusiastic 35-year-old who has been publishing a Cuban rock zine called Scriptorium since 1999. When I ask about Maria's, he smiles and lets out a long sigh. "That was our time," he says. "You could go there from Thursday to Sunday, and you didn't need to ask who was playing — all those days there were good bands. It was just getting bigger and bigger."
In 2003, a huge concert at the Patio featuring 14 bands drew thousands. The venue was three blocks from Revolution Square, the seat of the government, and the enthusiastic young crowds apparently spooked the leadership. Fifteen days after the show, Maria's was closed forever, without explanation. The closure was a huge blow and kick-started what appeared to be an official crackdown.
"For two or three years after that, there were no places to play," says Sánchez. "The cops ordered the rock people from G Street park. Every day, two or three trucks full of police would move people away." It's not clear whether this crackdown was part of a broader 2003 campaign against dissidents and activists known as the "Black Spring" or just a concurrent development. "That's what happens here," says Sánchez. "Things happen and there's no explanation."
The scene experienced some attrition through the mid-2000s, but its core members kept the faith, and eventually, their efforts bore fruit. In 2007, a diminutive French metal fanatic named David Chapet, who'd moved to Cuba 11 years earlier, started a record label called Brutal Beatdown, devoted specifically to exposing the island's extreme music. The following year, he released the 21-track compilation Not Salsa, Just Brutal Music, and organized Brutal Fest, a nine-band concert that drew 6,000 fans to an outdoor site in Havana. The same year, a new, modern venue opened here called Maxim Rock, which began booking metal nearly every weekend. The scene had survived its wilderness years.
"Maxim Rock is here because they shut down Maria's," says Alejandro de la Torre, bassist for Escape. "They owed it to us."
Go inside Cuba's hidden metal scene via stunning photos from SPIN's report.