Foo Fighters and Alanis Morissette kept the Sinead O'Connor tributes coming earlier today (July 29) at Japan's Fuji Rock festival, when they teamed for a cover of the late Irish artist's 1987 hit song "Mandinka."
"We're singing this song for a reason tonight," said Foo Fighters frontman Dave Grohl in reference to O'Connor's death earlier this week at the age of 56. Added Morissette, "for a beautiful women with high intelligence and deep empathy, way ahead of her time, who is no longer with us. This is for her."
Foo Fighters and Morissette have always had a special connection in that the Foos' longtime drummer, the late Taylor Hawkins, got his start in Morissette's band at the height of her Jagged Little Pill-era fame. Morissette was on hand last September to perform "You Oughta Know" during Hawkins' memorial concert at the Kia Forum in Los Angeles, backed by the Foos and Red Hot Chili Peppers drummer Chad Smith.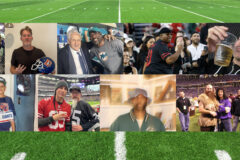 Since O'Connor's passing on Wednesday, her music has been saluted with covers by P!nk and Brandi Carlile, Tori Amos, and TV on the Radio's Kyp Malone, among others.
Meanwhile, Fuji Rock continues tomorrow with Lizzo, Weezer, Black MIDI, 100 gecs, the Blessed Madonna, FKJ, and Neal Francis. Foo Fighters kick off a new round of U.S. dates Aug. 4 in Spokane, Wa., while Morissette visits Manila this coming Tuesday and Wednesday.