"The first time I knew I wanted a life in music I was eight years old and discovered a Stevie Wonder cassette tape with 'I Called to Say I Love You' on one side," recalls two-time Grammy-nominated singer, songwriter, producer and entrepreneur Poo Bear. "I would sneak off and listen to it whenever I could, and that made me want a life in music."
And what a life in music he's had, including working with such superstars as Justin Bieber and Usher, amassing a catalog with over 350 million record sales worldwide, dozens of multi-platinum certifications, and 100 billion streams.
Poo Bear's new album The Book of Nabeel (out in April) promises to powerfully blend the veteran hit maker's world music and pop influences. He notes that the writing process for the vibrant dance single "Distant Shore" was different, as it was inspired by a poem by his partner Nabeel. "What I did was really take that poem and put it to a melody and create the hook," he tells me. "This writing process was definitely different and out of the box for me. It's not just 'Distant Shore', but this whole album was so different being that these songs all came from poems that I helped transform into songs. I think the song itself and the melody feels more like a dance record but when you listen to the words you can see these more complex concepts and words that came from the origin of it being a poem." This month he released his newest single, the heartfelt, Caribbean-infused "Favorite Human."
He loves performing live, as it gives him an opportunity to truly connect with his audience. "I love interacting with people and being able to connect with them beyond just the melody and concept but with feelings," he says. "I just love the 'in the moment' ability to be able to connect with and get to know them. That is my favorite part of performing."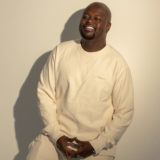 When asked what he misses most when he's away from home, he says: "I definitely have to say my wife and kids."
Here's a day in the life of Poo Bear.
Date March 1, 2022
Time I woke up Around 7:50 a.m. to have a little time to myself before starting the day.
Every day starts with Taking my son to school before going to my tennis lesson.
Breakfast consists of I skip breakfast, as I do intermittent fasting.
To get going I always Like to get active, get a little cardio in with my tennis lesson.
I don't feel dressed without A watch on.
Before I start working I must Have a clear heart and conscience and amazing energy from my wife.
Currently working on Finishing The Book Of Nabeel, as well as working on the next project after that.
I don't know how anyone ever Settles for less.
If I had to play one album on repeat, it would be Changes by Justin Bieber.
The perfect midday consists of Breaking my fast and having some lunch after my midday training session from 3:00 – 4:15.
To help get through the day I need Blackberry H-Factor.
Not a day goes by without speaking to My wife.
My daydreams consist of Purchasing an Airbus.
In a perfect day, in a perfect world I'd sleep longer than five hours, I get to drop my son off at school, listen to my wife learn Spanish, watch my daughter dance, watch my son in Taekwondo, have a nice dinner with my family and then head to the studio.
I'll always fight for Equality.
Currently in love with H Factor Hydrogen Water (new blackberry flavor).
Hoping to make time to watch I'm really excited to see this new season of Snowfall and the new season of Ozark.
By my bedside I always have Advanced Cellular Silver (anti-parasite and disinfectant spray).
Bed time 3:00 a.m. or 4:00 a.m.
When I think about tomorrow, it's always Just wanting to keep growing and get better. I want to keep being honest with myself to grow and become the best version of myself that I can be.