Saturday Night Live's Kenan Thompson sat down with Seth Meyers last night to talk about this past weekend's SNL premiere, and thus about Kanye West's post-show political speech. "I got to watch the circus unfold," Thompson said of the Kanye-dominated episode, adding that the rapper's decision to invite cast members back on stage at the close of the show didn't feel entirely fair to him. "We're all entitled to our opinion. I don't know if that's the moment, necessarily, to hold people hostage like that," Thompson said.
Television viewers didn't see Kanye's final remarks, which came after the broadcast ended. The subsequent viral clip finds him talking about his Trump support, the "90 percent liberal" media, feeling "bullied" for his "Make American Great Again" hat, and his aspiration to run for president in 2020. Members of the SNL cast stand behind, sometimes looking uncomfortable. "Thank y'all for giving me this platform, I know some of y'all don't agree," Kanye notes at one point.
"As soon as he said, 'Hey, join me up on stage, everybody,' I was like, 'Oh, there goes the little cheese in the mousetrap,'" Thompson told Meyers. "I felt so bad for those guys, because it's hard to stand there and not be able to debate somebody who is going so far against your personal opinion, and just stand there and take it."
Thompson said he decided not to join Kanye on stage, and it doesn't seem like he regrets it. Watch his take on Kanye's SNL appearance below.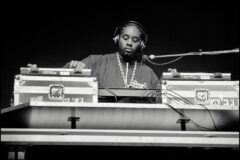 //players.brightcove.net/769341148/rJWoNu3gLM_default/index.html?videoId=5843356152001