Kanye West was the musical guest on last night's season premiere of Saturday Night Live. In addition to performing his recent hit "I Love It" dressed as a giant water bottle alongside Lil Pump and joining Teyana Taylor on her song "We Got Love," Kanye also performed the ye track "Ghost Town" with Kid Cudi, 070 Shake, and a backing band, confirming early rumors that he'd bring out Cudi, Shake, Lil Pump, and Taylor during the night.
The show eventually cut off during the set, but Kanye remained on stage, speaking to the audience directly about Donald Trump, his MAGA hat, and his aspirations to run for president in 2020. While some viewers at home weren't able to catch the speech, those live in the audience like Chris Rock were able to capture video footage of the rest of the event, which has now made its way onto social media.
Most musical guests only perform two songs, making it somewhat understandable that SNL would cut his speech to keep a schedule. At the same time, Kanye also mentioned that he was "bullied" by the SNL team backstage, who asked him not to wear his MAGA hat on the show. Elsewhere in the speech, he mentioned the "one-sided" and "liberal" state of media as the product of cities like New York and Los Angeles.
Kanye was also supposed to release his new album Yandhi during or after the SNL appearance, which still isn't available on streaming platforms. Earlier this week, he stopped by the The Fader's offices in New York, where he previewed new music from the album while wearing his MAGA hat paired with a Colin Kaepernick sweatshirt. Later that day, The Fader removed quotes from their article about the visit where Kanye referred to Donald Trump and Alex Jones as "matrix-breakers." Watch clips of his SNL speech below.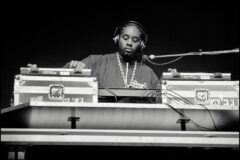 Kanye West performed GHOST TOWN with Kid Cudi, Ty Dolla Sign and 070 Shake during the end credits of #SNL! pic.twitter.com/CJthj04aeu

— Zen Stefani ‍♀️ (@Dee_Pengs) September 30, 2018
What you didn't see pic.twitter.com/rsXwdZ1e7I

— kingricardo_ (@kingricardo_) September 30, 2018
View this post on Instagram
https://youtu.be/UWwjIjX5udc