Kanye West recently sat down with former Power 106 radio host Big Boy to talk about his new album ye. On the night of his listening party in Wyoming, the rapper explained "a mental condition" he'd recently been diagnosed with last year.
"I'm so blessed and so privileged because think about people that have mental issues that are not Kanye West, that can't go and make that [album] and make you feel like it's all good," he said. "I've never been diagnosed and I was like 39 years old," West said, clarifying that he'd recently been "diagnosed with a mental condition."
Elsewhere in the interview, West says that he scrapped the entirety of his new album just months before releasing it, specifically after being called out for making a statement about slavery being a choice when talking with TMZ last month. "We just sat there and really honed in on the words," he said. "Also, we know now, it's all headlines..every bar can be used…I took a bar off the album. It was just too sensitive about that topic and stuff."
West also gave some context for the album's title. "I believe 'ye' is the most commonly used word in the Bible, and in the Bible it means 'you,' so I'm you, I'm us, it's us," he said. "It went from 'Kanye,' which means the only one, to being 'ye'—just being a reflection of our good, our bad, our confused, everything. The album is a reflection of who we are."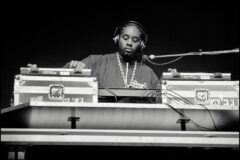 West's new album ye dropped on Friday, featuring guest appearances from Nicki Minaj, Kid Cudi, Bon Iver, and more. Watch the rapper's full interview with Big Boy below.