Kanye West's ninth studio album ye is finally here. The album has been shrouded in secrecy save for a few tweets and hints about the tracklist by West. He also released what seemed to be two singles from the album–"Lift Yourself," which was basically a troll to his fans and "Ye vs The People," an unfortunate attempt at racial dialogue. "Today I thought about killing you," the first track starts. "Premeditated murder. I think about killing myself and I love myself way more than I love you."
Much of the album rollout though has been marred with controversy due to Kanye West making headlines for his alignment with alt-right personalities, his questionable statements on slavery and continued support of Donald Trump.
ye is the first of two Kanye West albums reportedly coming out this month, with a joint record with Kid Cudi scheduled to be released on June 7. It is also the latest in the current series of G.O.O.D music releases that are being shepherded by West as a producer. The G.O.O.D Music release schedule includes the previously released Pusha T album Daytona and new records from Nas and Teyana Taylor.
Starting tonight at midnight, the album can be heard on the iOS app Stationhead, as well as part of tonight's livestream on WAV.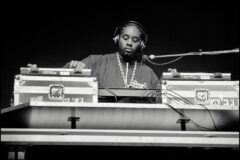 Update (6/1/18, 8:30 am): Ye has been released on digital streaming platforms. Listen to the 7-song, 23-minute album via Spotify and Apple Music below.
https://open.spotify.com/embed/album/5EBGCvO6upi3GNknMVe9x9
https://embed.music.apple.com/us/album/ye/1392975931?app=music
Tune into G.O.O.D. Music Radio for a communal listening session and discussion -12am ET- download STATIONHEAD to weigh in https://t.co/5Hi69RmCgV pic.twitter.com/e4vUcaVc4A

— STATIONHEAD (@STATIONHEAD) May 31, 2018
Download the @WAV_Media app https://t.co/HxSvFHiSrY  to watch the livestream of my album listening tonight in Jackson Hole, Wyoming 7PM MDT

— KANYE WEST (@kanyewest) June 1, 2018