It's been two weeks since Melania Trump has been seen in public, after the White House said she'd undergone a procedure for a benign kidney condition. Everyone in the First Lady's orbit says she's feeling great. Before leaving the White House on Friday morning, President Trump took questions from reporters, including one about his wife's whereabouts. Here's how that played out, according to the Washington Post:
According to a pool report, President Trump responded by pointing to a window in the White House residence, and said: "She's doing great. She's looking at us right there."

Reporters turned to look at the spot he indicated, but there was no sign of the first lady.
There's even a photo of the moment Trump directed reporters to look up at his wife, before she apparently dissolved into the ether.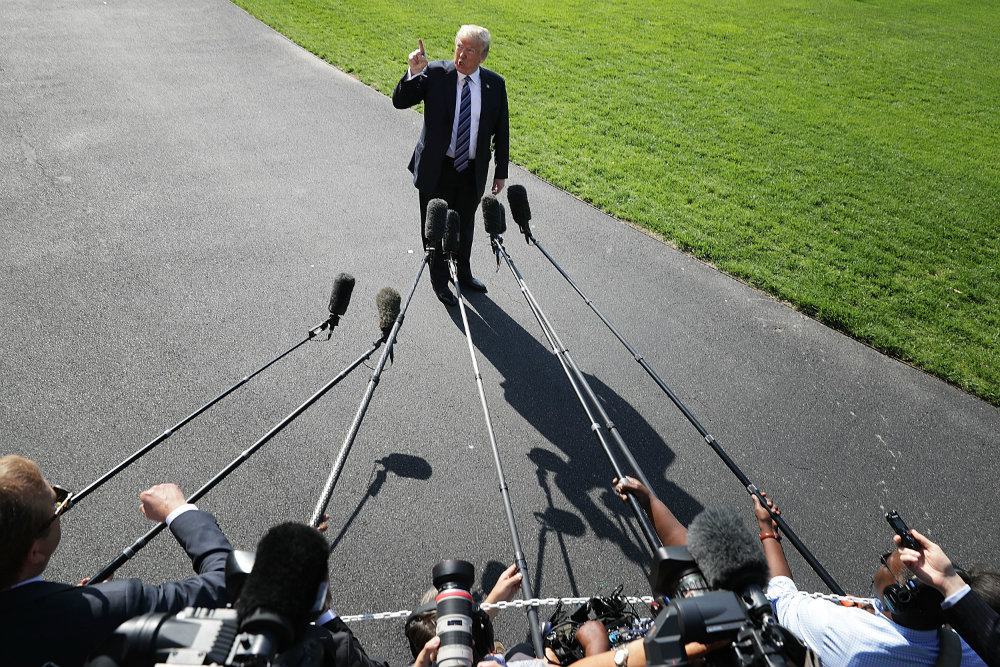 The first lady's absence has raised eyebrows, given that she spent five nights at Walter Reed Medical Center for a procedure medical experts say usually doesn't require nearly as long. Melania's absence is especially mysterious considering the recent launch of her high-profile, grammatically awkward "Be Best" initiative to keep kids from abusing social media and/or opioids. She's also been absent from photo ops typically attended by FLOTUS, such as a visit from South Korean first lady Kim Jung-sook earlier this week.
It's unknown when Melania is expected to resume public appearances, though spokesperson Stephanie Grisham told the Washington Post, "We've had several internal staff meetings in the past week around a variety of topics, including her initiatives."
In the meantime, it will be interesting to see how long the president can keep up the, "Hey, look over there!" strategy for staving off questions about his wife.