Dave Chappelle has some great news for people who either don't have plans, or are just refusing to go out on New Year's Eve. In addition to the previously announced Netflix special Equanimity, the comedian is dropping a separate special titled The Bird Revelation, according to The Hollywood Reporter. .
Netflix released a joint trailer for the specials on Friday.
"My parents did just well enough so that I could grow up poor around white people," Chappelle jokes in the latest trailer. "That first sleepover at a white friend's house. You just come home on Sunday and look at your parents like 'Y'all need to step your game up. Everything at Timmy's house works.'"
Chappelle recorded  The Bird Revelation on November 20 in Los Angeles, allowing the comedian to comment on fairly recent developments in the Trump era. The Bird Revelation marks the fourth Chappelle special to be streamed exclusively on Netflix in 2017.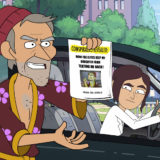 On New Year's Eve, Chappelle will be performing live and in the flesh with his old pal John Mayer in a collaborative show titled "Controlled Danger" at the Forum in Los Angeles.