At the behest of Donald Trump, Congress is set to vote on the American Health Care Act, an ineffectual bill that will take health care coverage away from millions while giving the very rich a massive tax break. Paul Ryan, who never saw a poor person he didn't want to degrade, is stoked about it. In a media scrum, Senator Maria Cantwell (D-WA) denounced the extremely bad bill by invoking her state's most popular rapper, "Mr." Macklemore.
.@SenatorCantwell on health care bill: "I wish I could get a famous rapper from Seattle here, Mr. Macklemore, because this truly is a heist" pic.twitter.com/qMiEdniA0X

— Evan McMurry (@evanmcmurry) March 21, 2017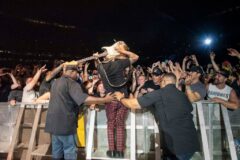 Fuck him up, Maria.